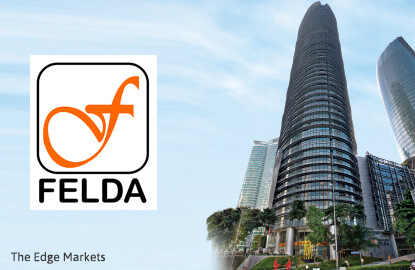 This article first appeared in
The Edge Malaysia Weekly
, on February 6 - 12, 2017.
THE 50th floor of Menara FELDA in Kuala Lumpur houses an office for Prime Minister Datuk Seri Najib Razak. While it is hardly used, the Federal Land Development Authority, or FELDA, has been under the Prime Minister's Office since April 2004, with Najib in charge.
Considering that FELDA settlers comprised the majority of voters in 54 constituencies — all largely located in the Malay heartland — Najib's closeness to this vote bank is understandable.
With the 14th general election around the corner — it must be called before August next year at the latest — the Umno-led BN cannot afford to see its power eroded in its FELDA stronghold. It was the settlers that have helped the ruling coalition win in every election since independence in 1957.
Of the 54 constituencies, 48 are BN-controlled, but the strength of FELDA's support is unclear now.
Lately, FELDA has been in the spotlight for all the wrong reasons. It made headlines when it purportedly offered a high price for a 37% stake in Indonesian plantation outfit PT Eagle High Plantations (see story on Page 48). Then the Malaysian Anti-Corruption Commission (MACC) nabbed five high-­level FELDA personnel for alleged corruption involving a sturgeon fish-rearing project worth about US$10 million (RM44.3 million).
More trouble piled up when MACC arrested IRIS Corp Bhd's deputy managing director Datuk Hamdan Mohd Hassan for offences purportedly linked to an e-passport project in the Republic of Guinea. IRIS is FEDLA's 21.33%-owned unit.
Another thorn in FELDA and Najib's side is public-listed entity Felda Global Ventures Holdings Bhd (FGV) in which the agency is the single largest shareholder, with a 20% stake.
FGV's stock hit a historical high of RM4.82 in early July 2012, slightly more than one week after its listing. Since then its share price has plunged 60%, closing at RM1.87 last Thursday. Market capitalisation of RM10 billion has been wiped out since its listing.
The plantation giant is indeed facing serious problems and something drastic must be done. In stepped newly appointed chairman Tan Sri Shahrir Samad, who promptly took action: he ordered all members of the Felda Investment Corp Sdn Bhd (FIC) board to resign as part of his reorganisation plan.
BN's vote bank
But could all these negative vibes weigh down BN and Najib's popularity?
Shahrir does not think so.
"I don't think the settlers really care … as for Eagle High it is not even their money. We did a survey six months ago in the various FELDA constituencies in Johor, and [we found] that the main issue is security, meaning [issues related to] foreign workers, massage parlours and petty crimes.
"[As for former deputy prime minister] Tan Sri Muhyiddin [Yassin], some [settlers] are neutral and some are positive towards him.
"1Malaysia Development Bhd [1MDB] was a very small concern. The satisfaction of the [settlers] with the way they lead their life is quite high. The survey covered 80% of the ordinary rakyat, and not party members; so the survey is reasonable, involving 400 people per constituency, all over Johor," Shahrir says.
But a second generation FELDA ­settler disagrees with Shahrir. "Maybe the older ­generation, our fathers and mothers are not bothered. But the second generation is different," the settler tells The Edge.
The settler, who is in his 40s, says that some of the concerns include the loss of value in FGV, the acquisition of Menara FELDA for RM640.77 million from Naza Group when it has more than 20 acres in Jalan Semarak, and the recent corruption charges involving the sturgeon fish-rearing project.
"Persatuan Anak Peneroka Felda Kebangsaan [Anak], a non-governmental organisation which represents the second and third ­generations of FELDA settlers, is very vocal [about these problems]," he says.
The settler adds that although the older generation may not understand 1MDB or the Eagle High acquisition, they can feel the effects of the rising cost of living. "So, there should be a [cause for] concern," he says.
Considering that the 54 constituencies are dominated by FELDA settlers, their worries cannot be ignored. These constituencies make up 24% of the 222 parliamentary seats.
In 2013, Sabah and Sarawak — generally considered BN strongholds — contributed 47 seats or 35% of BN's haul of 133 seats, also a testament to the strength of FELDA settlers.
But much of the support from the agency came at a cost — the settlers were consistently paid duit raya.
In June last year, Najib announced the payment of duit raya amounting to RM49.5 million, or about RM500, to all 99,046 FELDA settlers.
Initially, the duit raya was only RM300 per settler, but Najib upped the amount by another RM200.
In July 2015, before Hari Raya Aidilfitri, 98,688 settlers received RM88.8 million in dividends and duit raya paid by FGV. Dividends totalled RM59.21 million, or RM600 per settler, while the duit raya was RM29.61 million or RM300 per person.
But now, with so many problems and ­incessant bad news, morale is low. Shahrir will have a tough time putting the agency on its feet.
"What is needed in FELDA is to get back the confidence of the staff, settlers and the market. FELDA is something the settlers feel proud about. They don't want to hear stories about [the agency] buying hotels in London, [its officials] living like lords, whole family members going to London for a holiday … the top [people] seem to enjoy everything. There's the popular notion that they are the capitalists who are exploiting the settlers, the downtrodden," Shahrir says.
"If the leakages stop, the settlers will settle down," he adds.
With a three-year contract, Shahrir is ­likely to have his hands full changing the settlers' (mis)perceptions about Felda.
FELDA's depleting cash pile
Part of the negative perception surrounding the plantation agency stems from its weak financials.
While the 2015 financials are set to be tabled in Parliament soon, 2014 was not a good year for the agency. Judging from its annual reports, FELDA has suffered two consecutive years of net losses — until the financial year ended Dec 31, 2014 (FY2014) — notably after the listing of FGV in June 2012.
At group level, FELDA suffered a net loss of RM1.04 billion for FY2014. In the preceding year, the loss amounted to RM1.99 billion.
These losses resulted in FELDA's accumulated funds dipping 16.5% to RM13.47 billion as at end-FY2014, from RM16.12 billion in FY2012.
The major factors that dragged down FELDA's bottom line for FY2013 and FY2014 were its replanting programmes, socio-economic activities, and staffs' salary and bonuses and allowances which amounted to RM3.17 billion and RM2.45 billion respectively. In 2014, the agency spent RM729.42 million on replanting programmes, while RM241.26 million was used for socio-economic activities and RM259.83 million for salary, bonuses and allowances.
It is worrying that FELDA's combination of cash in hand and fixed deposits has dropped by more than half to RM434.46 million in FY2014, from RM936.08 million the year before. It is also noteworthy that part of the fixed deposits was placed in banks in order for FELDA to obtain borrowings.
The group's long-term borrowings from external institutions were higher at RM6.07 billion as at FY2014, from RM5.15 billion previously, while short-term loans jumped threefold to RM1.70 billion in the same period, from RM574.05 million as at FY2013.
On whether he was going to look into the less-than-impressive financials, Shahrir says, "Despite what people say, cash is king, it is needed. Instead of keeping it in assets — frozen — [you] might as well unfreeze it. Allow it to move into the system. If I sell hotels, I get some more cash, then I can add it to the cash flow, I can add to the investment fund, and move from there.
"If we are able to sell down some of our assets, and rearrange and restructure our assets to cash, we should be all right. For this year, we should be all right for cash flow, we have loans but they are backed by our assets.
"[As for] our assets, we will decide whether to sell or use [them] as collateral … for this year, we should be all right," Shahrir says.
FELDA recently sold 35 million shares, or part of its shareholding in Malayan Banking Bhd (Maybank), at between RM8 and RM8.05 apiece, raising RM280 million. According to Maybank's 2015 annual report, the agency held 1.9%, or 185.15 million shares, in Maybank, which has a market value of about RM1.5 billion.
Apart from selling shares in Maybank, the government agency is also looking to hive off its hotels, including its Grand Plaza Kensington Hotel in London, which was acquired for RM330 million at end-2014. Also under its umbrella is the Grand Plaza Serviced Apartments in Bayswater, London, which it acquired for RM500 million in 2013.
In total, FELDA has 12 hotels and resorts, including the Felda Residence hotels, Seri Costa Melaka, Grand Borneo Kota Kinabalu, Grand Beach Resort Port Dickson, and Grand Merdeka Palace Kuching besides the two in the UK.
The sale of the hotels in London could bring in between RM500 million and RM1 billion.
Streamlining investments
At present, FELDA, via wholly-owned FIC, has a 72.27% equity interest in developer Encorp Bhd, a direct 21.33% interest in IRIS, a direct 9.73% stake in Barakah Offshore Petroleum Bhd, and 20% equity in FGV. Other ventures are largely hospitality-based.
In mid-November 2013, after a slew of acquisitions, the plantation agency held 26.71% equity interest or 526.37 million shares in IRIS.
However, in April 2015, it disposed of a chunk of shares, trimming its stake to 25.31% or 516.37 million shares. Since then there has been sporadic selling, and the agency now has cut its stake to 21.33% or 479.36 million shares.
At a press conference earlier this year, FELDA officials had even suggested disposing of IRIS, but Shahrir seems to be against it.
"I think Iris still has its own technology, its own internet protocol (IP), its own competent and competitive technology. I'm confident that, given time, we'll sort it out, we'll see what we can do," he says.
Under a restructuring plan, FIC will handle non-plantation assets and strategic investments, while FELDA handles plantation assets. But Shahrir says Encorp could end up under FELDA, which indicates that things are still pretty fluid.
"So, FIC would be for strategic investments, but the idea is to look for returns," he says.
For its financial year ended December 2015, FIC suffered an after tax loss of RM35.70 million from RM206.85 million in revenue. As at end-December 2015, FIC had RM3.48 billion in non-current assets, and RM942.28 million in current assets. On the other side of the balance sheet, it had current liabilities of RM2.16 billion and non-current liabilities of RM1.62 billion.
Similarly, there were talks about privatising FGV, which would entail the agency forking out billions for the 2.92 billion shares it does not own. At its close of RM1.87 last Thursday, plus a 20% premium, FELDA would have to fork out RM6.55 billion. At its IPO price of RM4.55, it would need to cough out RM13.29 billion.
For its nine months ended September 2016, FGV suffered a net loss of RM98.2 million from RM12.09 billion in revenue.
As at end-September last year, FGV had deposits, cash and bank balances of RM2.51 billion; short-term debt commitments of RM3.83 billion; and long-term borrowings totalling RM128.68 million.
While Shahrir does not divulge much on FGV, he says, "It is a problem. I can't interfere with the management of FGV, so I hope [Tan Sri] Isa [Samad, FGV's chairman] spends more time looking at it. I don't know, I don't want to overstep my boundary, but we do have the biggest stake. So, maybe my board representatives may have to be changed, but I'm starting with FIC."
It is undeniable that investing FELDA's spare cash in real estate or other assets-yielding returns could be a wise move. That said, the top executives should also keep in mind that the spare cash could also be spent on improving efficiency and production yield. After all, the orginal aim of FELDA was to improve the livelihood of the settlers. Cash handouts are certainly  not a sustainable way to do that.