This article first appeared in City & Country, The Edge Malaysia Weekly, on April 22, 2019 - April 28, 2019.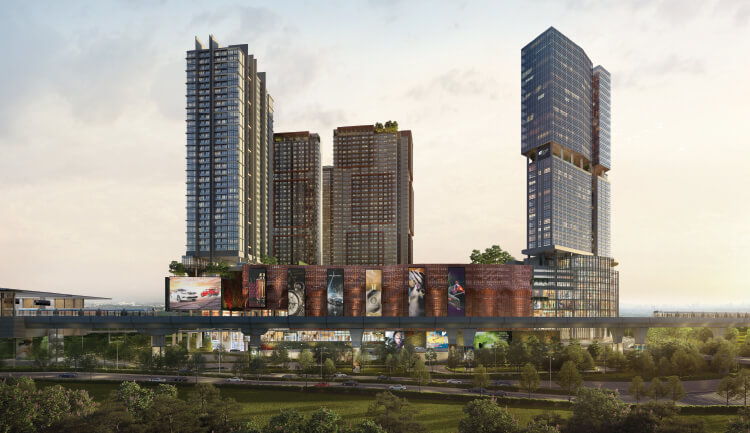 Meta_city is a RM1.8 billion transit-oriented mixed-use development located near the proposed Taman Putra Permai mass rapid transit station in Seri Kembangan. Picture by Villamas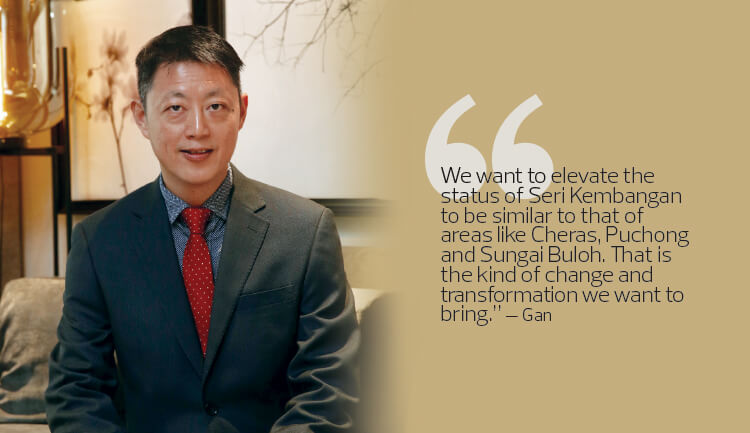 The coffee bar in the sales gallery of meta_city in Seri Kembangan, where we meet Villamas Sdn Bhd CEO Gan Teck Seong for a chat, exudes a relaxed and cosy ambience. Gan's excitement, however, is evident as the group gears up to launch the transit-oriented mixed-use development in Seri Kembangan — the first of its kind in the area — early next month.
Located near the proposed Taman Putra Permai mass rapid transit (MRT) station, the RM1.8 billion meta_city, on a 12-acre leasehold land parcel, will feature four towers on top of a podium.
META_residence will feature two towers of small office/home office (SoHo) units and serviced apartments, and one tower called Branded Suite. The remaining tower will comprise two components — META_loft, a hotel, and META_tower, offices. The podium will house a shopping mall, META_mall.
The first phase to be launched will be the 39-storey Tower A of META_residence. It will have 396 SoHo units and 594 serviced apartments. The SoHo units, named Meta Lux SoHo, will have built-ups of 450 sq ft. The serviced apartments, known as Meta Lux, will measure 659 sq ft and 864 sq ft, with 2+1 bedrooms and 2 bathrooms. Selling prices range from RM280,000 to RM300,000.
The 38-storey META_residence Tower B, meanwhile, will comprise 462 serviced apartments, called Meta Bliz. They will have built-ups of 757 to 1,230 sq ft, with three layouts — 3 bedrooms and 2 bathrooms, 3 bedrooms and 2+1 bathrooms, and 4 bedrooms and 3 bathrooms. Selling prices start at RM480,000.
The bigger unit of 1,230 sq ft in Tower B will be dual-key, with multi-generation living in mind.
Tower A and Tower B will cater for different groups, says Gan. "Tower A targets the younger people — the singles, young couples or small families with one child. Tower B is more family-oriented and is for bigger families with two or three children."
Tower A units will have a smaller built-up, with more flexible spaces, while those in Tower B will be bigger, for a more relaxed feel and room for children-friendly facilities.
To avoid wastage, he says the space in the units will be just enough to move around comfortably after the furniture and fitting have been put in. "For example, with a bed in place, the walkway is about 3ft. We don't give 4ft or 5ft as the space will be wasted and it is not productive. Moreover, you will have to pay a higher maintenance fee."
All units will be partially furnished with air conditioners, water heaters and shower screens with doors.
The development is primarily aimed at homebuyers, followed by investors, says Gan. "We have designed meta_city in such a way that it is easy to maintain. So, the rent that the investors collect, they don't have to give up so much of it to maintain the property. It is investor-friendly."
The maintenance fee is about 30 sen psf.
The facilities include swimming pools, gymnasiums, games room and reading rooms on the fifth floor of Towers A and B, and barbecue areas, private kitchen and lounge on both rooftops.
As Tower A is targeted at young people, there will be a fully air-conditioned co-working space for residents as well as one or two cafés, says Gan.
"The co-working space is part of the facilities we provide and the committee will manage it. The residents can decide later if they want to engage an operator and make some money," he adds.
meta_city will have 4,500 parking bays, 2,000 of which will be for the public. Each unit will be allocated one to two parking bays, depending on the size.
META_residence's Tower C, Branded Suite, will have 320 units and will be the last to be launched.
"For the Branded Suite, we plan to do something along the lines of short-term rental. We have not finalised the concept as yet but we will try to tailor it to market needs," Gan says.
He says Seri Kembangan gets many visitors because of its proximity to Putrajaya and Cyberjaya. They may need a place to stay for short periods ranging from two weeks to two months.
"It is difficult to get a normal rental agreement [for short terms] and it is probably too long to stay in a hotel. So, we will fill this market gap at a cheaper cost than a hotel stay. We have our own hotel but the units in Branded Suite are for a bigger group of people or for longer stays.
"It would be nice to stay in a bigger place with amenities to do their own cooking. There will also be hotel-like services where everything is provided and it will be nice and clean," he remarks.
The units will be put up for sale but the developer will hire an operator to run the suites. "We are thinking about operators like Somerset, but nothing has been finalised as yet," says Gan.
The final 25-storey tower will have a hotel and offices. META_loft, the hotel, will occupy the first 12 storeys while the remaining 13 storeys will house offices under META_tower.
"It is more like a corporate office. We have plans to introduce small offices, which we intend to sell to bring a different synergy to the project," he adds.
Meanwhile, for the 276-room hotel, Villamas is bringing in international hotel brand Aloft Hotel — owned by Starwood Hotels & Resorts Worldwide, which is part of Marriott International — as the operator.
"Aloft is an international brand and the hotel will be marketed on its website internationally. So, it will help elevate our [project's] status to an international level. When people look for hotels on their website, they will see Seri Kembangan, apart from Kuala Lumpur," Gan says.
META_mall, meanwhile, "will be a lifestyle mall catering for the surrounding neighbourhood. We are still working on the design and it will be in line with our goal of making the development hip and energetic," he explains.
Transforming Seri Kembangan with meta_city
Meta_city is strategically located, with many job opportunities in the surrounding areas. "Our location is next to Putrajaya and Cyberjaya and there are a few universities in the area as well," he notes. Apart from the jobs available, there will be a demand for services catering for the needs of students, he points out.
Gan believes it is the right time to launch meta_city to boost Seri Kembangan.
"We want to elevate the status of Seri Kembangan to be similar to that of areas like Cheras, Puchong and Sungai Buloh. That is the kind of change and transformation we want to bring," he says.
Villamas acquired the land before the proposed MRT station, along the Sungai Buloh-Serdang-
Putrajaya Line, was announced. The initial plan for the development was to have mostly residential units, with some commercial component.
But the plan was changed after plans for the MRT station were unveiled.
"We don't stick to doing only a particular type of development. We look at the situation and create something that is suitable," says Gan.
The targeted market group, as Villamas sees it, would want a hassle-free and productive lifestyle. "They don't want to spend too much time taking care of a property and they want to get things done easily. So, we will provide most of the facilities and services," he says.
They will be able to get many things done with a shopping mall as part of the development as well as shops in the vicinity, he adds.
And with an MRT station right at their doorstep, they don't even need to drive.
A covered link bridge will be constructed for easy access to the MRT station. An interchange will also be built that will lead directly to meta_city from the Damansara-Puchong Expressway.
Gan says that the focus is on providing a luxury lifestyle. "This is why some of the units are named Lux. It is not the materials used but the overall concept, the luxury lifestyle we provide.
"We have managed to keep the price low because we know how to manage the cost. There is no point having a very good design that does not benefit the purchasers. In the end, they would need to spend more money to renovate or there will be too much unused space," he says.
Diversifying its business
Villamas completed and handed over The Andes in Bukit Jalil last December. "We have other projects in the pipeline but at the moment, we are going to concentrate on meta_city," says Gan.
With meta_city, the company will be diversifying into property management, he says.
"We don't want to just buy land, build, sell, leave, and then repeat the cycle. We will have offices and a mall in meta_city, and we want to be able to manage them and collect rent. There is also the Branded Suite and if possible, we want to manage the units on behalf of the owners. Our relationship with the purchasers doesn't just end after we deliver the keys," he explains.
There is a possibility Villamas will collaborate with a third-party operator, he adds.
Property management will enable the developer to enjoy recurring income. "Previously, we did not have a mechanism to provide such services after sale. But now, we have a platform, in line with our goal of providing a hassle-free lifestyle," Gan says.
He adds that Villamas will slow down its property development activities and focus more on property management as it aims to provide a full range of services to their purchasers.
As for the size of the developer's land bank, Gan thinks that may no longer "be a very meaningful measurement".
"We are looking at the whole business differently now. It is not about how much land bank we hold. We may look into buying old and existing buildings, refurbish them and manage them. We are looking for opportunities in this area," he sums up.