This article first appeared in The Edge Malaysia Weekly, on September 10, 2018 - September 16, 2018.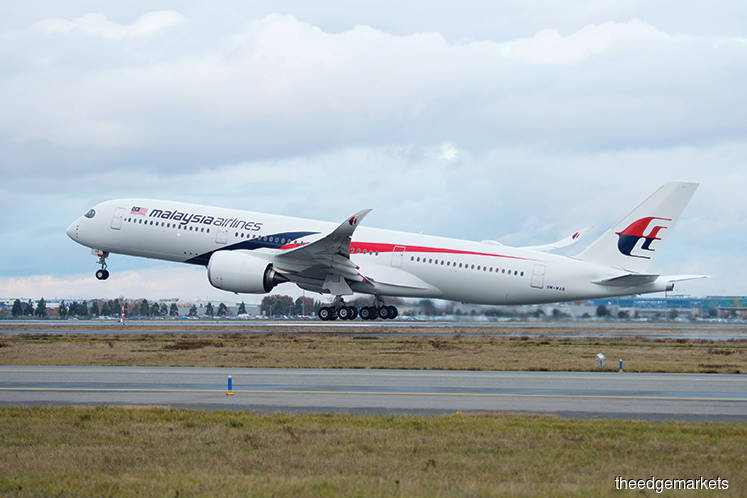 IN January, Khazanah Nasional Bhd said Malaysia Airlines Bhd had until the middle of next year to be profitable. But there are signs that the airline could miss yet another deadline.
That would inevitably raise the debate of whether Malaysia needs a national carrier. The crux of the matter would be, will Malaysia Airlines need more taxpayer money for its turnaround and how much will be too much?
Note that the airline is already more than halfway through a five-year, RM6 billion turnaround programme that has seen 6,000 job cuts, massive restructuring and legislation-driven contract reviews.
From the outside, it is difficult to gauge how close the airline is to its Promised Land. Malaysia Airlines refuses to release complete key operating statistics, citing competitive reasons even though listed competitors release the same data regularly.
But signs of trouble are evident. The carrier has a sizeable cost component in US dollar terms. Jet fuel, a key cost component, costs 50% more than a year ago and is now near a four-year high. Meanwhile, the airline has a mostly ringgit-denominated income, and the currency's persistent weakness does not help matters.
Recall that the ringgit's weakness and rising jet fuel costs have caused Malaysia Airlines to miss two deadlines already.
Group CEO Izham Ismail concedes that market conditions are even worse now than a year ago.
When asked if being profitable by the middle of next year is achievable, he says, "It's tough".
"I have to admit that it's very challenging. And the challenges in 2019 will not be without fuel and forex [factors] — they will still be there and all airlines will face the same issues," Izham tells The Edge.
The last point is pertinent to consider as the government, which wholly owns Khazanah, ponders what is next for the national carrier.
At a briefing eight months ago, Khazanah disclosed that the five-year plan had an assumption that the ringgit would range from 3.90 to 3.95 to the US dollar.
The currency's crash to as low as 4.40 last year translated into a half-billion ringgit hit to Malaysia Airlines' bottom line.
That illustrates the difficulty in planning far ahead in such a competitive industry as moving variables could shift violently, says Brendan Sobie, chief analyst at the CAPA Centre for Aviation.
"So, from that perspective, the airline will have [good] excuses if it does not make the profitability targets next year," he says.
However, it is important to note that jet fuel costs and forex impact are facts of life for any airline. Does that mean the targets set for Malaysia Airlines were too ambitious?
"Whether [the targets] were overambitious to begin with, that is another question," says Sobie.
It is not just fuel and forex woes. Malaysia Airlines also faces structural challenges, made worse by two separate tragedies involving its planes in 2014.
Today, the carrier sees 30% less passenger traffic than it did four years ago before the tragedies, says Corrine Png, founder and CEO of Singapore-based transport research firm Crucial Perspective.
As part of its turnaround, the airline has shifted more capacity to international routes, which command higher yields than the domestic market. However, the carrier remains "in no-man's-land", says Png.
"Although it has a good product, it has a relatively weak branding internationally, so it cannot charge a high enough premium on most routes, yet its cost structure is not competitive enough versus the low-cost carriers," she explains.
At home, Malaysia Airlines also faces stiff competition from AirAsia, a juggernaut that is Asia's biggest low-cost carrier group. Staff resistance to the restructuring and pilot shortage are among the other issues, says Png.
So, if yet another deadline is missed, the question of whether national ownership is necessary will surface again, particularly whether more money should be pumped in to sustain the airline until it is ready for relisting.
"That said, a lot has been done and the airline is definitely in a better financial situation than before, so it shouldn't need as much money moving forward," opines Sobie.
A case worth looking at is that of debt-ridden Japan Airlines, Japan's national airline, which fell into bankruptcy in 2009. Its turnaround, involving billions in debt forgiveness alongside injection of public funds, took just three years before it relisted in 2012.
But the comparison can be tricky due to market-specific conditions, says Sobie.
"In some situations, the case for reprivatising is more solid. Here, it would be difficult to find investors for Malaysia Airlines given its market and the dominance of AirAsia," he explains.
If the relisting goal cannot be accomplished, the Malaysian public would be left holding the baby. The question then is, for how long?
Historically, it was important to have a national carrier to connect Malaysia to the outside world but that need has lessened given the emergence of private players such as AirAsia, says Png.
While Malaysia Airlines could still tap under-served long-haul opportunities such as to Europe in the longer term, it needs lower unit costs to make money on them, she adds.
"Otherwise, AirAsia X may well be better positioned to serve more of the long-haul international markets and AirAsia Group will end up becoming the de facto 'national carrier' of Malaysia," Png concludes.
Save by subscribing to us for your print and/or digital copy.
P/S: The Edge is also available on Apple's AppStore and Androids' Google Play.