This article first appeared in The Edge Malaysia Weekly, on April 15, 2019 - April 21, 2019.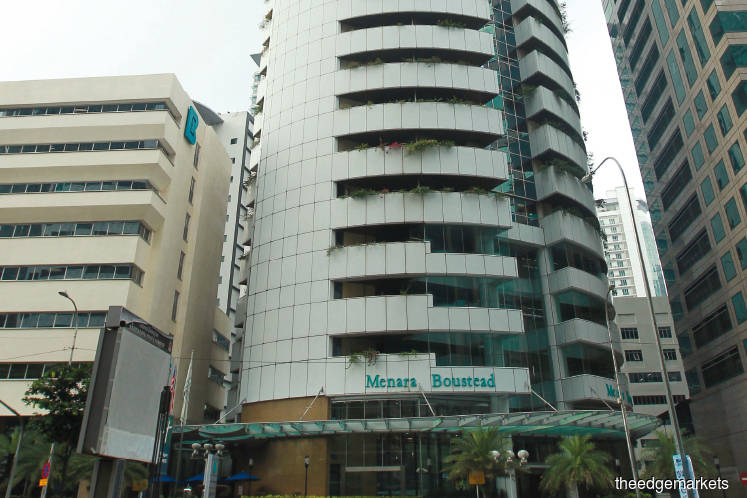 Photo By Mohd Shahrin Yahya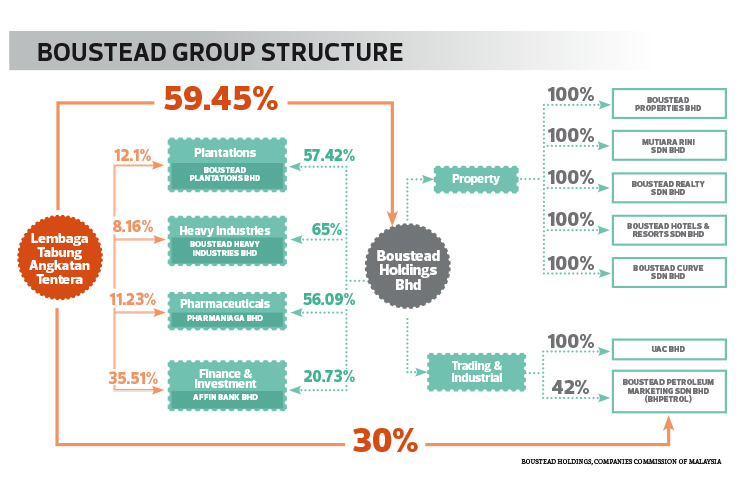 Source: BOUSTEAD HOLDINGS, COMPANIES COMMISSION OF MALAYSIA
LAST Friday, Boustead Holdings Bhd's shares were last traded at RM1.24, a multi-year low. That valued the company at RM2.51 billion, just half of what it was worth 12 months ago and far below its past highs.
Some may see the slump as a manifestation of its recent financial performance. However, that is not all — it is also a reflection of the cloud of uncertainty hanging over Boustead Holdings, the flagship listed vehicle of the Armed Forces Fund Board or Lembaga Tabung Angkatan Tentera (LTAT). It is essentially a holding company that houses LTAT's major stakes across its six core businesses.
Financially, Boustead Holdings ended its financial year ended Dec 31, 2018 (FY2018), in a tight spot. It reported an audited net loss of RM469 million on revenue of RM10.19 billion as most of its core businesses struggled against headwinds.
The full-year loss, its first in 17 years, came as long-serving managing director Tan Sri Lodin Wok Kamaruddin, who had been the face of the Boustead group and LTAT for years, departed on Dec 31 last year. He had assumed the position on July 10, 1984, one year after becoming the CEO of LTAT. He had held both positions concurrently, alongside many other directorships throughout the Boustead group of companies, up until his exit last year.
Lodin is seen as a longtime ally of ousted prime minister Datuk Seri Najib Razak, who was defence minister twice (1990 to 1995 and 1999 to 2008). The close association also extended to Lodin chairing the 1Malaysia Development Bhd (1MDB) board from December 2009 until the board resigned en masse in April 2016.
His departure from LTAT and Boustead was seen as part of the corporate shake-up that followed Malaysia's first federal change in government that expelled Najib out of Putrajaya.
Coming back to Boustead Holdings, it still paid shareholders a dividend of five sen per share — a record low — despite a loss-making year.
Meantime, the cloud of uncertainty lingers over Boustead Holdings despite the recent appointment of Lodin's successor at the helm.
Come May 6, the group will welcome its first new managing director in nearly 35 years — outgoing Sime Darby Property Bhd chief Datuk Seri Amrin Awaluddin.
While news of Amrin's appointment resolves the question of who will take the hot seat, what remains unclear is the way forward for Boustead Holdings and its sprawling interests.
The group has a presence in six different sectors — plantations, heavy industries, pharmaceuticals, finance, property and trading and industrial. Of these, plantations and heavy industries ended FY2018 in the red while other than Affin Bank Bhd, the rest saw their respective bottom lines come under pressure.
The big test for the incoming chief is how he will deal with the situation. Will a massive corporate restructuring follow?
Amrin will also have to manage the entrenched expectation of the market that has become accustomed to consistent dividends from Boustead Holdings even during difficult times.
Eyes on LTAT
To some extent, the way forward for Boustead Holdings and its wide-ranging business interests will be tied to developments at its controlling shareholder, LTAT.
The fund is heavily dependent on the Boustead group for income in the form of dividends. This is likely why the group is structured in a way that accords it close control over such diverse business interests at the expense of much higher concentration risk.
The group was also criticised in the past due to the perception that it was selling assets to sustain dividends. Lodin denied this in a past interview with The Edge.
In 2016, for example, 47.08% or RM381.07 million of LTAT's income came through dividends from what it called its "subsidiaries and associate companies". The fund's dividend income for 2017 and 2018 is not available yet, but it is expected to be lower.
This means that even without a major restructuring at Boustead Holdings level, Amrin's immediate task will be to work towards enhancing returns for shareholders, including LTAT.
LTAT was set up in 1972 to enable officers in the armed forces to participate in a savings scheme. It also provides retirement and other benefits to other ranks in the armed forces while offering retraining for retired personnel. As at 2017, LTAT reportedly had assets under management of RM10 billion.
That said, major changes are looming at LTAT as well, which will likely ripple across the group and shape Amrin's mandate at Boustead Holdings.
On Sept 7 last year, LTAT welcomed new CEO Nik Amlizan Mohamed after Lodin left in August, three months after the May 9 general election that saw a new government in Putrajaya. The fund also saw a new chairman, Tan Sri Mohd Zahidi Zainuddin, come on board.
On Nov 1 last year, Nik Amlizan joined Boustead Holdings' board as a non-executive director. Last week, she joined Minister of Defence Mohamad Sabu in a brief press conference to explain the discrepancies in LTAT's 2017 accounts.
She explained that LTAT had over-reported its 2017 profit by erroneously booking a RM202.71 million profit from a land sale that was yet to be completed. It also did not make a RM88.9 million impairment that it was supposed to.
That meant that LTAT's 2017 net profit was RM370.56 million, and not RM662.17 million as reported. These discrepancies also delayed its 2018 accounts.
Crucially, in what was her first press conference since taking over as LTAT CEO, Nik Amlizan indicated that some restructuring was in store for the fund going forward.
She did not elaborate on the throwaway comment during the press conference but it is worth noting that prior to taking charge at LTAT, Nik Amlizan was chief investment officer at Kumpulan Wang Persaraan Diperbadankan (KWAP), which manages pensions for civil servants.
She joined KWAP in September 2014 and left after four years, during which time she oversaw the fund's best full-year financial performance to date in 2017.
In her review of the fund's 2017 investment performance, Nik Amlizan noted that "diversification is key to minimising investment risks". That year, KWAP's equity exposure represented 42.79% (RM60.2 billion) of its RM140.8 billion fund size. Another 51.07% was in fixed-income instruments.
Replicating that model at LTAT would mean tackling head-on its concentration risk in the Boustead group of companies. The challenge would be to rebalance LTAT's investments without unduly disrupting the market.
At holding company level, much of Boustead Holdings' forward strategy would depend on what LTAT wants. At present, it is clear that maintaining the status quo presents a sizeable challenge to the conglomerate, market observers say.
First, it would face a classic conglomerate dilemma — its diversity means complexity. Last year, many of its major businesses went through turbulent times.
Take its heavy industries division, which includes a majority stake in Main Market-listed Boustead Heavy Industries Corp Bhd (BHIC).
At the Boustead Holdings level, provisions and impairments led to a divisional loss of RM593 million last year, dragging down overall earnings.
Meanwhile, vessel builder BHIC ended FY2018 with a net loss of RM108.3 million, its second loss-making year in four as revenue fell to RM169.1 million, an 11-year low.
Its plantation business, Boustead Plantations Bhd, also recorded its first full-year loss in FY2018 since listing in 1973. Net loss was RM51.78 million as revenue fell 23.2% year on year to RM584.01 million.
The planter has been struggling with low crude palm oil (CPO) prices and high costs, exacerbated by expensive acquisitions that did not immediately boost its earnings (see accompanying story).
The other divisions — property, pharmaceuticals and trading and industrial — also saw a difficult FY2018 that led to lower profits.
The pharmaceuticals division is an especially major concern as its concession with the government is up for renewal by the end of this year. Meantime, the property division is grappling with a market downturn.
The exception is the group's finance and investments division, which houses its associate stake in Affin Bank, the improved earnings of which in FY2018 drove a better profit showing last year for the division.
That said, Affin Bank is among the smaller banks in the country and the pressure is on it for a potential merger to grow bigger. But that could mean a financial commitment on the part of its shareholders, which, in theory, risks stretching Boustead Holdings' resources.
To be fair, each major subsidiary has its own board of directors responsible for business strategy. However, it falls on Boustead Holdings to vet those plans, monitor their implementation and ensure the various entities in each division march in lockstep. If need be, the holding company is looked upon to lend financial support.
Such a situation would put a tremendous strain on Boustead Holdings, stretching its capacity, including its finances.
As at Dec 31, 2018, its cash balance stood at RM753 million, a slight improvement from RM631.1 million in FY2017 but less than half the RM1.72 billion held two years ago. Its total borrowings grew almost 22% over the year to RM7.53 billion as at Dec 31.
Case for a breakup?
Boustead Holdings' current complexity, taken together with LTAT's concentration risk situation, present a clear alternative — simplify.
An obvious way to achieve this may be for Boustead Holdings to demerge and remove itself as the intermediary between LTAT and major business entities.
That could begin by distributing its shareholding in the four listed key companies — BHIC, Boustead Plantations, Pharmaniaga Bhd and Affin Bank — to LTAT.
This is not dissimilar to what Permodalan Nasional Bhd (PNB) did in the demerger of Sime Darby Bhd and UMW Holdings Bhd in 2017. To recap, PNB broke up the Sime Darby conglomerate into three separately listed entities via a share distribution exercise.
Today, the Sime Darby holding company retains its motor dealership and industrial machinery businesses while the plantation and property businesses are listed separately. As for UMW Holdings, its former oil and gas unit was carved the same way and is now a standalone listed entity whose majority shareholder is PNB.
This sort of arrangement will immediately relieve Boustead Holdings' board of looking at six different industries and maintaining an accordingly diverse mix of expertise among its members.
At the same time, it will allow LTAT to consolidate its shareholding across the four listed companies as it charts a potential portfolio rebalancing, depending on its strategy.
However, this scenario presents Boustead Holdings with another problem: what to do with the remaining divisions? Take out plantations, heavy industries, pharmaceuticals and finance and investments, and it is left with property and trading and industrial.
The property division is anchored by Boustead Properties Bhd, which was privatised in 2008. This division also holds the group's hospitality assets and investment properties, including The Curve mall in Mutiara Damansara.
The trading and industrial division houses cellulose fibre cement board manufacturer UAC Bhd, which was delisted in 2012, and petrol retailing business BH Petrol.
Should Boustead Holdings pass on its shareholding in the four listed companies to LTAT, it only makes sense to continue with the simplification by also allowing the fund to be the direct shareholder in both the property and trading and industrial divisions.
However, it would be more difficult for LTAT to rebalance its exposure to the privately held entities, especially with capital market conditions being so unappealing for initial public offerings.
With many permutations up in the air, it is clear that the cloud of uncertainty over the future of the Boustead group will linger until more clarity emerges.
That may begin with more details on LTAT's restructuring plans under its new CEO and what strategy Boustead Holdings' incoming managing director will implement in the coming months.