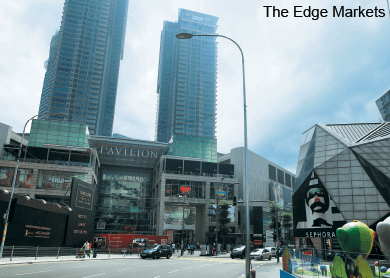 THE local retail industry began in the late 1980s when Malaysian enterprises began to manufacture and sell their own brands as a natural progression of being original equipment manufacturers for European labels. Many of these manufacturers were based in Johor and produced mostly garments and shoes. Eventually, the country shifted from agriculture to manufacturing and retail grew exponentially, becoming a key economic driver.
According to the tourism fact sheet under the Economic Transformation Programme, the local retail industry attracts 25 million tourists a year, which translates into receipts of RM60 billion. However, it is domestic demand that is propelling the industry, although this may change with the recent implementation of the Goods and Services Tax and subsequent rise in prices.  
Savills Malaysia managing director Allan Soo says the retail market has been slowing since 2013 as the rising cost of living weakened consumer sentiment. Last year, it suffered a further blow after tourist arrivals dropped drastically following the MH370 and MH17 tragedies. "Sales fell 20% in 2014 because sentiments were negative. The market also experienced a drop in tourist arrivals as a result of the MH370 incident. A large percentage of the country's tourist arrivals has been from China, especially in the last two to three years. Another factor that contributed to the slowdown in the retail industry is inflation," Soo comments.
DTZ Malaysia's executive director and head of retail for Southeast Asia, Ungku Suseelawati Ungku Omar, concurs with Soo, noting that the retail market saw negative growth of 0.8% last year.
And according to Henry Butcher Retail and Retail Group Malaysia managing director Tan Hai Hsin, shopping centres are facing difficulties in finding and retaining retailers. The local consulting firm provides research and shopping centre consultancy services to retailers and shopping centre developers and managers in Malaysia and around the region.
"Managers of strata-titled shopping centres continue to find it hard to fill up the lots after months of opening. To attract retailers, landlords are giving long rent-free periods as an incentive. Occupancy at the shopping centres was 81.3% in 2013 and 82.3% in 2014," says Tan. "The low average was due to the wide disparity in the rates among the shopping centres."
He notes that popular malls, such as Mid Valley Megamall, Suria KLCC, Pavilion KL, Sunway Pyramid and 1 Utama, enjoy almost full occupancy of 98% to 99% while some shopping centres, which he declines to name, are only 50% to 60% tenanted.
Tan also points out that the older shopping centres are losing their tenants to their newer, bigger and more modern counterparts. "Older shopping centres need to improve their trade and tenant mix to remain relevant and sustainable. For example, Subang Parade in Subang Jaya, Citta Mall in Ara Damansara and 1 Utama in Bandar Utama have added cineplexes to their respective malls. Some shopping centres have repositioned themselves, for example, Pearl Point in Old Klang Road, which has converted its amusement centre into more retail lots catering for fashion and telecommunications operators, and Endah Parade in Seri Petaling, which has been trying to attract bridal shop operators as tenants."
Incoming supply
Moving forward, more shopping centres are coming up in the Klang Valley as well as other areas in the country. Tan says based on recent data provided by Retail Group Malaysia, the Klang Valley can expect 6.5 million sq ft of new retail space in the next five years.
The existing retail space in KL city is 28 million sq ft while in the Klang Valley, it stands at 24.5 million sq ft, says DTZ's Suseelawati.
With such a big incoming supply, can the market survive? Suseelawati opines that the situation is quite worrying as it will affect the performance of the retail market. "Some of the factors we're looking at are overlapping catchment and dilution of sales and business performance."
Tan adds that with more malls coming into the market, the retail industry will see intense competition, which will lead to even better rental packages from the landlords, including a longer renovation-free period, renovation subsidy and low base rent with turnover rent.
According to the Department of Statistics, the Klang Valley had a population of seven million in 2010. On a per capita basis, the current mall space works out to 7.6 sq ft per person, says Soo. "Basically, there will be a lot more malls in the market in next two to three years. This means a few things, one of which is pressure on rents. Older malls that are doing well will continue to see a steady growth in rental rates. However, there will come a time when even the old malls find it difficult to grow sales for rents to grow — rents are tied to sales. So, if I can't get sales up, how will I pay the rent?"
Soo also believes that many developers do not realise the high cost of construction and land can bring about negative profit in the short term. "Although rents will catch up in the long term and the mall will be more profitable in the future, in the immediate term, it will lose money. The important thing is whether it has the capacity to hold on and increase the rents."
Developers and owners must also take into consideration the location of their malls, says Soo. "Is the area sufficiently populated to support the mall's growth? If you build the mall in the middle of nowhere with no population catchment, you cannot increase the rental rate even if you have the capacity to hold the mall. I believe there are two important things to consider before building a mall — holding cost and population."
Creating an experience
With so many new entrants and fiercer competition, the trend for developers is to create a shopper experience at their malls, says Soo. "It's not so much about retail anymore. It's about the consumer experience, including traffic conditions, availability of parking space, ease of getting from one floor to another, facilities and so forth.
"A mall's location — in the right place and with a population to sustain it — will add value to it. A plus point would be if it offered a unique concept."
Henry Butcher's Tan notes that many shopping centres have introduced thematic retail zones to their mini-anchor space to increase footfall. For example, Pavilion in the Kuala Lumpur city centre has three retail concepts — Tokyo Street, Fashion Avenue and Dining Loft — while Berjaya Times Square has converted one of its atriums into a thematic retail enclave called Central Park.
"There is also Cheras Leisure Mall, which has converted its amusement centre into a 2-storey food and beverage (F&B) enclave. Farenheit 88 has turned its top floor into a thematic retail zone called Parkamaya while Mid Valley Megamall has renovated its top floor into a contemporary retail zone with 2-storey retail shops, called On3. Suria KLCC has also reconfigured its anchor space with more retail shops, thus reducing Isetan's space, while Wangsa Walk Mall has added a row of 2-storey retail blocks to the front of its main building and filled it with restaurants and shops," says Tan.
Although the local retail market has been slow in the past two years, Soo says Southeast Asia in general has been doing better than Europe. In fact, many European and American brands are looking at expanding in this region as it is growing rapidly, he adds. "You can see more brands coming to Southeast Asia and Malaysia is no exception. Savills Malaysia has brought in a few brands, such as Sacoor Brothers from Portugal and Under Armour from the US. Other European brands too seem keen to come here to leverage our growing economy."
Some of the new brands in Malaysia are Blackbarrett (the UK), Desigual (Spain), MCM (Germany), Tory Burch (the US) and Halston (the US), says Tan. The F&B segment saw the entry of Nana's Green Tea (Japan), Red Lobster (the US), Fatburger (the US), Quiznos (the US) and Jamaica Blue (Australia). Other retailers that opened in the Klang Valley last year include Spotlight (Australia), Hamley's (the UK), innisfree (South Korea), Kare (Germany) and Index Furniture Mall (Thailand).
"Meanwhile, large format speciality retailers, such as H&M, Uniqlo, Zara, Mango and Muji, continued to expand and upgrade in the shopping centres in the Klang Valley," says Tan.
Retail market outlook
Soo and Suseelawati see the retail industry continuing to slow this year as inflationary pressures keep impacting the domestic market. "Moving forward, the market will soften on weaker consumer sentiment as the 6% GST increases the prices of goods and services. I can't predict when the market will be healthy again," says Soo.
Tan believes GST is one of the biggest challenges for the retail industry this year. "For six months after the implementation of GST, retail sales will likely drop as consumers would have made their major purchases in advance and adopt a wait-and-see attitude. They will become accustomed to GST by the last quarter of the year and we expect retail spending to return to normal then," he remarks.
He also thinks popular shopping centres will continue to attract large crowds and hypermarkets will dominate the grocery sector while poorly occupied malls will have difficulties in attracting tenants and shoppers.
This article first appeared in City & Country, The Edge Malaysia Weekly, on May 18 - 24, 2015.