This article first appeared in The Edge Malaysia Weekly, on June 17, 2019 - June 23, 2019.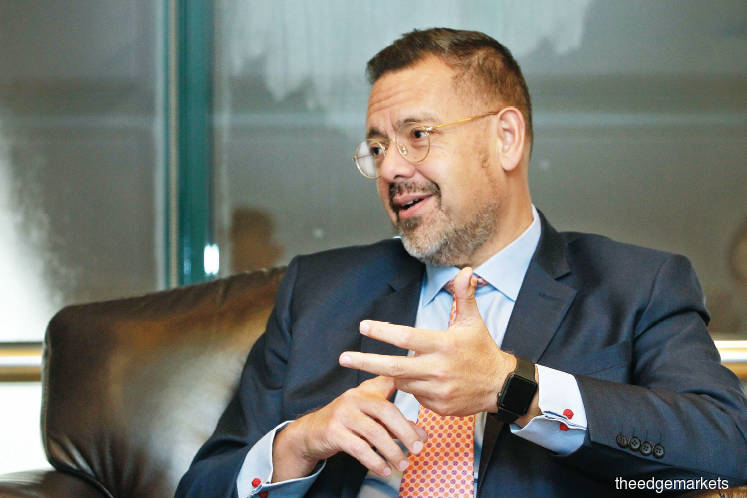 WHEN it was announced last December that Datuk Muhamad Umar Swift would succeed Datuk Seri Tajuddin Atan as the CEO of Bursa Malaysia Bhd — effective Feb 11 — expectations were high that he would bring a fresh perspective to the local bourse.
In an exclusive interview with The Edge, his first with the media, Umar talks about his plan to spearhead the next phase of growth for Bursa Malaysia, turning it into a globally connected Asean marketplace.
The following is an excerpt from the interview.
The Edge: How has it been, taking over as the CEO of Bursa Malaysia in the last four months? How has your life changed?
Datuk Muhamad Umar Swift: It is clearly a far more public role than what I am accustomed to. That's the little adjustment I have to make. What's important is building on the team that we have here. The fundamental takeaway in my first four months is to reach out to the stakeholders. Now, we begin to make changes that need to be done.
 
What exactly are those?
An exchange cannot survive on trading revenue from conventional assets alone. Therefore, we will be expanding into offering other asset classes, helping capitalise new emerging areas of the economy as well as providing access to advanced data-driven services. The list is endless but this is our future.
 
In your opinion, why does the local equity market appear to be underperforming?
We have many great businesses, some are global and regional champions. A strong list of SMEs (small and medium enterprises) with an equal number of rising stars. But like any market, there are also those that are underperforming.
To be fair, it is all part of a long-term development process every business will face at some time. But clearly, they will need to push harder to improve productivity, leverage technology, grow out of a reliance on low-cost labour. This holds up their ability to innovate and move up the value chain. In a time of cautiousness, lower earnings from one group can feed sentiment that spills over into the rest of the market.
 
Given these conditions, how do we make the bourse vibrant? How do you develop an attractive market that appeals to all investors?
We have a shared vision amongst authorities. We are collaborating widely to achieve the goal of attracting quality foreign and domestic issuers and investors. Together, we are driving a more open, welcoming and simplified approach to draw new investors into our market. This includes broad measures, such as facilitating the flow of funds for development and growth, shortening the turnaround time and time-to-market and driving cost efficiencies.
 
The IPO market has seen better days. Last year, we saw more companies debuting on the LEAP Market than on the Main Market. While there is a place for LEAP companies, why are we not seeing bigger, more interesting companies choosing to list here?
It's not just how many companies we can list but the quality of the companies we list. It's less about if they are headed to the Main, ACE or LEAP Markets and more about a plan that can raise quality across the board. It's about achieving quality and diversity on the bourse, where instead of a few champions in various areas, we have champions in every corner.
 
What are Bursa's main challenges now and in the coming years? What is it doing to overcome these challenges?
Structural and ecosystem challenges. Very functional, very clear-cut. Diagnose, propose, execute. All the data and facts are there. Those are the easy ones. In trying to look at future challenges, we need to take a strategic route. Challenges will always come and go. They're always evolving, always different. Therefore, we need to have the right mindset, tools and vision of the future — a future we want to create, not a future that we are forced to react to.
 
What has Bursa done to deliver a better experience for investors?
It is all about accessibility — to information, movements, global and regional trends, new possibilities. We are doing this by enhancing our digital touchpoints, such as Bursa Marketplace and Bursa Sustain, which have been well received, but we believe we have more to give.
 
How has the rise of technology helped and disrupted stock investing and exchange operations?
We see technology as a positive disruption. Think of everything you've wanted to develop, services you wish you could offer. Technology gives you the power to disrupt the barriers that once stood in your way of doing that.
For exchanges, it is no different. Technology gives exchanges, investors and businesses the agility to respond strategically to emerging patterns and trends. For Bursa, technology is helping us grow our capabilities, breadth and depth of our services and offerings. We harness the positive disruption of technology to provide opportunities in efficiency, innovation and competition.
 
What are the examples?
Modernisation of post-trade infrastructure. It enables shorter settlement cycles, new services and functionalities, and it reduces counterparty risks.
We are also collaborating with all stakeholders to drive progress in e-CDS (Bursa Anywhere). Investors can expect a fully digitised new customer on-boarding process, on-demand access to account info, delivery of relevant market information, e-services such as IPO application and e-dividend subscription, as well as value-added data-driven services such as alerts and analytics.
 
Bursa has had an advantage in crude palm oil futures trading for many years. But lately, other exchanges have come out with their own crude palm oil futures products (some offering physical delivery in Indonesian ports) and while the volume is small compared with Bursa's, is there concern that the BMD FCPO products will one day be overshadowed by competition from the region? How do you maintain your advantage here?
Competition is a good sign. It shows us that this is a viable space, has room to grow and will be valuable into the future. Competition also drives us harder, and focuses our minds. We welcome it, and while we have clear advantages, we are also leveraging them now so as to stay ahead.
Bursa Malaysia Derivatives' (BMD) crude palm oil futures contract is an established, well-balanced product. The market consists of a 50:50 balance between institutional traders and other market participants. BMD has an open position of seven times our daily volume. This signifies the confidence to hold long-term hedge positions in our market. Currently, there are positions up to May 2021. It comes from our ability to provide liquidity and manage market risk.
To keep our competitive position as the global benchmark, we are creating opportunities through product and investor development.
 
Do you think Bursa's listing rules are too restrictive? Yet, when abuses take place, are its penalties strong enough to deter directors and executives who abuse their positions in listed companies for personal gains?
The regulations currently in place are generally well designed. But as always, there is room for improvement. There are many perspectives to this. Some think we are to the point of being paternalistic. On the other end of the scale, some think we are too lenient. There is a fine balance involved. To me, it is not a question of whether we are over-regulated or under-regulated. People want certainty and clarity.
If we focus on the worst offenders, we end up punishing the market and choking it to death. Yes, penalties can always be increased, and maybe they should. But we have to act and regulate in the interest of the majority, those who operate well within the rules. And, of course, be swift to punish the worst cases.
 
Should PN17 companies be delisted sooner rather than later?
We have rules, you follow the rules. PN17 companies have 12 months to formulate, finalise and submit a regularisation plan — during which they must keep the market informed. It is not a question of us merely extending the deadlines or delisting them. Some of them might have good reasons, strategies and regularisation plans. If they have the potential to be rehabilitated, then we would give them time. However, PN17 companies would be delisted if there is a lack of significant progress or certainty on their part in keeping to their regularisation plan. The delisting has to be rule-based. There is a clear guideline and timeline for a potential delisting. Investors have sufficient time and opportunity to react.
 
Do you think Bursa's credibility has been undermined by the incident last year when a senior surveillance staff was seriously injured in an attack that was likely linked to his work? Has the incident changed the way things are done at Bursa, made you more vigilant perhaps or strengthened or weakened your resolve to monitor the conduct of member companies?
The incident has not changed how we do things. If anything, it has strengthened us. But we do learn from the incident, we take security far more seriously.
This incident is unthinkable. It is a terrible tragedy. I am very unhappy about it. I don't want it to sound like a challenge but criminal intimidation is not something we will bow to. It is not going to change the way we do things. We are not going to succumb to it. We are not stepping away.
As for the victim, what we can do is to continue to support him and his family. When he is ready, he can come back to work. The door is open to him. We will find a way to sustain his living. We have that responsibility.