This article first appeared in City & Country, The Edge Malaysia Weekly, on - January 07, 1970.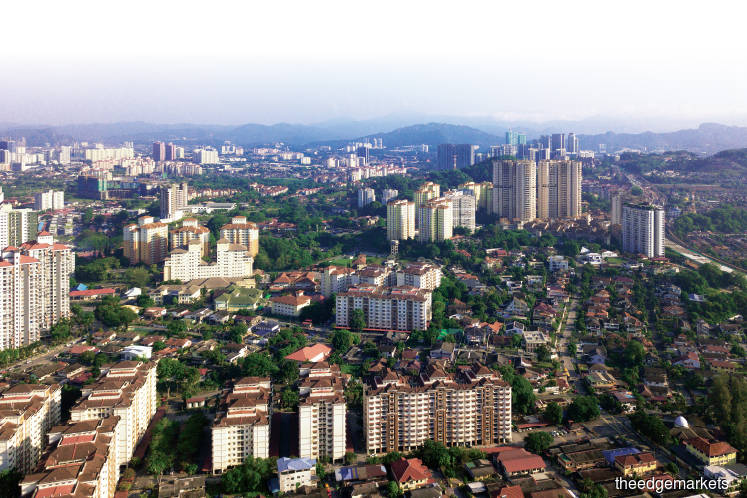 Click / Tap image to enlarge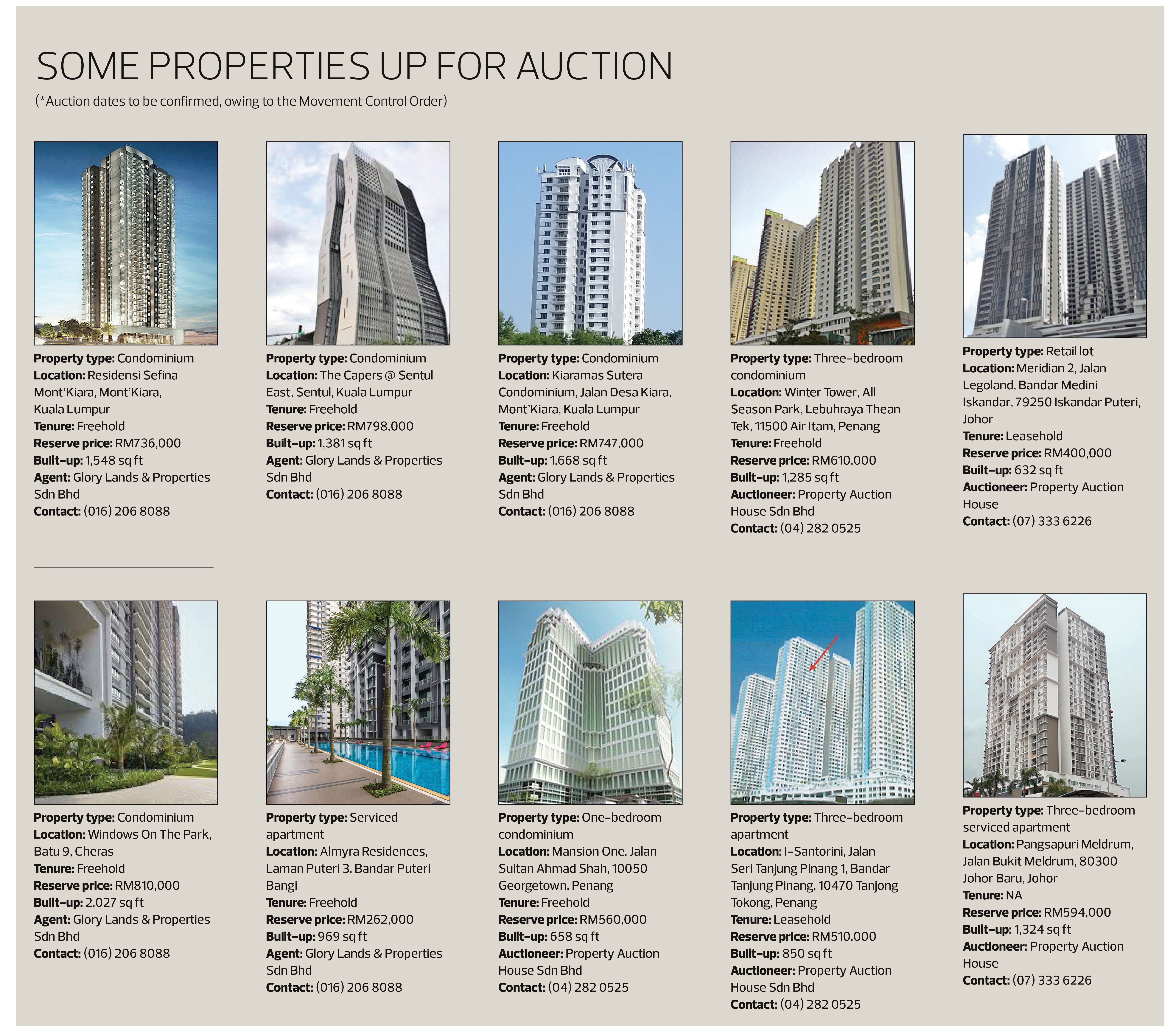 The Great Shutdown, also known as the coronavirus recession, has impacted industries and businesses on a global scale. Our local property auction market is no exception.
Property auctioneers such as Property Auction House Sdn Bhd, which has been around since the 1980s, have seen more than one financial crisis, the last one not that long ago.
"The severe one was the 1997 Asian financial crisis and, to a lesser extent, the subprime mortgage crisis in 2008. During the Asian financial crisis, there was a serious liquidity issue. There was a credit crunch and the interest rates charged on loans were very high, to the tune of more than 10%. Banks at that time preferred to only grant housing loans of up to RM150,000," says Property Auction House executive director Danny Loh.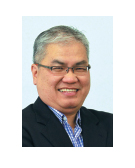 "With the slump and depreciation of currency, devalued stock market and panic, properties were difficult to sell. At that time, everyone was looking at cash flow and in the real estate market, people were cashing out by selling properties at ridiculous prices," he says.
It took the auctioneer several years to help the banks dispose of their non-performing loan (NPL) stocks then with the introduction of mass auctions. "The dilution in asset then was unbelievable and [what was most important was] to have cash or buyers. 'Hair cut' was a common term as banks were ready to [forgo] certain loan amounts to secure their position," he adds.
Glory Lands & Properties Sdn Bhd principal and founder Leslie Low, a real estate agent who has been specialising in auctions since 2010, recalls that during the 2013 US debt-ceiling crisis, the number of auction properties in Malaysia increased by 50%, from 1,500 cases between 2010 and 2012 to about 2,200 cases between 2013 and 2014.
"It is definitely not a good thing for the market when there is more supply. Some people may think it is good for the auction business when there are more properties to be auctioned but when the market is soft, buyers are limited, so supply becomes more than demand and the prices of auction properties will drop even lower," says Low.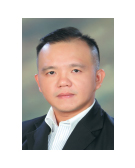 During bad times, he adds, properties will also need to go through more rounds of auctions, with each round seeing prices slashed by 10%. "We have seen properties go through six to seven rounds of auctions and their prices fell more than 50% from the reserve price and bank valuation."
More supply, more choices
Auction cases in Malaysia have been postponed until further notice since the Movement Control Order was imposed on March 18. However, Loh of Property Auction House is anticipating a rise in auction cases, specifically after the moratorium period for borrowers ends.
"Due to the movement restriction order and moratorium being granted to borrowers, we believe there will be no new cases for the auction market now and we can only proceed with NPL cases.
"Nonetheless, we can anticipate more auction cases in the coming years, as we noticed that valuations on properties, especially the newer ones, are lower than the entry point. These owners can sell their properties in the sub-sale market if they are able to redeem them from the bank. [Otherwise] the next option is to go for auction. It really depends on the valuation," he says.
Loh believes many of these owners who bought new launched [properties] over the past few years would be struggling financially with their investments. "As we are well aware, there were many new launches [offering] various schemes to entice buyers," he notes.
"Also, there may be impending pay cuts or retrenchments owing to the current crisis and many borrowers may be unable to service their loan commitments, thus leading to more NPL stocks," he adds.
In the same vein, Glory Lands & Properties' Low has observed that a lot of new condominiums that went into the auction market last year were properties purchased using compressed loans. "We noticed a lot of the same owners holding three to four units queuing up for auctions, but their loans were from different banks. From that, we believe these to be compressed loan cases; for example, where a buyer whose income is only eligible for one loan is holding four loans for four properties. If the units are unable to be rented out, the buyer is [unlikely] to be able to service the loans. We have seen many in this situation."
According to Low, the auction market last year saw a 30% to 50% increase in the number of auction cases compared with that in 2018. "Many of the cases were newly completed condominiums whose borrowers defaulted on payments.
"We are anticipating a big increase in auction properties and we expect an increase [in volume] by at least 30% [later] this year. We also foresee prices of auction properties falling by 20% to 30% compared with similar units in the same project that were transacted previously," he adds.
AuctionGuru.com.my and Ernte Auction House Sdn Bhd executive director Gary Chia,meanwhile, expects to see an increase in the number of commercial properties going for auction. "From our studies, we foresee commercial properties, especially SoHos (small offices/home offices), SoVos (small offices/virtual offices), SoFos (small offices/flexible offices) as well as properties invested for Airbnb purposes, to be badly affected during this period. We believe auction cases will build up ­owing to market uncertainties and weak sentiment."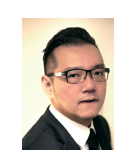 Online auctions — the new normal?
Since the Covid-19 outbreak, observing social distancing measures is the new normal, and attending public auctions seems to be out of the question. Hence, auctioneers are likely to rely more on virtual auctions.
"Fully online auctions are already available, and we have been conducting online auctions for various banks where the bidding is performed via [an internet-enabled] mobile device. We will eventually have to adapt to this as this will be the new normal," says Property Auction House's Loh.
Other than LACA (loan agreement cum assignment) auctions, high court auctions in Malaysia are also being centralised onto an e-bidding website. According to Glory Lands & Properties' Low, the centralised e-bidding system started two years ago with its adoption in Pahang and Perak and is now available for new auction cases in Peninsular Malaysia.
"If a bidder is bidding for a [high court auction] property in another state, the bidder can now submit the necessary documents and bank drafts to the high court of the state where the bidder is located as well as the high court of the state where the property is located," Low explains.
While the high court's e-bidding system is currently only available for new auction cases, he believes ongoing cases that were previously auctioned but not sold for a period of time, and whose valuations need to be updated, would eventually be uploaded onto the centralised portal as new cases once their valuations have been updated.
Nonetheless, AuctionGuru.com.my's Chia does not foresee online auctions overtaking on-site bidding in the foreseeable future. "Although there seems to be an upward trend in online auctions, I do believe that the conventional on-site auction will remain relevant as the bidding atmosphere is irreplaceable and the value involved in property auctions is a huge amount."
Market needs
In February, Glory Lands & Properties' Low observed that several banks had slashed auction property prices up to 20% for a second round of auctions, compared with the 10% as practised previously. "Banks don't want to waste time as well as auctioneer and legal fees because the fees, even when there is no bidder for each turn, will accumulate and be borne by the borrower," he notes.
Learning from previous recessions, Property Auction House's Loh urges banks to look into re-evaluating auction properties. "Due to the dilution in asset value, buyers may want to wait longer to buy. Instead of waiting and going through a series of auctions, banks may want to sell a property quickly to recover the loan.
"Past experience has also shown us that the longer we wait, the more difficult it is to secure buyers, whose numbers continue to dwindle," Loh remarks.
Meanwhile, he notes that the government can help auctioneers by relaxing some of the current policies. "This includes reducing the threshold of foreign purchase from the current RM1 million to RM500,000 for properties in less popular areas, relaxing the strict criteria for loan applications, reviewing the RPGT (Real Property Gains Tax) or stamp duties on property transactions, which it did during the Asian financial crisis to spur the market, and engaging auctioneers for all auction cases, including high court cases."
According to AuctionGuru.com.my's Chia, a speedy recovery of the economy as well as a boost to consumer spending is important. "Without stability in both, the auction market will be affected too. The implementation and execution of business-friendly policies by the government and financial institutions will definitely help strengthen the overall market."
Lastly, Low believes auctions are becoming more popular. "More people are starting to look at auction properties today. Auction properties were less popular previously owing to poor perception and a lack of understanding."
According to him, this segment of the market started getting more attention around five years ago when many auctioneers and agents began to hold seminars on auction properties.
"Also, now that many auction properties are brand-new condos that have never been occupied, with prices reduced by 30% to 50% from their launch price, the auction market is getting more [attractive]," Low says.