This article first appeared in Personal Wealth, The Edge Malaysia Weekly, on May 21, 2018 - May 27, 2018.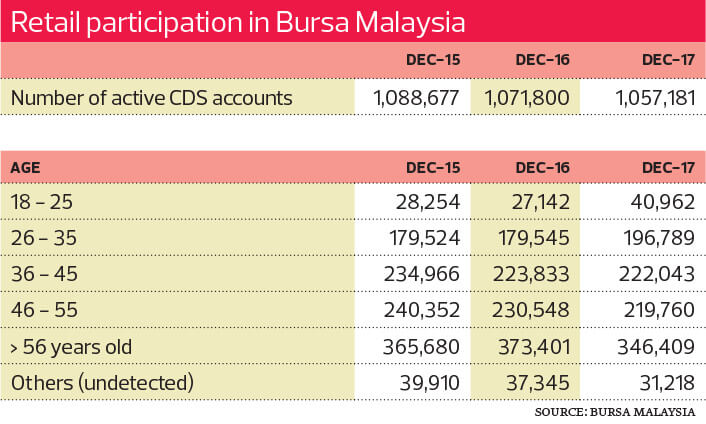 Rewarding children with money and presents for their academic achievements is a common practice but not many would give stocks, especially to a 12-year-old. But this is exactly what Lee Zian Wei received from his parents for his primary school assessment examination (UPSR) results.
"My father decided that a stock was more meaningful to teach me the power of long-term value investing, which he believed in. Sure enough, I held it until my college years and its value increased many times," the 24-year-old data analyst tells Personal Wealth.
Lee's father could not teach him the basics of investing as he was not from the finance industry, but he believed that investing was and is the key to financial success. He was mostly self-taught, learning by reading books like Benjamin Graham's The Intelligent Investor.
"While he asked me to read these books, the main thing he taught was through leading by example, which is how most children learn from their parents. My parents encouraged me to invest and invested themselves. Growing up in this environment, it became a given that investing was a must," he says.
His decision to open up a trading account was also prompted by his experience as a business club member at university. "A trading expert was invited to give a talk on technical analysis. I was a member of the organising committee for the event and was given a ticket to attend a private lesson by him.
"I had just turned 18 and I immediately signed up and opened a trading account," says Lee, who is also an advocate of using technical analysis as an investment tool.
Lee's story belies the stereotypes many believe about Gen Y. Apart from being branded as spoiled and impatient, they are said to place a lot less trust in the financial services industry than their parents — the baby boomers.
The financial services industry, and particularly stock exchanges the world over have their work cut out for them. In Malaysia, regulators have long acknowledged the low retail interest in the stock market, particularly after the 1997 Asian financial crisis that burnt many investors and caused them to shy away from the market altogether.
For years, retail participation in Bursa Malaysia has hovered around 20%. Its Annual Report 2017 titled 'Growing the marketplace: Creating future value' showed that last year, local retailers accounted for merely 12% of the value traded while foreign retailers accounted for just 1%.
Comparatively, according to the Hong Kong Exchanges and Clearing's Cash Market Transaction Survey 2016, retail investors in the exchange provided 23% of the 2016 trading value. At the Stock Exchange of Thailand, local individuals make up about 40% of total investors, according to its yearly cumulative data as at May 3.
However, in November last year, Bursa CEO Datuk Seri Tajuddin Atan said the stock exchange was aiming to boost the participation of retail investors to 25%. To that end, in early February, the previous government announced a list of measures to lure retail investors, which included among others, a volume-based incentive programme and a six month-waiver on trading and clearing fees for new investors opening their first CDS account.
In addition, shares in mid and small-cap companies are exempted from stamp duty for three years from March and margin financing rules were liberalised (the existing hard cap on lending imposed on brokers has been lifted). In Bursa's Annual Report 2017, the exchange said that to further diversify the investor base, it undertook a number of initiatives under its Retail Roadmap to promote the marketplace to retail investors.
Inevitably, a large part of this growth will have to come from the younger segment of the population. In the past, Bursa Malaysia and stock brokerages had introduced various initiatives to lure millennial investors, including using digital platforms to reach out to the "technologically savvy youth segment".
In its Annual Report 2017, the bourse says it conducts Market Awareness visits, which form an integral part of its engagement with young and new investors, while Bursa Young Investor Clubs in local and foreign institutions of higher learning help to educate university students on investing in the stock market.
These efforts to lure young investors appear to have been fruitful, as indicated by the increasing number of young and active CDS account holders in the stock exchange, based on Bursa's breakdown of the retail segment by age group.
According to Bursa data shared with Personal Wealth, the number of young investors increased exponentially last year compared with 2016. For instance, active accounts of those 18 to 25 years old jumped 50.9% to 40,962 as at December last year, while accounts of those 26 to 35 years old increased 9.6% to 196,789 as at December.
These two age groups made up 22.5% of Bursa's total retail participation in 2017 compared with  19.3% the year before. Comparatively, those in the other age brackets saw a decrease in the number of CDS accounts (see table).
Across the board, the number of retail CDS account holders recorded a slight drop of 1.36% to 1,057,181 in December last year compared with 1,071,800 accounts in December 2016.  
is there a lack of interest?
The low retail participation rate could be due to a number of factors, say market observers. Unlike young investors in the 1990s, millennials have more investment opportunities, especially in alternative asset classes, which can make the choice overwhelming. Bryan Zeng, general manager of FA Advisory Sdn Bhd, says the myriad opportunities include property investments, currency trading, overseas stock trading, exchange-traded funds (ETFs), peer-to-peer financing, crowdfunding, cryptocurrencies, initial coin offerings and even "money games".
"Many of these new investment opportunities leverage the internet (for convenience and speed) and popularity on social media, which is favoured by millennials. In general, they want freedom and flexibility, as well as purpose or meaning in their work," he says.
This, Zeng says, has contributed to the culture of start-ups and entrepreneurship, which is taking away the focus from traditional equity investment. He adds that another contributing factor for not investing in stocks is millennials' financial well-being. According to a study by the Asian Institute of Finance (AIF), 40% of Gen Ys said they spend more than they can afford while 70% said they do not live within their means.
Zeng cites the 2015 AIF report titled "Finance Matters: Understanding Gen Y — Bridging the knowledge gap of Malaysia's millennials", which states that 75% of Gen Ys have at least one source of long-term debt, 38% are reported to have taken personal loans while 47% had expensive credit card debt.
"Due to the high cost of living and lifestyle choices, millennials are living on the edge (financially). This makes them financially vulnerable and they do not have much capacity to invest. Most of their cash flow goes towards paying off debt or maintaining their lifestyles," argues Zeng.
Another investor, Chua Zhu Lian, 28, agrees, saying that the lack of interest stems from the high standard of living. "I think the main challenge is not the lack of education but the lack of access to financial resources. We don't make much nowadays and things are getting expensive, while wages have not caught up with inflation and the rise of asset prices," says Chua, who prefers the passive investment method.
Kevin Neoh, a financial planner with VKA Wealth Planners Sdn Bhd, echoes this sentiment and says there are "more flavours" and "a breadth of alternatives" in terms of selection of investment options or alternatives these days, as opposed to decades ago when investors were restricted to just equities and fixed deposits, unit trusts and properties.
However, he disagrees that millennials are mostly uninterested in the stock market as he knows and has come across many who are actively trading and have participated in trading courses. "When I meet young investors who have not invested in the stock market, (they tell me that) one of the reasons they have yet to do so is that they are not sure how to go about it, or what a CDS account is. Hence, there could be many reasons or factors. A lack of interest is maybe one of them but it may not be the main factor," he says.
Neoh lauds the measures introduced by Bursa, saying that young investors can take advantage of them to take their first steps in equity investing as the cost to buy into a stock is "next to zero".
Lee believes that among many other factors, millennials shy away from the equity market as they have heard cautionary tales from their parents who were affected by the 1997 financial crisis.
"It is also possible that [the stock market] is not very exciting because a good investor makes about 12% a year (based on local stock market movements). So, if I put in RM1,000, I would only get RM120 next year. So it's not that exciting.
"Alternative asset classes like cryptocurrencies have been very popular because people have been seen to double their money in two to three weeks. And this got millennials interested, although the reality is that crypto investing is not a sustainable way of investing," he says.
Chua says the measures introduced to attract retail investors to Bursa are good catalysts to encourage people to trade, but many still prefer the passive investment option. "Ever since a decade or two ago, young people were not limited per se, especially since Bursa had allowed investors to buy units in lots of 100 instead of 1,000, so that brought down the cost per transaction.
"Now, with the waiver of stamp duty, it gets even cheaper. However, passive investors are not really affected by all of these measures because they are not trading. Even when they are affected, it is only [the few times] when they buy and sell," he points out.
Regulators, Chua says, need to work hand-in-hand to make Malaysia attractive to interesting companies so they would want to list their companies here. "This includes increasing market depth, introducing new and innovative financial structures as well as improving investors' confidence in local companies.
"The Securities Commission Malaysia (SC) has actually launched a corporate governance framework to help improve things, but there are still a lot of cases that have compromised investors' trust," he points out.
Stock investing pointers for millennials
For millennials who want to kick off their investment in the stock market, Neoh says they should first set their investment objectives, which starts from understanding themselves in terms of their investment expectations, risk profile and whether or not they have the capacity to take risks.
"Generally, young investors (due to their age) can be more growth-oriented or aggressive. This may mean that you do not need to invest solely in big-cap or blue chip stocks but can allocate more of your portfolio to companies that have the promise to grow and expand. But if you desire lower volatility and need to feel safe most of the time, then starting with blue chips may be one of the 'doors' too," he says.
Neoh says managing investments requires a lot of time and commitment in terms of research and analysis but if this is not possible, these tasks can be outsourced to a third party like a fund manager through unit trust funds. Alternatively, they can also opt for index tracking funds like ETFs.
"If you like a certain business or a sector, you can invest in companies that operate in that space and hold for the long term, looking upon yourself as a shareholder in the company or business, instead of adopting the mentality of a stock trader, which would make you more likely to act based on short-term market trends or volatility. A lot of the time, investors get lower returns than the overall market returns due to their own emotions and behaviour.
"It is also important for investors to acknowledge that a portfolio that is well-diversified is less risky than placing all your eggs in one basket. Asset allocation is a good principle of investment because a consistent portfolio would probably beat investment strategies that speculate on certain stock movements, but may not be consistent over the long term given that, with time, our portfolios will grow and benefit from compound interest," he says.
Chua, who believes in passive or fundamental investing, prefers stocks with a predictable earnings pattern, which normally fall under the consumer sector. He says for beginners, the easiest way is to get into stocks they are familiar with — or companies that make products they see every day.
"First, you have to study the companies, their risks and understand how much they are worth today. Good stocks bought at the wrong price is a bad investment, good stocks bought at a fair price can be a good investment while good stocks bought at a very low price is a fantastic investment.
"I wouldn't put money in something I haven't studied because it is important to understand how a company makes money. It is also important to be convinced that its business model is strong and that it has a very visible upward earnings pattern," he suggests.
Chua also recommends that young individuals tailor their investment decisions based on their working experience. "If you are working at a hospital, you might have an edge in investing in healthcare stocks because you would be able to identify the strong players in the industry. These are the things that you might not glean from just reading financial statements and annual reports," he says.
Lee prefers stocks in cyclical sectors like steel and construction but suggests looking at different sectors at different times to diversify one's portfolio. "When the market is a bit on the high side, it is probably better to buy defensive stocks like those in the consumer sector, which are quite recession-proof."
Doing their homework beforehand also helps investors to better stomach any downturns as they would know that even if a recession hits and the stock price goes down by 20%, it is going to come back stronger and better than before, according to Lee. "If you are not experienced enough to diversify in terms of sector, then you must be able to stomach the downturns," he emphasises.
Psychology, Lee says, plays a huge role in investing, more so than the financial and business point of view. "You must be able to watch your investments go down 20% to 30% in value and have the discipline to hold on to them because you know that [the plunge in stock prices] is just short term," he says.
Lee also suggests young investors invest in growth stocks as they are the closest to cryptocurrency when it comes to the excitement they can generate. In addition, he says there are a lot of small-cap companies that are recession proof.
"I have done research on companies with a market cap of about RM100 million that have made profits for up to 12 years consecutively, so there are jewels in the small-cap sector as well. Growth stocks are better because these companies could grow 20% to 50% in a year, provided that you go in at the right time," he says.
Spurring financial awareness and literacy as early as possible
Neoh says the retail participation rate will improve with better investment literacy among the younger generation. Lee agrees. As someone who started delving into the stock market when he was 18, he says proper education in personal finance or financial planning is paramount, and that it "must start as early as possible". He believes that "teaching basic financial knowledge from young helps a lot".
Like Lee, Chua counts himself blessed with parents who exposed him to the importance of financial awareness and planning. He says millennials and young people in general must understand the importance of shielding themselves against inflation.
"If they are made to understand the dangers of inflation, then they might view investments from a different perspective and would no longer look at investing as an afterthought but as something that is essential to start as early as possible.
"Putting your money into conservative asset classes such as fixed deposits might not keep up with the rising cost of living. This is why many young people are feeling the pinch as time goes by. Their wages and investments are not keeping up with inflation," he says.
The government, Chua suggests, should prioritise advocacy campaigns for investing as much as it prioritises health campaigns, such as those against the consumption of tobacco and alcohol. "The main challenge is that a lot of people are not aware of the benefits of the measures taken and incentives offered, even something as basic as how to open a Private Retirement Scheme account," he adds.
Zeng says more needs to be done to educate the public, especially on social media platforms. "Consumers nowadays are social media savvy and often crowdsource for solutions to their needs. We acknowledge Bursa and SC are already actively doing this," he says.