This article first appeared in Personal Wealth, The Edge Malaysia Weekly, on June 24, 2019 - June 30, 2019.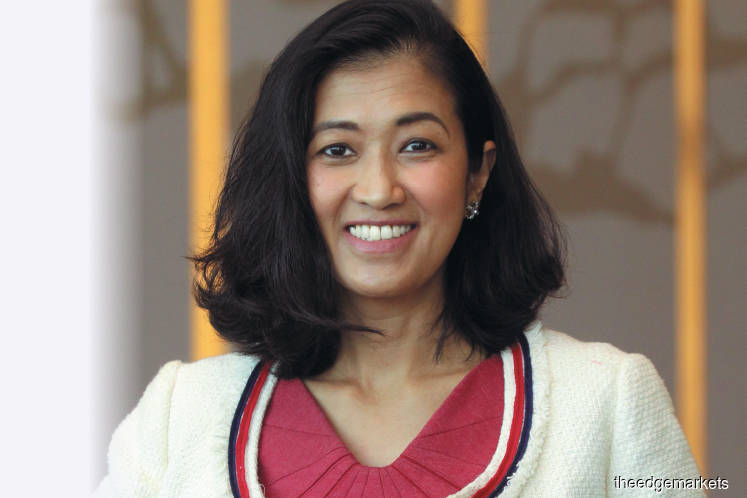 My job at JPMorgan was fine but I knew that the salary from a big bank would not be a guarantee anymore. I was thinking that maybe one day, all the skills that I had learnt would no longer be relevant. How will I pay my expenses if that happens?" > Surina
As someone who had worn many hats in her life, Surina Shukri was no stranger to disruption-driven changes that forced her to adapt in her career as well as in managing her finances. Today, the former investment banker, who spent most of her working life on Wall Street, is now back on Malaysian soil as CEO of Malaysia Digital Economy Corp (MDEC). Her mission? To help Malaysians adopt and adapt to the changes that digital economy brings.
She had been working at JPMorgan Chase & Co in New York for more than a decade when she experienced how technology could disrupt the traditional way of work. While she was head of strategy at the investment bank's commercial banking division, she ran a digital transformation exercise called middle market banking for one of the company's business units. The unit, the largest under commercial banking, helped clients improve their businesses through better cash management via capital markets or through mergers and acquisitions.
"Part of the job was figuring out how to build a data foundation to establish data-driven decisions, how to improve customer experience and ensure that the front-end websites are doing what they are supposed to be doing. I had to really think about how to create the bank of the future," says the 43-year-old.
It was clear to her that something was brewing in her line of work, as well as the broader space, for that matter. Technology-enabled disruption was starting to take place, forcing organisations to innovate and adapt to avoid being left behind. "I saw first-hand the effects of disruption at work. I had to actually move people around, telling them that their job had been made redundant and they had to be retrained," she recalls.
At the time, Surina's husband was also working on Wall Street, providing consultancy to hedge fund investment teams, so she also paid attention to that space. "Goldman Sachs used to have a floor of 3,000 traders. Now, it has shrunk to just 30. Automation really has taken over a lot of the processes there," she explains.
The thought of losing her job and being replaced by someone like Sophia the Robot did not seem too far-fetched. Surina knew that if she did not do something to prepare herself for an inevitable disruption, her retirement planning would be affected. "When I came back to Malaysia for a vacation, I realised that my parents and grandparents were healthier than ever post-retirement. How would I sustain my own? [Prime Minister] Tun Dr Mahathir Mohamad is in his 90s. Do I have enough retirement savings to last me through to that age?
"My job at JPMorgan was fine but I knew that the salary from a big bank would not be a guarantee anymore. I was thinking that maybe one day, all the skills that I had learnt would no longer be relevant. How will I pay my expenses if that happens?"
Wealth management is being disrupted as well, notes Surina. More than a decade ago, there was no such thing as making digital investments, nor were there alternative asset classes. Today, there are so many options that investors have to educate themselves continually to ensure that they have a truly diversified portfolio.
"I grew up with the mentality that opening an Amanah Saham Bumiputera account and earning 6% returns was sufficient. Now, I do not think so. There are so many asset classes that I can invest in to maximise my portfolio and reap returns. Investing in the same old way is no longer ideal," she says.
Weighing these factors, Surina quit her job. She wanted to gain more information on what was happening on the technology and innovation scene before she returned to the corporate world. To do this, she decided to become an angel investor.
Becoming an angel investor
Early last year, Surina joined 37 Angels, a New York-based network of over 80 investors that invests in 10 high-potential start-ups each year, filtered from 2,000 reviewed. She points out that angel investing is interesting because it provides investors with the prospect of good returns on top of allowing them to explore new technologies, learn and give back (via mentoring).
"I was doing a lot of due diligence with start-ups. I liked doing it because I learnt, almost on a daily basis, that so many things could be done more efficiently and nimbly. Once, I met a self-taught coder who easily executed something that banks' chief technology officers would say is impossible to do.
"This is why I encourage angel investing. It serves as a way for the investors to preview innovation. Of course, angel investing is not for everyone. If you are an investor who is purely returns-driven, there are other asset classes that you can invest in," says Surina.
She focuses on female-founded and blockchain companies. Female founders are more creative at leveraging technology to solve problems and they generally need more capital support, she says. "For me, it is important for entrepreneurs to be mission-driven and have a strong 'why' [for starting their businesses].
"For instance, I advised a female founder who followed her husband from Australia to New York for work. They were trying to conceive, so they wanted to get in vitro fertilisation (IVF). In the US, they had to pay out of pocket," says Surina.
According to various reports, the basic IVF cycle in the US costs around US$12,000 (RM50,082), not including the cost of fertility drugs, specialised testing and hospital delivery. Insurance coverage varies, depending on the insurance company, state-specific legislation and the couple's age, and so on.
"When she realised that she was not the only person facing difficulties trying to finance her IVF treatment, she saw the lack of short-term loans for working professionals like her. So, she worked on her own fintech company that could bridge the gap," explains Surina.
If the entrepreneurs have strong personal reasons to start their businesses, they are more likely to survive in the market, she adds. "Sometimes, I hear founders in Malaysia say that they started their business because they were sick of their day jobs, trying to replicate Mark Zuckerberg's success or wanted to innovate their father's businesses."
"Entrepreneurship is not that easy. If your 'why' is not strong, then it is going to be harder for you to change your plan and adapt. To me, a good entrepreneur is someone who leads with a strong mission — something that is personal to them — like the fintech founder who could not finance the starting of her family," says Surina.
Aside from being an angel investor and venture builder, Surina is also a board member of various organisations that support equal representation in entrepreneurial leadership positions. She is also a supporter of opportunities in the blockchain industry.
Blockchain intrigued Surina as she was attracted to the idea of decentralisation. Additionally, when she was a junior banker, she admired Blythe Masters — one of JPMorgan Chase & Co's executives who was widely credited for creating the credit-default swap. Masters had joined Digital Asset Holdings, a financial technology firm developing distributed ledger technology for wholesale financial services, as a CEO in 2015, effectively becoming one of the earliest high-profile veterans in the finance industry to associate themselves with a blockchain start-up. This was more than enough to pique Surina's interest.
"I really wanted to go deep and understand what the technology was all about. I had the time to do it, provided I quit my corporate job. So I spent my time learning and advising the blockchain start-ups on how to raise capital. They are all techies — they can explain the technology but not the regular business talk. They don't know how to pitch their ideas. That's where I come in," she says.
Aside from running her own venture studio, SheNovation Ventures, Surina is also a core member of Women 4 Blockchain, a female-centric group that is dedicated to building and empowering pioneers in the world of blockchain technology.
The projects took all her time and attention until she received a recruitment call from Malaysia at the end of last year. Although she has taken up a bigger role now and may not have the time to do due diligence like she used to, Surina is still keeping an eye on her angel investment portfolios and has yet to exit any of her investments.
She is increasingly interested in start-ups involved in social technology or technologies that were innovated from a social need. "Technology has the power to unleash economic prosperity in needy areas. An example is a company that I learnt about in the early days of blockchain, called BitPesa. As the company is leveraging the blockchain settlement, it is able to significantly lower the cost of peer-to-peer money transfers and more.
"I would love to hear more about the stories on leveraging technology to do social good. In fact, I want us to do more stuff like this at MDEC," says Surina.
The way forward
Surina was appointed CEO of MDEC early this year, succeeding Datuk Yasmin Mahmood. She thinks her job is not for the faint-hearted, especially given that MDEC's role is very broad. The organisation was established in 1996 to strategically advise the Malaysian government on legislation, policies and standards for ICT and multimedia operations as well as to oversee the development of the Multimedia Super Corridor (MSC).
It is also created as a platform to nurture the growth of local small and medium enterprises in the IT industry while attracting global ICT companies to invest in and develop cutting-edge digital solutions in Malaysia. Since 2012, the organisation is also mandated to help the country achieve Digital Malaysia, the national agenda towards a sustainable digital economy built upon a vibrant domestic ICT industry.
"At the very macro level, we have to think about the big-picture questions that the entire world is asking right now. For example, how do we deal with machines getting better faster and smarter? How do we govern technology in the future? What does 'work' even mean in the future, when robots take over our jobs?
"Meanwhile, we also have to answer more micro questions like how do we execute digital inclusivity? Technology should be able to bring positive economic impact to all. How do we achieve that so that no one gets left behind? How can we ensure that everyone has a chance to participate and reap the returns in the new economy?"
There are various ways MDEC tries to answer these questions — it could be in the form of policies, platforms and programmes, says Surina. For one, the organisation is trying to future-proof the economy by building a strong digital innovation ecosystem. Key focus areas that have been identified as catalysts that will kick-start and sustain an ecosystem of digital innovation include big data analytics, the internet of things, e-commerce and data centre and cloud.
"We want to help Malaysians make data-driven decisions that could be beneficial to their businesses. For example, recently we did a programme with our local farmers to help boost their agricultural yield with data.
"Previously, the chili farmers relied on intuition to determine the right mix of fertilisers. We told them to start measuring the data of the mix and use an app to monitor how the chili reacts to each fertilising solution. After some time, the farmers were able to figure out a solution that increased their yield by 25% while reducing cost by 30% per chili [harvest]cycle," says Surina.
Digital inclusivity is one of MDEC's main priorities at the moment to solve wealth inequality in Malaysia. To achieve this, the organisation introduced eRezeki, a programme that Surina describes as an introduction to the gig economy.
The programme allows B40 individuals to register as digital workers and perform simple digital-based tasks to generate additional income. According to MDEC's website, 210,000 people have participated in the eRezeki programme, generating more than RM220 million additional income since its inception in 2015.
MDEC also has the eUsahawan programme, which connects local youths and micro-entrepreneurs with public technical and vocational education and training institutions to develop their digital entrepreneurship know-how and enable their transition from job-seekers to job creators. Initiated in 2015, the programme has seen the participation of more than 218,000 individuals.
Talent is another important area for MDEC. The organisation has committed to nurturing and developing the digital workforce, ensuring that the demands of current and future industry-relevant talent are met. The initiatives implemented are designed to fill the talent skill gaps that come with a booming tech ecosystem, says Surina.
"We even have a 'returnship' programme for those who took career breaks and are now interested to return to work. For example, cybersecurity is an industry with zero unemployment. As technology gets more sophisticated, we are going to need more cybersecurity personnel. This is why we decided to launch the 'Women in Cybersecurity Programme', which trains women who took career breaks the skills needed in the cybersecurity industry," she says.
She knows that there are a lot of other things that MDEC could do to realise Digital Malaysia. However, she acknowledges that the organisation is learning as it goes along. "Not everyone has it figured out either. A lot of this is still greenfield for us, so we are trying our best to achieve the goals that we have set, addressing challenges and opportunities along the way," she concludes.