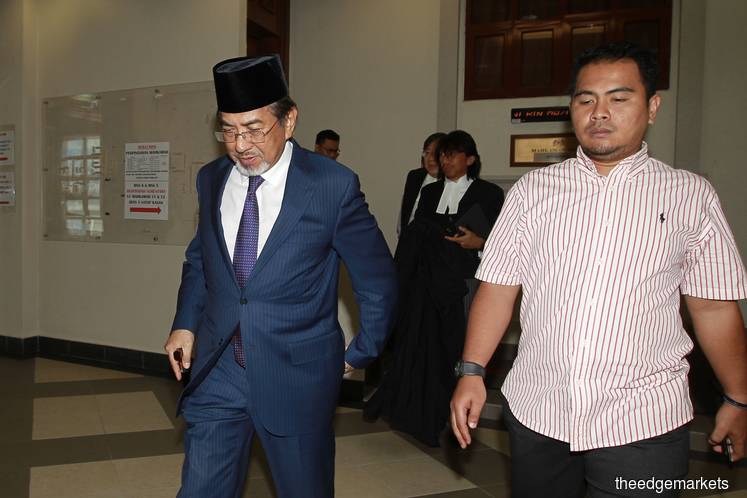 Tan Sri Musa Aman (left). Photo by Shahrin Yahya
KUALA LUMPUR (April 22): The court has set May 6 as the date for the hearing of the application to transfer Tan Sri Musa Aman's corruption and money laundering cases to the High Court.
Deputy public prosecutor Datuk Raja Rozela Raja Toran said the prosecution had on April 9 filed an application to transfer his two cases — entailing 35 counts of graft and 16 money laundering charges — given the high-profile nature of the case, based on Musa's previous tenure as Sabah chief minister and the amount of funds involved.
However, Musa's lawyer Francis Ng Aik Guan requested more time for the defence to respond to the application that was filed, as the defence indicated its intention to object to the transfer.
The court allowed the request and High Court Judge Mohamed Zaini Mazlan then asked the defence to submit an affidavit — in the event that the defence objects to the transfer — on April 29, with the prosecution to respond on May 3. The hearing of the transfer is slated for May 6.
On Nov 5 last year, Musa claimed trial to 35 counts of graft involving US$63 million he allegedly received in Hong Kong and Singapore as an inducement for offering timber concessions in Sabah.
He was then charged with and claimed trial to 16 counts of money laundering in March this year.
Under the money laundering allegations, Musa is firstly charged with directing his proxy Richard Christopher Barnes, who is also his lawyer, to open a UBS AG Bank account (0/231,117/01,00) in Singapore on June 21, 2006, for the purpose of allegedly receiving the illegal money.
Alternatively, he is charged with asking Barnes to hide the fact that the bank account (0/231,117/01,00) is owned by him, to hide the receiving of the illegal proceeds at the same place and time.
Besides this, Musa is charged with 14 charges of receiving the illegal proceeds to the amount of US$37.8 million and S$2.5 million at the UBS AG branch in Hong Kong between June 21, 2006, and March 25, 2008.
On his 16th charge, the former Sabah chief minister is charged with directing Barnes to transfer all assets and future inflow from Barnes' UBS account to his own UBS account (230-750692.01) based in Zurich on May 14, 2008.
The Sessions Court had on April 15 set May 6 to hear an application on the legal issues by the defence for the money laundering charges.