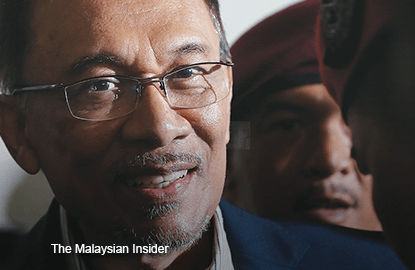 (Aug 19): The High Court will deliver on October 29 its decision on a defamation suit filed by former opposition leader Datuk Seri Anwar Ibrahim against Foreign Affairs Minister Datuk Seri Anifah Aman.
Lawyer Razlan Hadri Zulkifli said judge Siti Khadijah S. Hassan Badjenid fixed the date after meeting the lawyers in her chambers.
"Today we were called in for clarification but instead she decided on the judgment date," Razlan, who is appearing for Anwar, told reporters.
Lawyers from both sides gave their submissions to the judge after the closing of the case in February.
Anwar, who is serving a five-year prison sentence for sodomising ex-aide Mohd Saiful Bukhari Azlan, was present in court.
He filed a RM100 million suit against Anifah whom he said uttered defamatory words about him during a news conference in Washington with former United States secretary of state Hillary Clinton.
Anifah then told reporters that Anwar offered him the post of deputy prime minister if he brought members of parliament (MP) from Sabah to topple the Barisan Nasional government which had won 140 seats in the 2008 general election.
In his statement of claim, Anwar alleged that Anifah's claims were baseless, unfounded and grossly negligent and had been widely reported in local and foreign media.
On November 27, Anifah took the stand and said businessman Datuk Ishak Ismail, a close associate of Anwar, offered him RM100 million to bring 10 MPs from Sabah to join Pakatan Rakyat and topple the federal government.
Anifah said he felt cheap when the offer was made by Ishak, a former KFC deputy executive chairman, at the Hilton Kuala Lumpur hotel.
Anifah, represented by Tan Sri Muhammad Shafee Abdullah, brought eight other witnesses. – The Malaysian Insider