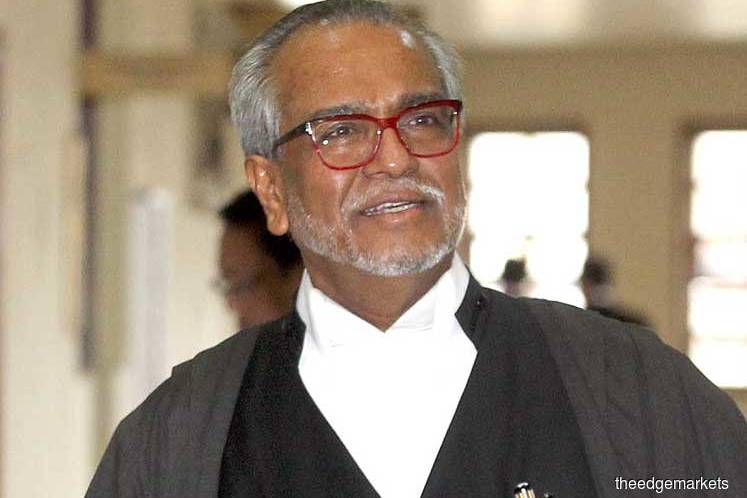 KUALA LUMPUR (April 30): Senior lawyer Tan Sri Muhammad Shafee Abdullah and former Tabung Haji chairperson Datuk Seri Abdul Azeez Abdul Rahim and a doctor in Pantai Hospitals, Dr S Ganesananthan, could be in trouble.
This follows the High Court here having granted leave to the widow of private investigator P Balasubramaniam, A Santamil Selvi, and her children to initiate contempt proceedings against the trio.
High Court Judge Datuk Azimah Omar made the decision in chambers, and Santamil's lawyer Americk Sidhu confirmed this to theedgemartkets.com.
This is because the trio having had allegedly played a role to stop controversial carpet businessman Deepak Jaikishian from testifying in a trial.
Americk said following today's decision, they will have to serve the cause papers to the respective individuals who had been named and a date would be fixed to hear the application.
The application is made ex-parte without the lawyers from the trio being asked to come to court.
Santamil, who filed the application on Oct 31 last year, claimed that Shafee, who represented Deepak, had intentionally and falsely informed the court that Deepak was not able to attend court for questioning as the businessman was sick and "bleeding from both ends", and a copy of Deepak's medical report was submitted.
Then High Court Judge Datuk Hue Siew Kheng had set three dates in March last year for Deepak to testify but the businessman did not come. Hue had since then retired as a judge.
The widow, who is a kindergarten teacher, claimed that Deepak had lodged a police report that Shafee, Azeez and the doctor had conspired to prevent him from attending the court proceeding by producing a false medical report.
In her affidavit filed in support of her application to initiate the proceedings, Santamil claimed that Deepak was prevented from attending the court proceeding to prevent him from telling the truth about Najib's involvement in the suit she and her family had filed following their exile to India for five years.
Santamil and the children are seeking damages in excess of RM1 million, following loss of income after they went on exile in India following Balasubramaniam having made a statutory declaration that the former premier knew Altantuya Shaariibuu in July 2008, only to being forced to retract it a day later.