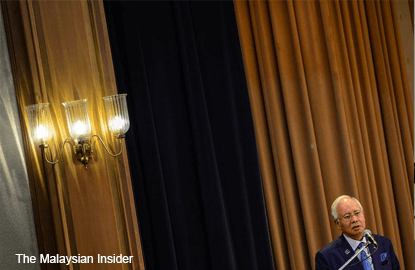 (Dec 1): The High Court will hear on Jan 18 an application by Petaling Jaya Utara MP, Tony Pua, to strike out Datuk Seri Najib Razak's defamation suit over 1Malaysia Development Berhad (1MDB).
On the same day, the court presided by Judge Vazeer Alam Mydin Meera, will also hear Najib's application to expunge certain parts of Pua's affidavit in support of throwing out the suit.
Pua's lawyer, Alliff Benjamin Suhaimi said the new date was fixed after Najib's solicitors Hafarizam Wan & Aisha Mubarak had written to the court that there was no need to wait for the outcome of a ruling in another case in the Court of Appeal.
In the last proceeding on Nov 2, all parties agreed to wait for the outcome of the appellate court ruling before Pua's application for a striking out was heard.
It was believed then that PKR publication, Suara Keadilan had filed an appeal against the Federal Land Development Authority (Felda) and its subsidiary, Felda Global Ventures Holdings Sdn Bhd, after the opposition party mouthpiece was found liable for defamation.
Alliff said it is now learnt that there was no appeal lodged before the appellate court.
High Court judge Datuk Wira Kamaludin Md Said in his ruling in October, said Felda as a statutory body, had the right to initiate legal proceedings.
Pua's lawyer Gobind Singh Deo said they would await the appellate court's ruling on whether politicians holding public office, as well as public entities could sue for defamation.
Pua is relying on the British case of the Times Newspaper v Derbyshire County Council which held that those holding public office and local authorities cannot file suits on public interest issues.
Meanwhile, lawyer Shahid Ali Kamarudin representing news portal Mediarakyat.net owner, Chan Chee Kong, said the court fixed Jan 29 to hear Najib's application to expunge certain paragraphs of his clients' defence.
Pua filed the application on May 8, on the grounds that Najib, who is the prime minister, did not have the locus standi to file the action allegedly intended to inconvenience him and to be an abuse of the court process.
Najib filed the suit in his personal capacity on March 5, naming Pua and Chan as first and second defendants respectively.
In his statement of claim, Najib alleged that on Nov 13 last year, Pua as the main speaker at a DAP fund-raising dinner had spoken about and implicated him in 1MDB's controversies.
Najib alleged that derogatory remarks about 1MDB alluding to "an individual known as the prime minister" in Pua's speech must surely have referred specifically to him.
He said Pua's speech was recorded and uploaded by the second defendant or his agent on Mediarakyat's YouTube and website.
He said the recording was shared by the first defendant or his agents in Mediarakyat's Facebook.
He added that as of March 2, the recording had been viewed 194,979 times on YouTube, while 200,709 Facebook users followed it on Pua's Facebook page and 165,293 others on the Mediarakyat Facebook page.
The prime minister alleged that the defendant's remarks had meant that he robbed the people of their money through 1MDB and portrayed him as a person who could not be trusted and unfit to hold public position.
Najib, who is also Umno president, alleged that the remarks had brought him into public scandal, podium and the contempt of friends and people who knew him, and the local and international community.
He also claimed that his relations between the local and international community had become strained because of the defendants' action.
He alleged that his reputation had been destroyed, as the recording would continue to be accessed widely and easily worldwide through blogs, online forums and websites.
Najib is seeking among others, general and exemplary damages, costs and an injunction to restrain the defendants or their agents from further circulating the contents of the alleged recording. – The Malaysian Insider