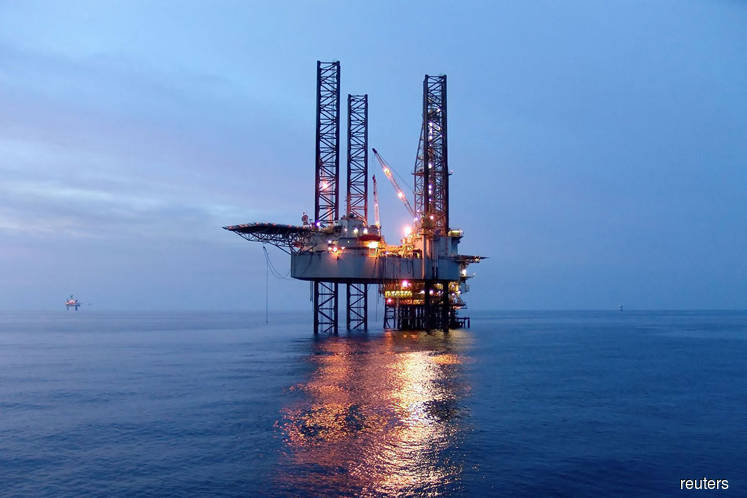 KUALA LUMPUR (Oct 11): Bursa Malaysia-listed oil and gas (O&G) counters may be perceived to be in a sweet spot after the Malaysian share market selldown and as world crude oil prices hover above US$80 a barrel.
Based on indicative forward price-earnings ratio (PER) valuations of Bursa-listed O&G stocks at below 15 times and assuming crude oil prices remain sustainable, investors may perceive O&G counters as a bargain compared to the broader market.
A quick check on Bursa as at 12:30pm today showed O&G counters fell among the exchange's top decliners and most-active stocks as the broader market selldown continued.
Shares of Sapura Energy Bhd, Hibiscus Petroleum Bhd and Velesto Energy Bhd were among the most active stocks while Petronas Gas Bhd emerged among top decliners.
At 12:30pm, Sapura Energy was down 0.5 sen at 35.5 sen, Hibiscus declined six sen to RM1.19 while Velesto fell one sen to 26 sen. Petronas Gas dropped 50 sen to RM17.28.
In the broader market, the 30-stock FBM KLCI fell 35.26 points to settle at 1,699.92. Yesterday, the KLCI dropped 38.97 points to close at 1,735.18.
Today, Bloomberg data showed that the KLCI, at current prices, trade at a PER of 16.34 and 15.3 times 2018 and 2019 earnings respectively.
TA Securities Holdings Bhd analysts Kylie Chan Sze Zan and Abel Goon wrote in a note today TA's peers' comparison table for Bursa-listed O&G stocks indicated that the average sector PER stood at 12.3 and 10.8 times 2018 and 2019 earnings respectively.
"We upgrade our 2018/19 oil price assumption to US$80/85 per bbl (previous: US$70/75 per bbl). Additionally, we maintain Overweight on the sector, as firm oil price will result in accelerated traction on exploration and production (E&P) capex spend. In turn, this would lead to increasing demand for services and assets by upstream O&G contractors. As a result, this would remove the supply overhang on O&G assets, and lead to recovery of day rates and fleet utilization," they said.
The analysts said they wrote the note after attending the 34th Annual Asia Pacific Petroleum Conference 2018 (APPEC 2018) organised by S&P Global Platts recently.
"We emerged feeling sanguine about oil price in the near-to-medium term. This is catalysed by: 1) sustained healthy demand — driven by Developing Asia, particularly China and India, 2) IMO2020 will drive an increase in crude throughput to enhance production of distillates, 3) deceleration of US shale production growth due to pipeline constraints at the Permian Basin, 4) supply shortfall arising from US (and its allies) economic sanctions on Iran, 5) sustained production decline at Venezuela, and 6) decline of OECD inventories to below its five-year average," Chan and Goon said.
IMO2020 refers to the International Maritime Organization's (IMO) plan to enforce new emissions standards to curb pollution produced by the world's ships.
CNBC reported that the forthcoming measures are widely expected to create an oversupply of high-sulphur fuel oil while sparking demand for IMO-compliant products.