This article first appeared in Personal Wealth, The Edge Malaysia Weekly, on August 10, 2020 - August 16, 2020.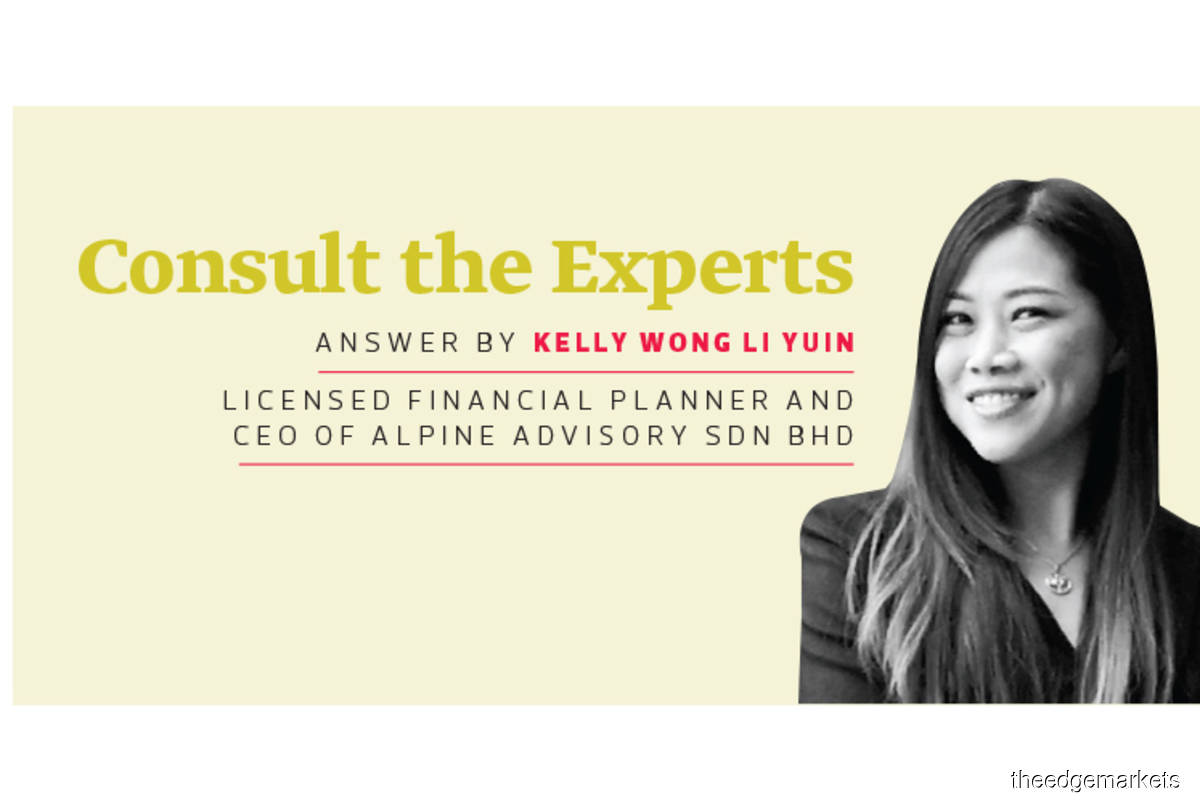 Question: I am a 27-year-old living with my parents in Petaling Jaya. I work as an engineer, earning a monthly income of RM6,500.
I currently have a fixed deposit (FD) placement of RM20,000 that is about to mature soon. The Covid-19 pandemic has made me rethink the state of my personal finances and I am not happy with the current FD rates.
Once the deposit matures, I am looking to invest the amount elsewhere to grow the money over the next few years to serve as a down payment for a new house in the Klang Valley. I am also able to commit about RM1,500 per month to grow the down payment fund, to enable me to take on the least amount of debt possible.
However, I am not savvy or confident enough to invest in individual stocks. I have always used FDs as a tool to grow my wealth, but my family is encouraging me to invest in gold instead. Should I listen to their advice, or is there a better way to allocate the money?
Here is a brief summary of my other financial assets:
RM10,000 in cash as an emergency fund
RM25,000 in FD placement for wedding costs
RM15,000 in FD placement for savings
Fully paid off car loan
Company health insurance and life insurance
> Vincent Lim, via email
Answer: First, I would like to applaud you for your initiative to plan your personal finances during such a crucial time. You have done well in putting aside money for your financial goals.
From your explanation, your expenses should be less than RM4,000 per month. Currently, you have a total of RM25,000 in cash and liquid assets, which translates into about six months' worth of emergency expenses.
I recommend increasing your emergency fund to up to 12 months' worth of expenses to prepare for any unexpected circumstances such as salary cuts or unemployment, especially under this current market environment.
You may also need to recalibrate your emergency fund to account for the higher monthly expenses after marriage. Depending on your married lifestyle, the size of the emergency fund varies from person to person.
To decide how to invest the RM20,000 in your FD that is about to mature soon, I recommend taking a simple test to determine your investment risk profile. There are plenty of profiling tools available online, and I recommend the investor profile questionnaire that can be found on Charles Schwab's official website. Once you complete the questionnaire, it will provide recommendations on how you can invest your money.
Your approach to investment and the risks you are willing to take will determine how you plan your investment portfolio, that is, whether you should take small conservative positions or a bolder approach to investing.
Judging from your interest in FDs and your short investment horizon for a housing down payment, you are likely to have a conservative risk profile. If so, the questionnaire will recommend that you invest about 80% of your money in cash or fixed-income securities and 20% in equities.
One of the easiest ways to invest your money is via unit trust funds, owing to the high liquidity and many choices available for different risk profiles and time horizons. This may give you an average expected return of 4% to 7% per annum, based on the historical data of the relevant unit trust funds.
However, historical data does not guarantee future performance. Before committing to unit trusts, you may need to study the funds you are interested in and learn more about them. Alternatively, you can consult a financial planner if you need additional assistance.
Do note that, unlike FDs, markets are dynamic and prices fluctuate, which will have an impact on your investment returns. You may need to ask yourself whether you would be able to sleep soundly at night if your RM20,000 investment portfolio fell to RM19,000 on paper. If so, would you continue to invest in your long-term goals or would you withdraw the money immediately to avoid further losses?
As for your RM1,500 monthly surplus for investments, you should consider using it to grow your emergency fund or investing it in your investment portfolio, as recommended by the questionnaire. If not, you may want to revisit your other financial goals and establish another investment or savings basket with a different time frame and risk level.
These financial goals can be divided into short-term, medium-term and long-term financial goals. You have planned for medium-term expenses such as your wedding and housing down payment, but you should consider other financial goals such as retirement, children's education or your next laptop purchase.
Once your financial goals have been identified, your monthly surplus of RM1,500 can be utilised accordingly based on your priorities. For example, you may want to take advantage of the tax relief of up to RM3,000 per year provided by the Private Retirement Schemes (PRS) to fulfil your long-term goals, while taking advantage of the guaranteed tax relief. Remember, a penny saved is a penny earned.
Here is an additional tip for after you have obtained your housing loan. If you have a semi-flexible or fully flexible loan account, you can consider placing your emergency fund there. Doing so will offset the daily loan interest incurred while being able to conveniently withdraw the funds in case of an emergency.
As for your family's recommendation to invest in gold, I recommend holding small amounts only if you have a moderately aggressive or aggressive risk profile. We have had clients who bought RM4,000 worth of gold in 2007, only to see positive returns recently after 13 years, while factoring in inflation. Gold mainly serves as a hedge against your investment portfolio risks. However, investment returns can be improved through portfolio rebalancing and dollar cost averaging over time.
---
Have a personal finance query? Send it to: Consult the Experts, Personal Wealth, Level 3, Menara KLK, No 1, Jalan PJU7/6, Mutiara Damansara, 47810 Petaling Jaya, Selangor; Fax: (03) 7721 8018; email: [email protected], Attn: Consult the Experts. Please include your full name, address, contact number and pseudonym, if any.