This article first appeared in The Edge Malaysia Weekly, on August 27, 2018 - September 02, 2018.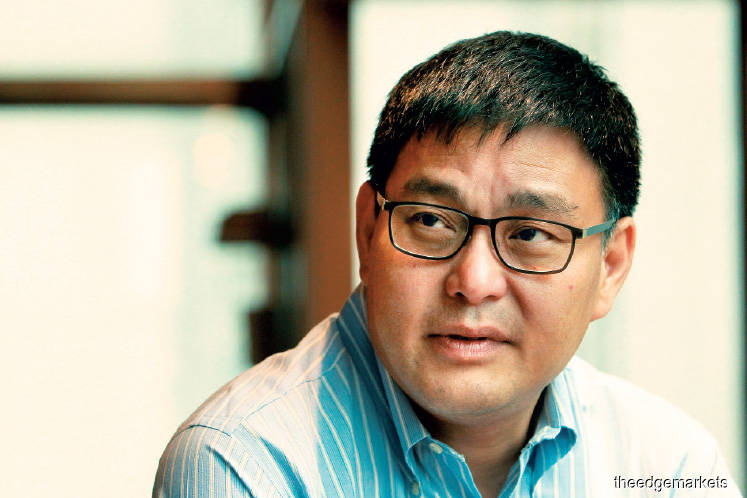 MEGA First Corp Bhd expects early construction profit from its 260mw Don Sahong hydropower plant in Laos to offset the loss of income from the expiry last year of its two power plant concessions in Shaoxing, China, and Tawau, Sabah.
Independent director Yeow See Yuen says the group will register about RM120 million in construction profit, after deducting minority interest, from the Don Sahong project if it achieves the targeted 80% construction progress by the end of the year.
"We are currently at about 65% and if we can achieve our target of 80% completion by the end of this year, the construction profit is quite substantial, although it is just accounting profit. The first cash coming in from Don Sahong will be through test energy sales by end-2019," he says in an interview with The Edge. The project is "slightly" ahead of schedule, he adds.
The group recognises revenue for construction services during the construction phase of the Don Sahong hydropower project under a build-operate-transfer concession with the Laos government.
Yeow says a stress test by management on the group's cash flow found no constraints in financing the US$401 million project.
The plant, with an estimated capacity of 2,000gw hours per year, is expected to generate US$120 million in revenue for Mega First yearly at a tariff of 6.15 US cents per kWh upon commercial operation by 2020, he adds.
For the financial year ended Dec 31, 2017 (FY2017), the group registered RM172.6 million in pre-tax construction profit from Don Sahong, which will increase to about RM178 million or US$44.5 million in FY2018, Yeow says.
The group's power-related business is its biggest income earner, registering a pre-tax profit of RM180.46 million, or 93.5% of total pre-tax profit, its 2017 annual report shows.
While the group will recognise larger construction profit from Don Sahong in FY2018, this may be offset by the loss of its two plants in China and Sabah.
The concession for the 83mw coal-fired Shaoxing plant expired on Oct 22 last year. However, Mega First will incur a one-off retrenchment fee as its joint-venture partner decided to close it down in February this year after taking over the operations.
"We are supposed to recover our share of working capital, but they have asked us to shoulder some of the cost of retrenchment. We felt that as good partners for so many years, it is not fair that they have to shoulder it alone," Yeow explains.
"Legally, we are not obliged to, but morally, we think we should given that we were together for over 20 years, and the staff have been with us for a long time."
He says the retrenchment programme will cost RMB30 millionto RMB40 million, but Mega First will not incur any cash outflow as the amount will be deducted from receivables owed by its partner, Qixian Heat & Power Co Ltd, which owns the remaining 40% stake in the power plant.
"We will make an impairment to our receivables. As at Dec 31, 2017, receivables from them was about RM13.4 million. The impairment could be around RM10 million, and we will probably do it in the second quarter of FY2018.
"The original idea was we give it up, return the asset to them and they earn 100% of future profit. But the reason we decided not to extend was also due to commercial reasons. Industrial demand for steam is declining and the environmental policy there is getting more and more stringent.
"In other words, the plant will see lower sales volume and, potentially more uncertainty to comply with environmental policies," he added.
In a filing with Bursa Malaysia on Oct 17 last year, Mega First said in FY2016, the Shaoxing power plant accounted for 34% of group revenue and 21% of net profit.
Contribution from the sector fell in the first half of FY2017, and accounted for 28% of group revenue and 18% of net profit.
In Tawau, Yeow says the group is mulling a disposal of its 36mw diesel-fuelled power plant after its 21-year concession ended on Dec 2 last year.
"We are trying to see what is the best cause of action ... the best is to sell it, but if there are no buyers, we have to scrap it."
When the concession ended last year, the local electricity offtaker, Sabah Electricity Sdn Bhd (SESB), requested a lower tariff rate than proposed by Mega First, hence the concession was not extended.
"Internally, we have decided not to proceed because if we drag on, we incur cost, such as staff. We have about 100 workers there and have gradually started the retrenchment process," he says.
"Alternatively, SESB can take over the plant ... it is not going be a big amount — our book value is only about RM10 million."
Yeow says the power plant's annual profit was about RM15 million initially, but declined to RM8 million over the last five years. As such, there will be no significant impact on the group's bottom line in the future, he adds.
As for Mega First's limestone products business, Yeow sees sales continuing to rise in FY2018.
"Last year, we did about 320,000 tonnes, in FY2016, we did 250,000 tonnes. This year, it should be 360,000 to 380,000 tonnes. Typically, we earn about RM50 to RM100 per tonne," he explains.
However, the segment is facing some cost pressure due to rising oil prices, which the group will try to pass on to customers, he adds.
Its production facility in Gopeng, Perak, is running at near full capacity, and its eighth kiln there is expected to be commission by the end of the year. That will add capacity of 400 tonnes per day, bringing the total to 1,960 tonnes per day.
"We are quite confident of the growth of this business, which is why we doubled our capacity over the last three years, investing about RM80 million."
In FY2017, Mega First's limestone products business contributed 13% to total revenue, down from 16% in FY2016, despite year-on-year growth of 21.7% to RM119.94 million, from RM98.54 million.
This was due to higher revenue from the power division, thanks to the Don Sahong project.
Mega First closed at RM3.56 last Thursday, giving it a market capitalisation of RM1.39 billion.
Save by subscribing to us for your print and/or digital copy.
P/S: The Edge is also available on Apple's AppStore and Androids' Google Play.