This article first appeared in The Edge Financial Daily, on July 9, 2018.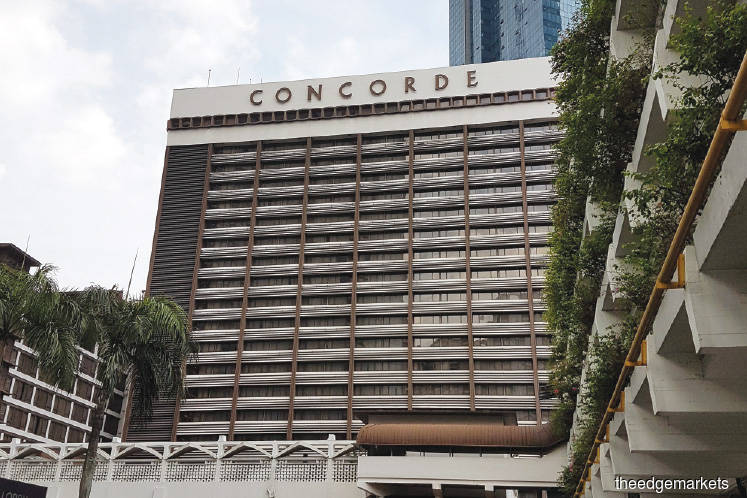 KUALA LUMPUR: An earlier proposal to demolish and redevelop the long-established Concorde Hotel Kuala Lumpur (Concorde KL) — linked to Sultan of Selangor Sultan Sharafuddin Idris Shah, entrepreneur Tan Sri Syed Yusof Syed Nasir and Singaporean tycoon Ong Beng Seng — has been put on hold. Instead, the shareholders will invest in sprucing up the hotel.
"The board has decided not to proceed with the development until such a time when the market is favourable. We will continue running the hotel as it is and probably do some small upgrading," Syed Yusof, who is a part-owner of the hotel, said in a brief WhatsApp message to The Edge Financial Daily.
He added that the hotel was also not for sale.
Exactly two years ago, in July 2016, The Edge Malaysia weekly, sighting documents, reported that Concorde KL, located on Jalan Sultan Ismail, may be torn down to make way for a multibillion-ringgit project. The hotel sits on a 4.2-acre (1.7ha) site.
The news that Concorde KL would be demolished came as a shock to many. Some had fond memories as the hotel had held their wedding reception there, while others lamented that they would miss the hotel's dim sum. Concorde KL also introduced the Hard Rock Cafe to Malaysia in 1991.
Concorde KL is owned by Ampang Hotel Sdn Bhd which in turn is owned by Ampang Investment Pte Ltd. Ong's Singapore-listed Hotel Properties Ltd owns 30% of Ampang Investments, while Hongkong Land Holdings Ltd holds 40%, and Sultan Sharafuddin and Syed Yusof own the remaining 30%.
A search on the Companies Commission of Malaysia (SSM) website shows that apart from Syed Yusof, board members include Tan Sri Sallehuddin @ Jaafar Mohamed, Lam Pey Chin, Raymond Chow Ming Joe, Datuk Hassan Che Abas and Christopher Lim Tien Lock. Boon Yoon Chiang is named as an alternate director.
Two years ago, Ampang Hotel submitted plans to tear down the hotel and a multistorey car park next to it. In its place, the owners had proposed to construct a 39-storey tower with 240 office suites, a 54-storey hotel block with 530 rooms and 205 units of serviced apartments. A sky bridge would link the towers.
The redevelopment plan also proposed to accommodate two 41-storey towers housing 266 serviced apartments and a 10-storey annex podium housing the lobby, retail space and car park. Industry experts, who had called the exercise as unlocking the land value, had estimated that the gross development value of the project would amount to RM2.5 billion.
This 57-year-old building has changed hands several times. Prior to becoming Concorde KL, it was The Merlin Kuala Lumpur from 1957 to 1990. The Merlin was built and majority-owned by Lim Foo Yong and his family until the early 1970s when Faber Merlin Malaysia Bhd bought it. Faber Merlin's chairman at that time was Chang Ming Thien, who established Overseas Trust Bank Ltd in Hong Kong and co-founded United Malayan Banking Group.
The Merlin was sold to Ampang Hotel in 1990.
Based on the latest available financials submitted to SSM, Ampang Hotel posted a revenue of RM71.74 million and a net profit of RM8.14 million for the financial year ended Dec 31, 2015.