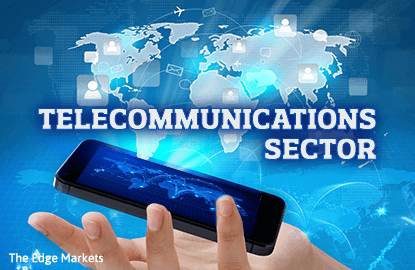 This article first appeared in The Edge Financial Daily, on April 11, 2016.
Telecommunications sector
Maintain neutral: Malaysian Wireless has revealed that Celcom Axiata Bhd is extending its offer of the First Gold post-paid plan at RM80 per month by two months to May 31. Recall that this package, launched in November last year, was first priced at RM100 per month for the unlimited voice and short messaging system (SMS) option. This plan offers 10 gigabytes (GB) of mobile Internet, split between 5GB of mobile data and 5GB of weekend data (1.25GB for every weekend), an additional 5GB of WiFi and rollover of unused Internet data of up to 5GB.
As a comparison, U Mobile Sdn Bhd's unlimited call option still provides the highest data quota at 15GB data for its RM70 per month Hero package — which translates into RM5 per GB versus Celcom First Gold's RM8 per GB. However, Celcom's package is still competitive as its service coverage and quality are acknowledged to be better than U Mobile's. DiGi.Com Bhd's has a promotion of 3GB data, Internet rollover of 1GB and unlimited calls for RM68 per month (from an earlier RM98 per month) until June 30, while MaxisOne's lowest unlimited voice/SMS option offers only 1GB data for RM98 per month. This translates into RM23 per GB for DiGi and the highest of RM98 per GB for Maxis Bhd.
Celcom is offering "Phone Care" services that allow customers to swap or replace their phones or tablets for any reason, with affordable subscriptions from as low as RM4 per month to RM20 for six months. There's a much higher additional service fee when Celcom Phone Care customers request for a swap or replacement of their phones. The swap and service fee can range from RM75 to RM1,900 depending on the retail price of the phone and duration of the replacement. We view this latest Celcom option as a move to provide customers with alternatives to Maxis' Zerolution package, for which a customer needs to pay an additional RM164 per month over two years for annual phone upgrades.
Meanwhile, the recent domestic sharing arrangement between Axiata Group Bhd and Telekom Malaysia Bhd (TM) could lead to the maiden launch of Celcom's first fibre broadband plan, which will likely lease TM's infrastructure. Recall that Celcom Home Broadband, yet to be officially announced, was earlier reported to cost RM145 per month for unlimited usage at 10Mbps speed. Included in its soft launch, Celcom First Gold subscribers will enjoy a 50% discount on the monthly fee for the first six months at RM72.50 per month. All prices exclude the 6% goods and services tax and include a voice plan at eight sen per minute to all local networks in Malaysia.
As we have highlighted in the past, competitive pressures will further intensify when TM relaunches its P1 package over the next two weeks as part of its convergence drive to bundle its mobile, wireless, broadband and fixed-line services. We continue to view Axiata as the best positioned to take advantage of the upcoming shake-out by offering a unified package together with TM's broadband services, while Digi and Maxis are likely to struggle to drive average revenue per user rates in the longer term.
We reiterate a "buy" call on Axiata for Celcom's subscriber recovery, stronger contributions from overseas businesses, value-accretive Ncell Pte Ltd acquisition in Nepal and domestic roaming arrangement together with high-speed broadband and backhaul collaboration with TM. Our "hold" calls are maintained for Maxis, DiGi and TM. — AmInvestment Bank, April 8