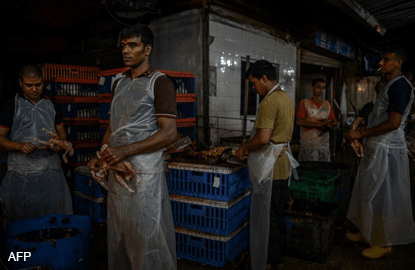 KUALA LUMPUR (Feb 5): Foreign workers are asking for an increase in wages to make up for the lower value of the ringgit, says Malaysia's main grouping of private sector employers, adding that the services, construction and plantation sectors are feeling the strain.
The Malaysian Employers Federation (MEF) said some foreign workers, unable to send home as much as before due to the lower exchange rate, were now evaluating whether to continue working in Malaysia.
It warned that the gloomy economic outlook could also see these workers being sent home, as local labour laws stipulate retrenchments first for foreign workers.
"This may happen if the situation continues to be bad because under the labour law, you retrench the foreign workers first before you retrench your local employees," said MEF executive director Datuk Shamsuddin Bardan.
As such, employers in sectors highly dependent on foreign labour now try to conserve resources and wait out the economic slump.
Malaysia has an estimated 2.1 million registered foreign workers.
"Demands for wage increments are not easy to meet and in this kind of situation, most employers would not be agreeable.
"For instance, employees from Bangladesh used to make 44 taka for every RM1, but now it is about 17 taka. The drop is very drastic, more than 40%.
"Even the ringgit to the Indonesian rupiah has seen a drop in value by 20%," he said.
There are employers, however, who have been helping their foreign employees through "voluntary payments" so as to retain their labour pool.
Such assistance has been in the form of paying certain bills, such as accommodation and hospital charges, since migrant labourers are to pay for hospitalisation insurance themselves, Shamsuddin said.
"Some of the employers have on a voluntary basis, taken up those bills, instead of them pushing back to employees. The employers give them free housing even though the law allows them to charge up to RM50 per month," he said, citing examples.
The voluntary measures were done by companies towards the third quarter of 2015, said Shamsuddin, who said it was not certain how long employers could continue doing so with the worsening outlook.
The measures have driven up employers' costs by 10% to 15%, he added, although it is still cheaper overall than hiring local workers.
"Looking at the current situation, the majority of our employers are not in the position to absorb any further costs, or to offer overtime," he said.
"But they are trying their level best to encourage their foreign workers to hang on, hoping the situation will improve. If the situation goes from bad to worse, I'm not surprised that's when foreign workers may eventually be sent back."
He also feared the impact of restructured levy rates announced yesterday by Deputy Prime Minister Datuk Seri Ahmad Zahid Hamidi that came into effect on Feb 1.
While the new levy will add more to government revenue, it may make the situation increasingly unsustainable for employers, Shamsuddin said.
Zahid announced new levy rates of RM2,500 per foreign worker in the manufacturing, construction and services sectors, and RM1,500 per worker in the plantation and agricultural sector. Domestic helpers are exempted.