This article first appeared in The Edge Financial Daily, on January 6, 2020.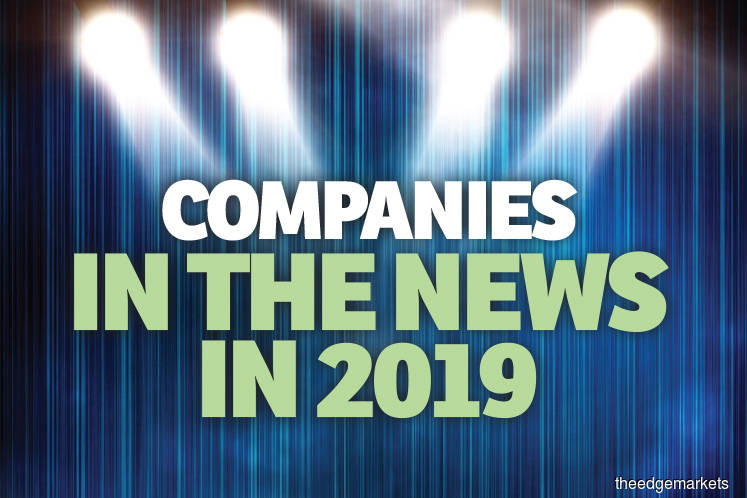 THE year 2019 was seen to be a relatively unexciting year for Corporate Malaysia due mainly to the economic slowdown and lower corporate earnings. There were fewer corporate deals compared to previous years. Nevertheless, several listed companies were in the news for a host of reasons. Here's a look at some notable companies that hogged the headlines in the past year.
London Biscuits: FY19 losses wipe out past profits
Once some quarters in the investing fraternity felt it was a pity that despite London Biscuits Bhd's steady earnings, there was little attention on it compared with its peer Hup Seng Industries Bhd, a biscuit manufacturer whose share price soared 744% over the past 10 years (2010-2019).
In hindsight, this might be a stroke of luck. The Johor-based confectionery maker caught investors' attention in 2019 when its financial woes came into the light. Its share price tumbled 79% in 2019 to 10.5 sen on Dec 31.
The slew of events that was unfolding on London Biscuits' financials started with the external auditor Nexia SSY expressing a qualified opinion its financial statements for the financial year ended Sept 30, 2018 (FY18).
In June, its former chief financial officer Loo Seng Kit and executive director Datuk Wira Ranjeet Singh Sidhu resigned 10 days after joining.
The company defaulted in RM111.71 million loans and facing a winding-up petition, although its accounts showed that it had never been loss-making since its listing in 2002.
In November, 2019, London Biscuits announced that it had written off RM363.16 million of receivables and booked in RM31.04 million impairment on investment loss for the fourth financial quarter ended Sept 30, 2019 (4QFY19). The impairment of RM394.2 million pulled London Biscuits into a net loss of RM452.31 million — a massive sum that wiped out most profits made in the past
In fact, the confectionery maker' trade receivables swelled at least three times since FY13 from RM78.17 million to RM212.82 million in FY18. As at end-June 2019, its trade and other receivables reached RM295.97 million.
Although the financial woes are pushing London Biscuits to the brink of bankruptcy, a new shareholder, Sydney-based MembersOne Ventures Fund, emerged with a substantial stake of 11.35%.
It will be worth a watch if the new shareholder turns out to be a white knight to revive the confectionery maker.
Prestariang's legal action against the government makes the news
Prestariang Bhd made a bold move to sue the federal government in 2019 — something unthinkable to many. And its legal action has kept it under the limelight.
The company took legal action against the government on the abrupt termination of the RM3.5 billion National Immigration Control System (SKIN) project that was awarded to it.
Prestariang had in April 2019 sought a legal claim of RM732.86 million against the government for damages caused by the contract termination. It said the amount, claimed by its unit Prestariang Skin Sdn Bhd (PSKIN), is based on the contractual formula provided for in the concession agreement (CA).
PSKIN decided to file the suit as both sides were unable to reach an agreement on compensation to be paid by the government after engaging in a few rounds of negotiation, Prestariang said in a statement.
Prestariang president and group chief executive officer Dr Abu Hasan Ismail told The Edge Weekly that the management has its duty to take the government to court. He revealed that Prestariang had repeatedly tried but failed to get a meeting with the home ministry to discuss if there was a scope for lowering project costs.
Just when the government was ready to meet Prestariang at the court, the company in September announced that it wanted to seek mediation to settle the matter out of court instead.
However, the government wants its dispute with Prestariang over the termination of the SKIN concession agreement to go on trial.
According to Prestariang, the disputing parties have agreed to refer their disagreement to mediation by the Kuala Lumpur Court Mediation Centre, and that it was agreed that the mediation would proceed concurrently with the court proceedings.
The loss of contract has drained Prestariang's financials and its external auditor Crowe Malaysia PLT has voiced concerns on material uncertainty on its ability to continue as a going concern.
Ekovest/Iskandar Waterfront City riding on sibling's news
Despite the weak market sentiment on Bursa Malaysia, the share prices of both Ekovest Bhd and Iskandar Waterfront City Bhd (IWC) fared well in 2019.
Why did the two stocks rally? The likely answer given is the revival of the Bandar Malaysia project on the former airbase at Sungai Besi, the southern part of Kuala Lumpur.
It is true that the government wants to kick-start the project, but both listed companies are not involved in the development of the Bandar Malaysia project.
TRX City Sdn Bhd (TRXC), which is wholly owned by Minister of Finance (Inc) — is selling a 60% equity stake in Bandar Malaysia Sdn Bhd (BMSB), the project's master developer, to IWH-CREC Sdn Bhd for RM6.45 billion. TRXC will retain a 40% stake in BMSB.
IWH-CREC is a 60:40 consortium comprising Iskandar Waterfront Holdings Sdn Bhd (IWH) and China Railway Engineering Corp (M) Sdn Bhd (CREC).
The only link is the common controlling shareholder Tan Sri Lim Kang Hoo, among Ekovest, IWC and IWH, which is not listed.
Furthermore, there are news reports that Lim is revisiting the plan to list IWH to raise fresh capital, instead of using IWC as the vehicle for back-door listing exercise of Bandar Malaysia project as he planned in 2017.
Both Ekovest and IWC shot up in April, 2019 when the news on the revival of the Bandar Malaysia project broke. There was also renewed buying interest in December when both TRXC and IWH-CREC signed share sale agreement.
Gamuda — An increasingly uncertain highway takeover deal
When the federal government was pushed to deliver its election manifesto of abolishing highway tolls, it resorted to a pilot nationalisation of four toll concessionaires that Gamuda Bhd has substantial stakes in.
On June 22, Minister of Finance Inc (MoF Inc) offered to pay RM4.5 billion cash and shoulder the liabilities of the four concessionaires — Lingkaran Trans Kota Holdings Bhd (Litrak), Sistem Penyuraian Trafik KL Barat Sdn Bhd (Sprint), Kesas Holdings Bhd and Projek SMART Holdings Sdn Bhd.
The plan was to reduce standard toll charges and replace them with congestion charges during peak periods.
Gamuda owns 44% in Litrak, 52% in Sprint, 70% in Kesas, and 50% in SMART. The group accepted MoF Inc's offer on June 27 and expected its portion of anticipated equity value of the concession holders to be RM2.36 billion or 96 sen per share.
Gamuda slipped when the news broke, likely amid uncertainties about the group's future earnings prospect. Less than a year before, the group sold its 40% stake in its other cash business, water treatment firm Syarikat Pengeluar Air Sungai Selangor in 2018.
The day after MoF Inc's announcement, the counter fell 6.8% from RM3.83 to RM3.57. But by year end, the losses were erased and the stock closed at RM3.88, giving it a market capitalisation of RM9.61 billion.
The proposed takeover, however, has seen several delays, with the original Oct 31 deadline extended twice — first to Dec 31, 2019 and now to March 31, 2020. On Dec 30, Finance Minister Lim Guan Eng said the cabinet will likely decide on the plan in the first week of 2020.
Utusan Melayu — The fall of Malaysia's oldest Malay-language newspaper
The demise of Utusan Melayu (M) Bhd in 2019, while triggered by recent developments that shocked many, was an end that had begun quite some time ago, as the company had been loss-making for nearly eight years since 2012.
Having failed to secure a white knight for its regularisation plan, the Practice Note 17 company — with a debt of RM323.98 million and had missed payments since 2018 — was delisted on Aug 30, ending its 25-year run on Bursa Malaysia, where it once reached a high of RM5.62 per share. It was last traded at 5.5 sen per share.
It is the first major casualty among Malaysian media companies that have been heavily disrupted by the digitalisation era and struggled for years to create a new viable business model around new media.
What had been helping the loss-making company stay afloat were government-linked advertising contracts, on the back of its ties to then-major shareholder Umno. But this very image as an Umno mouthpiece backfired when the party was ousted from the federal government in the 14th general election.
There was a spark of optimism when Datuk Abd Aziz Sheikh Fadzir — Utusan's executive chairman in June-Dec 2018 — acquired a 31.61% stake from Umno at a premium in February. Utusan's share price more than doubled from 11.5 sen to 28 sen on the news.
But that was the last light. Utusan is now undergoing voluntary winding-up. Abd Aziz said the nation's oldest Malay-language newspaper Utusan Malaysia "will live on", but via another outfit.
On Oct 9, Utusan Malaysia ceased publication after 80 years, alongside its 15-year-old sister paper, Kosmo!. Utusan sold 70% in the subsidiary that holds the permit for the two publications to Aurora Mulia Sdn Bhd, which is controlled by Tan Sri Syed Mokhtar Albukhary.
Sapura Energy — Slow recovery hampers debt-slashing efforts
Slower-than-expected recovery in Sapura Energy Bhd's earnings in 2019 has been a disappointment after its hefty RM4 billion cash call and the divestment of 50% of its exploration and production (E&P) outfit to OMV for up to US$975 million the year before.
The two corporate exercises cut Sapura Energy's debt by around RM7 billion and its annual finance costs by about RM314 million.
As at end-October 2019, Sapura Energy had short-term borrowings of RM1.53 billion and long-term ones of RM8.55 billion. Net gearing stood at 0.7 time, from over 1.5 times prior to the debt slashing.
In the nine months ended Oct 31, 2019 (9MFY20), Sapura Energy's finance costs were down nearly RM206 million to RM517 million. But they remained higher than the operating profit of RM347 million in the same period.
Operationally, there were several misses: engineering and construction (E&C) division saw lower margin in relation with project execution stage, while its drilling segment failed to break even on lower number of rigs working.
As a result, Sapura Energy's core net loss of RM357 million in 9MFY20, on the back of RM5.34 billion in revenue, was already wider than full-year consensus target.
As at end-October 2019, Sapura Energy has an outstanding order book of RM15.1 billion, of which RM2.7 billion is expected to be recognised in FY20 and RM5.6 billion in FY21.
Some analysts have revised their estimates for FY21 and expect the company to continue showing losses instead of staging a breakeven as previously anticipated, on slow margin improvement in the E&C segment.
UWC and Leong Hup — A tale of contrasting IPO fortunes
The initial public offering (IPO) scene offered quite a story in contrast last year.
A little-known integrated engineering service provider's IPO ended up far outperforming a highly-anticipated billion-ringgit IPO of one of the largest integrated poultry, egg and livestock feed producers in Southeast Asia.
The former is UWC Bhd, which was listed on the Main Market of Bursa Malaysia at an IPO offer price of 82 sen, as it sought to raise RM57.4 million from the listing. The stock jumped 71% or 58 sen to RM1.40 on its July 10 debut. From then, it seemed there was no stopping the rally, and the stock climbed as high as RM3.23 on Dec 27. Last Friday, the stock settled at RM3.18. That means a handsome return of 287.8% in less than six months if one had subscribed for its IPO shares.
In contrast, Leong Hup International Bhd's RM1.2 billion IPO — the largest since 2017 — was rather disappointing. Its debut received lukewarm response, as its shares closed unchanged from its IPO offer price of RM1.10 apiece.
The journey for the stock has not improved much since. It went as low as 70.6 sen towards end-August, before regaining some lost ground to close 2019 at 88 sen. As of last Friday, the stock remained at 88 sen. Investors who subscribed for Leong Hup's IPO would have lost about 20% of their investments by now.
Leong Hup, notably, is also not new to the market. It is the restructured and renamed version of Leong Hup Holdings Bhd, a Main Board-listed company controlled by the Lau family that was privatised in April 2012.
YTL Corp — Taking control of rival Lafarge Malaysia
YTL Corp Bhd sprung a surprise last year when it took up a controlling stake in rival Lafarge Malaysia Bhd via its 98%-owned YTL Cement Sdn Bhd.
Starting with a 51% stake buy for RM1.63 billion or RM3.75 per share from Swiss cement giant LafargeHolcim Ltd, which was seeking to exit the Malaysian market, YTL Cement ended up with a 76.98% stake in Lafarge Malaysia following the end of the mandatory general offer it had to extend for the rest of the shares it did not own in the target company.
All in, YTL Cement spent RM2.46 billion on the deal.
The acquisition, completed in June, made YTL Group the country's largest cement maker today, with a market share of around 58%, which dwarfs the No 2 player's 9%. The move was viewed positively as the consolidation is expected to allow the enlarged group to command higher pricing power in a market dogged by overcapacity.
Interestingly, at an extraordinary general meeting (EGM) three months later, Lafarge Malaysia's minority shareholders blocked a resolution that would have allowed the company to undertake several recurrent related party transactions with its new controlling shareholder, YTL Cement, worth an aggregate RM3.51 billion.
These transactions, which include the sale and purchase of materials such as clinker, cement, pulverised fly ash, slag, dry mix, aggregates, and the manufacturing of sand, were deemed necessary for the day-to-day operations of Lafarge Malaysia, and part of its ordinary course of business.
Lafarge Malaysia — now renamed Malayan Cement Bhd — is now seeking shareholders' mandate for new RPTs worth a smaller aggregate sum of RM1.87 billion with YTL Cement, at another EGM scheduled for Jan 23.
Proton to drive DRB-Hicom's growth
Conglomerate DRB-Hicom Bhd started off 2019 on a positive footing, posting a net profit of RM122.87 million in the quarter ended March 31, 2019 after three straight quarters of losses.
It also turned a profit in subsequent quarters, recording a net profit of RM46.21 million and RM86.29 million in June 30, 2019 and Sept 30, 2019 respectively.
The huge growth seen in the first nine months of 2019 can be attributed largely to its 50.1%-owned subsidiary Proton Holdings Bhd, which has been delivering better sales. The national carmaker reclaimed its position as the country's second best-selling automotive brand in April 2019 for the first time since February 2016.
And Proton chief executive officer Dr Li Chunrong was quoted as saying by Reuters that the carmaker is likely to make a profit for the whole of 2019.
Proton saw a change in fortune with the entry of China's Zhejiang Geely Holding Group Co Ltd in 2014. Geely is owner of Volvo Cars and also a stakeholder of German auto group Daimler.
Last Thursday, Proton announced that the total sales for 2019 closed at 100,821 units — crossing the 100,000-unit mark for the first time since 2015. This translates into a market share of 16.7%, its highest since 2014.
The better sales performance was driven by the X70, Saga and Persona models.
DRB-Hicom shares were up 42% in the past year to close at RM2.40 last Friday, with a market capitalisation of RM4.64 billion, its highest since 2013 when it registered RM5.45 billion in value.
That said, DRB-Hicom's 53.5%-controlled subsidiary Pos Malaysia Bhd showed a less encouraging picture, as it posted its fifth straight quarterly net loss of RM29.34 million in the quarter ended Sept 30, 2019 amid declining mail volume and rising costs.
Going into the new year, Proton will likely continue to be the engine for DRB-Hicom's growth.
Smoky days still plague BAT Malaysia
The year 2019 continued to be challenging for British American Tobacco (Malaysia) Bhd (BAT Malaysia) as profits stayed under pressure due to lower volume as a result of legal market contraction.
Its net profit for the cumulative nine months ended Sept 30, 2019 (9MFY19) fell 29.8% year-on-year to RM249.95 million, while revenue was down 10% to RM1.85 billion.
The group blamed its woes on a rapid increase in illegal vaping products and continued high level of illegal cigarette incidence of 65%.
Given the challenging market landscape in Malaysia, the group has embarked on an internal reorganisation, involving the laying off of 20% of its workforce. It employs almost 500 people in Malaysia. In 2016/17, about 230 employees were laid off.
BAT Malaysia's share price has plunged by 19.2% since it announced its 9MFY19 earnings on Oct 31, 2019 to close at RM15.18 last Friday. The stock has lost RM5.98 billion in market value in the past year to stand at RM4.33 billion on Friday.
Nevertheless, BAT Malaysia remains attractive to investors seeking better dividend-yield stocks. It has declared dividends totalling 85 sen per share for 9MFY19 compared with RM1.08 per share a year ago. Total dividend declined mainly due to lower net profit for the financial period.
Going forward, BAT Malaysia said it has embarked on investing in new category segments such as its tobacco heated product Glo to ensure future sustainability, as well as supporting government authorities on any efforts in fighting illegal cigarettes trade in bringing back the legal cigarette market.
Public Bank's largest annual share price drop in 22 years
Shares of Public Bank Bhd, despite starting off the year on a good note by reaching an all-time closing high of RM24.42 (adjusted) on Jan 22, 2019, eventually ended recording its largest annual decline in 22 years of 19.02%. The stock started the year at RM21.04 but settled at RM19.44 by end-December, which saw some RM21 billion market capitalisation shaved off, leaving it with RM75.47 billion.
The last time Public Bank's share price fell the most in a year was in 1997, when it slumped 54.68%.
Since it sank under RM20 in October 2019, the stock has since hovered below that level. Regardless of the fall -- which is also the biggest when compared with other banks last year, except Alliance Bank Malaysia Bhd, Public Bank remains the most expensive in terms of valuation.
It has a price-to-book ratio of 1.78 times versus its peers' 0.40 to 1.36 times. Its price-earnings ratio is at 14.07 times, the highest among its peers, followed by Hong Leong Bank Bhd's 13.49, Malayan Banking Bhd's 12.04 times, and CIMB Group Bhd's 10.42.
Earnings growth-wise, the bank has not been performing as well as it has been in the past. In the most recent four quarters, it recorded three quarters of year-on-year (y-o-y) net profit decline. Notably, those made up half of the six quarters of y-o-y net profit declines that the bank experienced in the past 10 years.
For the nine months ended Sept 30, Public Bank's net profit fell 1.9% y-o-y to RM4.11 billion from RM4.19 billion, while revenue grew 2.3% to RM16.78 billion from RM16.41 billion. The bank attributed the lower earnings to the overnight policy rate cut.
Genting Malaysia's attention-grabbing RPT
Genting Malaysia Bhd's (GenM) third related party transaction (RPT) in 11 years -- its acquisition of a 46% stake in a loss-making gaming company from GenM's controlling shareholder Tan Sri Lim Kok Thay's Kien Huat Realty III Ltd -- more than raised a few eyebrows last year.
In fact, news of the proposed stake buy in then Nasdaq-listed Empire Resorts Inc for US$128.6 million cash (RM538.8 million) sparked a selling spree on GenM, with the counter falling 12% in a day, which wiped out some RM2.6 billion worth of market capitalisation from the stock.
The selldown dispirited shareholders, given that GenM's share price was on a recovery just before that, following news that GenM has reached a settlement to resolve its disputes with Fox Entertainment Group and The Walt Disney Co over the construction of an outdoor theme park.
It likely also sparked a sense of déjà vu among GenM shareholders who could recall a similar RPT by GenM in 2010, when it bought a loss-making gaming business in the UK from its sister company, Genting Singapore, at £351.5 million (RM1.72 billion). GenM shares also took a hit back then, with its shares falling 4.38% in a day, causing it to lose some RM700 million in market capitalisation.
This latest RPT, meanwhile, led to Kien Huat and GenM collectively holding 86% in Empire Resorts, after which they moved to privatise the company. A minority shareholder of Empire Resorts, unhappy with the RPT, ended up suing GenM and Kien Huat, as well as Empire Resorts and its board, for steering the company towards the privatisation, which the minority felt was against minority shareholders' interests.
MAHB shares take a beating after Cabinet announcement
In December alone, the share price of Malaysia Airports Holdings Bhd (MAHB) declined almost 9% after from RM8.35 in the beginning of the month to RM7.60 towards year end, as investors doubt the materialisation of a regulated asset based (RAB) framework, a model which guarantees the airport operator's return for its capital expenditure in airport development.
The selling pressure came after the Cabinet decided to merge Malaysian Aviation Commission (Mavcom) and Civil Aviation Authority Malaysia (CAAM), a process that Transport Minister Anthony Loke expects to complete in about six months.
This is because Mavcom previously announced publicly that it will implement the RAB framework come Jan 1, 2020, but the merger casts doubt on whether the aviation economic regulator would kick-start the new policy as planned.
According to Mavcom's consultation paper to stakeholders on the RAB framework, it was proposed that the airport operator to be given 10.88% of return for its capital expenditure on airport development.
When the merger was announced, Mavcom chairman Dr Nungsari Ahmad Radhi had on Dec 12, 2019 said the regulator will focus on the welfare of its staff and the handover of its statutory role, with no mention of the RAB implementation.
However, on Jan 1, Mavcom did not make any further announcement on the framework as well, despite by law, the regulator is still operated under the Mavcom Act 2015 and is empowered to kick-start the new policy, until the act is abolished in Parliament.
MAHB's share price remained under pressure at RM7.56 at the close of trading last Friday.
Axiata-Telenor mega merger fails to take off
Axiata Group Bhd and Telenor ASA mutually agreed to terminate their megamerger to consolidate both telecommunication giants' operation in Asia after about four months of negotiation last year.
In May last year, Axiata announced that it was in talks with Telenor to merge their operations in Asia, resulting in Telenor being the majority shareholder of the global MergedCo, and anticipated to own 56.5% and Axiata holding 43.5%.
The proposed merger would result in the emergence of Asean's largest telecommunication company, with a pro forma revenue of RM50 billion and a net profit of RM4 billion.
Telenor is the largest shareholder of Bursa Malaysia-listed DiGi.com Bhd, in which it holds a 49% stake, while Axiata wholly owns Celcom Axiata Bhd in Malaysia.
Upon termination of the merger, both parties said it was due to "complexities involved in the proposed transaction", but do not rule out the possibility of a future transaction.
"The board acknowledges the strong strategic rationale of the proposed transaction and is equally cognizant of the level of complexity of such a deal that extends across nine countries and 14 major entities," said Axiata chairman Tan Sri Ghazzali Sheikh Abdul Khalid.
JP Apex-Mercury merger continues to face roadblock
Over a year since it was first proposed, the merger of Apex Equity Holdings Bhd's unit, JF Apex Securities Bhd, with Mercury Securities Sdn Bhd, continues to meet with resistance from two minority shareholders — Pinerains Sdn Bhd and Concrete Parade Sdn Bhd.
This is despite the majority of shareholders approving the merger at two EGMs, though the first was invalidated following the intervention of one of the dissenting minority shareholders — Pinerains, which is said to be linked to Lim Siew Kim, daughter of the late gaming tycoon Tan Sri Lim Goh Tong — when Apex Equity sought a vesting order to proceed with the merger.
Pinerains owns 4.17% stake in Apex Equity, while Concrete Parade owns a 4.68% stake. Both are challenging the merger in several legal proceedings, including an appeal for injunction against ACE Investment Bank from voting for the merger in an EGM.
Other appeals also include the High Court's decision to dismiss the invalidation of the business merger agreement, and whether to grant the vesting order to transfer certain business, assets and liabilities in Mercury Securities to JF Apex.
Under the business merger agreement signed on Dec 18, 2018, Apex Equity will take over Mercury Securities' stockbroking, corporate advisory and other related businesses for RM140 million, transferring the businesses to JF Apex.
Apex Equity was to pay RM48 million cash and the remaining RM92 million via the issuance of 100 million new Apex Equity shares to Mercury Securities, which is set to emerge as the single largest shareholder of Apex Equity, owning 30.99% equity interest in the merged entity.
It was reported that in both EGMs, Siew Kim and her alleged associates were believed to have voted against the deal, while ACE Investment Bank and immediate family members of the late Chan Guan Seng are believed to have voted for the merger. Chan is the founder of Apex Equity.
The first EGM to vote for the merger was invalidated by the High Court on Sept 18, following the intervention of Pinerains against a vesting order application by Apex Equity to proceed with the merger.
ACE Investment Bank is the single largest shareholder of Apex Equity with a 24.02% stake as at July 26, 2019. The Chan family has about 16.52% equity interest.