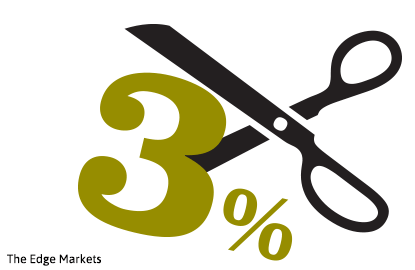 This article first appeared in Personal Wealth, The Edge Malaysia Weekly, on Feb 8 - 14, 2016.
The revisions to the 2016 budget announced on Jan 28 did not go down well with some people. A loud criticism was the 3% cut in employees' contribution to the Employees Provident Fund (EPF) to 8%.
Since then, a debate has ensued — to cut or not to cut.
It is clear why the government needs to boost consumer spending. Malaysia's growth is slowing with the expansion in gross domestic product (GDP) for 2016 now revised to around 4%-4.5%. Some economists have opined that even this forecast could turn out to be a tad too optimistic because apart from domestic challenges, the health of the global economy is coming under severe stress. Malaysia is still an export-dependent economy.
On the fiscal side, the government has limited options as low oil prices have further strained its coffers. There is also very little room to manoeuvre monetary policy, given the weak ringgit and tighter liquidity. 
Thus, putting more money into the pockets of consumers via a cut in EPF contributions seems like a good solution. More so when the people's finances are being stretched by the rising cost of living, brought on by, among other things, the implementation of the Goods and Services Tax and reduction in subsidies.
For many people, this extra income could go some way towards easing their financial burden.
But really, cutting EPF contributions is not an ideal solution to the government's conundrum. Basically, it is asking the people to spend their retirement savings today.
By now, in the social media and elsewhere, we can see various computations on how spending the 3% today weighs against keeping the EPF contributions at 11%. 
To cut the story short, contributors end up holding the shorter end of the stick.
It will not be an issue if all savers have a nest egg so sizeable that an 18-month reduction in contributions to the EPF will make little difference to their retirement fund.
But, unfortunately, this is not the case. The current picture is in fact worrisome. For the longest time, financial planners, wealth management advisers and the EPF have been cautioning that the majority of Malaysians do not save enough for their retirement. This is despite the mandatory contributions to the EPF, which stands at 11% from the employee and 12% from the employer.
According to EPF statistics, some 80% of workers who turned 55 in 2015 do not have enough in the pension fund to live above the poverty line. Only 23% of those above 55 have savings of RM196,000 or more, which is the minimum needed to sustain retirement until age 75. Some 50% would have exhausted their EPF savings within five years.
If we throw in the fact that Malaysians generally are highly indebted based on a household debt-to-GDP ratio of more than 85% in recent times, the picture becomes really gloomy.
And with the rising cost of living already hitting savings, at the end of each month, for most people in the lower-middle-income group, there is nothing much left to save.
Prudent retirement planning must take into account our improving lifespan. Going by the current situation, most people will have to continue working long past 60. 
It will not help retirement planning if the contribution rate is cut so that people can spend more today. It simply means they will have less to spend on retirement.
An argument is that 3% is not a big sum and it will only be for a limited duration. However, when added up, it makes a difference.
Of course, a view is that employees could use the extra cash in their pockets wisely, such as investing it in assets like unit trust funds or placing it in fixed deposit.
However, a more likely outcome is that most people will spend the money on everything else but investments. But there will be a cost to this instant gratification. 
A question is, how big will the multiplier effect of a 3% cut in EPF contributions be on the economy? Market observers are mostly sceptical about this. For one, not everyone will opt for the 3% cut, which means that the RM8 billion expected to flow into the economy is unlikely to happen. 
It could be considerably less than that. In a quick poll of 10 people in the office, seven have decided to opt out while the rest have not decided.