This article first appeared in Digital Edge, The Edge Malaysia Weekly, on December 27, 2021 - January 09, 2022.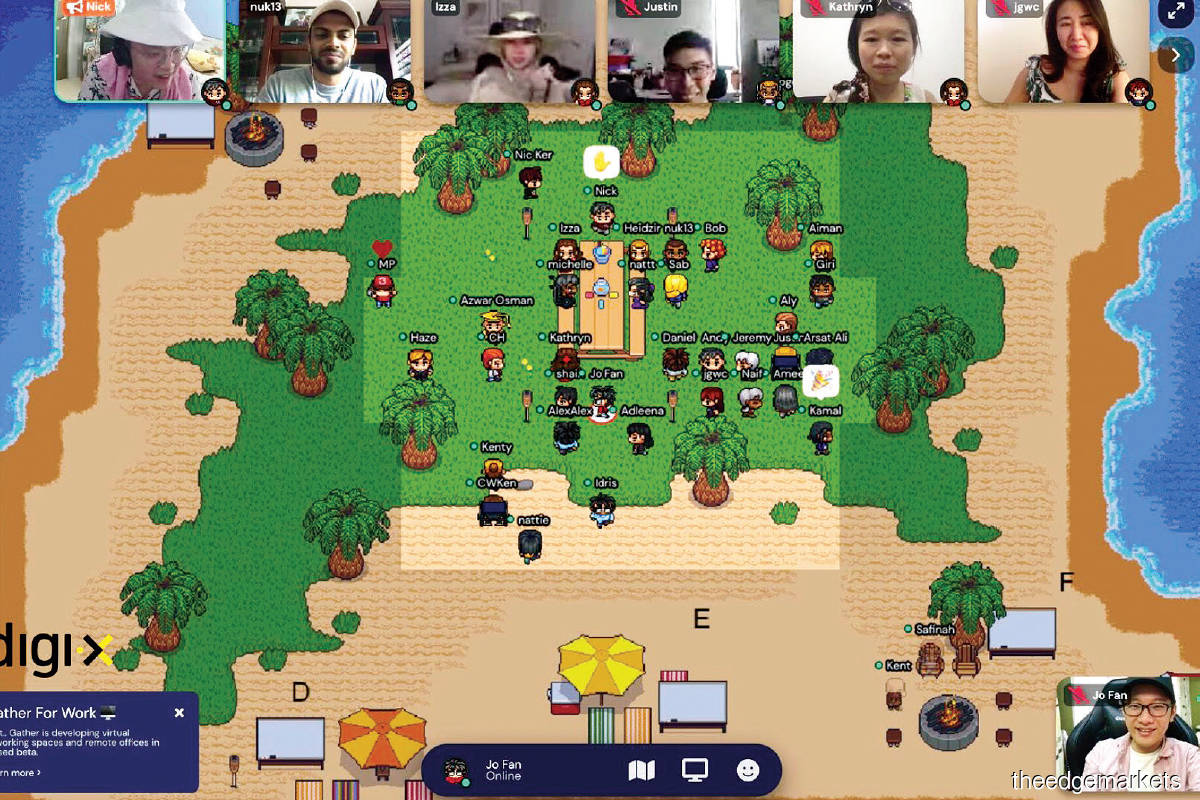 "Hello? Can you hear me? I can't hear you … You're muted … Sorry, your connection dropped off for a bit just now. Can you repeat what you just said?"
Some version of these conversations could be heard on almost every online call over the past year. Most people have been making online calls, whether it is for work or to stay connected with family and friends. 
The experience of interacting with people online is vastly different from in-person conversations. There is no physical touch and it is more difficult to observe body language or make eye contact. No two conversations can take place at one time. 
It is no wonder then that many people complained about suffering from social isolation during the lockdowns. However, without technology, this would have been worse. Imagine not being able to make video calls or play games with others during this time. 
Thanks to all the online conferencing tools, monumental moments in life that occurred during the pandemic could still be shared with others. 
For instance, Kathryn Lee, head of Digi-X, had this experience when she gave birth during the pandemic. She could not invite people over because of the movement restrictions, but her family members adapted quickly. 
"My mum learnt how to send WhatsApp videos and we have weekly family Zoom calls that my mum hosts. She subscribed to Zoom so we don't have to drop off the call after 40 minutes [when the free call time is over]," says Lee.
Meanwhile, Christine Valirie had to celebrate her boyfriend's birthday under lockdown in the past two years. Last year, she collected video messages from his friends. This year, she decided to get his friends together to play an online game.
"We have all been playing Call of Duty: Mobile together for a few years. You can customise the game to play with all your friends. So, I started coordinating his friend groups from church, school and work. We managed to get 50 people to join," says Christine.
"Before playing the game, we were on Google Meet and surprised him. He was quite shocked! Then, we auto generated the team distribution, so everyone could mingle with each other. It went very well." 
Throughout the pandemic, she stayed in touch with loved ones through Google Meet and phone calls. Her mother was in another country, so she often called using WhatsApp. "We just had to make do with what we had. We're lucky to have technology at this time," she says.
Another challenge that arose from the prolonged lockdown is the difficulty in making new friends. Friend groups can easily organise online calls or gaming sessions and invite others to join, of course, but it can be difficult to get to know new people online.
Eshin Ang and Sean Ng, co-founders of Kitarr, an online platform that shares sustainability tips and stories, managed to do so. They started the platform in June and garnered a following on Instagram. They shared stories of ordinary people pursuing a sustainable lifestyle and their reflections on life.
"Eventually, we wanted to get to know our audience better. So, instead of communicating through words and posts, we thought about how we could connect through meet-and-greet sessions online," says Ng.
Ang was reluctant at first. "I thought, 'Why would strangers want to come and talk to us?'" But they went ahead with it and organised the first virtual meet-and-greet session with the theme of "Thoughts on Covid-19". Two close friends and three strangers attended the session.
"We did it for a few more weeks. Each week, we had a different theme. The people who came were quite courageous, since I don't think most people would meet others online and talk about intimate things. We went quite deep and spoke about family issues, feelings, fears and anxieties," says Ng.
The sessions were a success. They managed to get strangers together online to share their personal stories. In a way, this proves that it doesn't require in-person interactions for deep conversations — even with strangers — to take place, as long as people are welcoming and ready to listen. 
"Everyone likes to share … we emphasised that it was a space for them to share and for us to listen. It was a safe space," says Ng.
As for people who live with family members, the pandemic probably brought them closer. At least, that was the case for Cheah Ka Wai, head of digital marketing and strategy at Superdough Sdn Bhd.
"Before the pandemic, I always went out with friends. I did a few Zoom drinking sessions and played mini games on Facebook Messenger with friends, but I actually had more time to spend with my parents and siblings. The pandemic helped me to socialise with them more," says Cheah.
Most of them believe that socialising will go back to normal when the pandemic is over. But there will be a heightened appreciation for interacting opportunities with loved ones. And there will be fewer excuses for not staying in touch, since everyone is just a video or phone call away. 
"We didn't get to see our loved ones as much during the pandemic. Previously, we probably put off meeting them because we thought we could see them anytime. Now, we don't even know when we will have to go into lockdown again," says Lee. 
At work: what happens to the water cooler conversations?
One of the areas that may see a permanent change, however, is at the workplace. Hybrid or flexible work arrangements, where half the team is online and the other, in the office, may become common. 
Since we spend most of our time at work, socialising with colleagues is very important. How will a hybrid workplace affect this dynamic? 
Lee shares that Digi-X has been organising many activities internally to keep employees connected at this time. She believes that the future workplace will likely be what we are already seeing now. 
"Every Friday, we have a tea time session, where everyone is allowed to join and talk about anything. It's not mandatory. These sessions are especially good for the newbies, who can get to know each other," says Lee.
Online socialising sessions between people who may not know each other well, however, have the potential to turn awkward really quickly. But many people turn on their videos for meetings, which definitely helps with keeping people engaged, Lee adds.
A chairperson is selected for each online session, so she or he can navigate through the awkward silence by coming up with topics of conversation. Structured sessions are also organised. 
"For individual teams, we started to host occasional online board games or game sessions, as well as online quizzes and trivia. During our virtual lunch-and-learn sessions, we threw in topics such as mental health awareness, crypto and even eSports. These things are really important to break the cycle of just turning on the laptop and working," says Lee.
Digi-X has been helping clients to stay connected during the lockdown through its altHR application as well, which has modules focused on human resources (HR), employee engagement, digital workplace and perks and benefits. For instance, it has modules that allow the company to ask employees questions like "What are you working on today?" or "How are you feeling today?" on the platform. There are also modules that update employees on the latest news and announcements.
"We have this gifting module that allows companies to pick a gift to share with employees when they do a good job. We've seen companies use it to let employees personally give gifts to colleagues as well," says Lee.
Having a reliable and suitable digital workplace platform such as altHR is important in a hybrid workplace, she adds. Things like a virtual onboarding journey for new employees, who can read materials online and watch videos of company leaders explaining their business values, will have to be included. 
"Digital workplace modules will also be very useful in the future scenario. These will allow you to track and monitor the availability of facilities at any time. This is good for companies with a retail workforce that want to maintain social distancing," says Lee.
What about team-building? 
Since companies couldn't host physical team-building sessions during the pandemic, some engaged Cheah's company to host virtual team-building sessions. Superdough is behind the BREAKOUT escape rooms in Avenue K and NU Sentral Shopping Mall, as well as Hauntu, the immersive and interactive haunted house at LINC KL. 
Escape rooms require participants to solve puzzles and tasks in a physical setting according to a storyline. This often involves looking for clues in specially designed rooms. Hauntu also uses this concept, but with real actors who will interact with players as they navigate through rooms built to resemble a colonial hotel.
Cheah and his co-founders created an online version of these games during the pandemic. Players answer questions and puzzles through a software, discuss strategies with each other and instruct a real-life actor, who is placed in the Hauntu set, to navigate the space via Zoom.
The mission is for the players to rescue the actor, who is kidnapped and trapped in the room. At first, families with children and escape room fans were its target audience. Soon, companies began asking it to host sessions for their employees.
"The players have to discuss among themselves whether the actor should move to the right or left and how to crack the code, for instance. These activities promote teamwork, decision-making and communication skills," says Cheah.
A voting system is in place so that the players can vote on which action the actor should follow. Sometimes, companies send observers to watch and analyse their employees, and to use those insights to understand how their teams work together.
"The advantage of this virtual game is that it is borderless. We hosted a lot of tech companies from Penang and Johor. People can do team-building without having to meet each other, [which is useful] if the company has regional offices," says Cheah.
Some of its notable clients are HappyFresh, Astro, Grab, Intel and Klook. Now that it is allowed to operate the physical escape rooms again, how will things change? Cheah says it will still keep the virtual game to serve big groups of clients and those with regional offices. Meanwhile, it will continue to expand its physical outlets. 
"Humans like to socialise. I personally feel that things will go back to normal," he says.
"The way people communicate with each other is the same. But the physical experience cannot be replicated. It's like going to a theme park in person. It cannot be compared."
Tools to stay in touch online
1. Work and play: You probably use this already. Some have more complex functions than others. 
• Google Meet, Zoom, Microsoft Teams, Skype, Discord, WhatsApp
2. Break the ice: Facebook Messenger, Instagram
• There are mini games on Facebook Messenger. For instance, you can play basketball or badminton with friends by moving your head around the screen. If you are bored, you can try out all the funky filters on Facebook Messenger and Instagram video call. 
3. Meet strangers: Clubhouse, Twitter Spaces
• These audio-only spaces bring strangers together to discuss specific topics
4. Video calls the fun way: Gather
• This video chat platform takes place in customised spaces that look like a game. Walk around to meet avatars of other people. Once you are in the same vicinity, your video pops up. You can also design and build your own space!
5. Watch shows together: Teleparty
• This Chrome extension synchronises video playback and adds a group chat function to platforms like Netflix, Disney, Hulu and HBO, so that you can watch a movie together with friends while chatting
Online games you can play with others
1. Skribbl
• Draw something, and your teammates will guess the word. A fun and easy game that's free to play.
2. Gartic Phone 
• Everyone in the team writes a prompt, which is then randomly distributed to the members, who have to draw a picture according to the prompt. These pictures are circulated and other members have to describe it in words again. All the results are revealed at the end. There are several variations to this game on the platform. These laughter-inducing games are free to play. 
3. Codenames
• The game divides players into two teams (red and blue), each with its own spy. The spies will look at a table of words, which are on red or blue cards. The red team's spy will have to make her team guess the words on the red cards using one keyword, without actually mentioning the word on the card. The fastest team to get all the right words wins. The game is free to play online.
4. Jackbox Games 
• This package of games can be played on mobile phones, PlayStation, Nintendo Switch, XBox and many other platforms. It includes games like Drawful, Fibbage and Quiplash. Drawful challenges players to draw prompts, while Fibbage requires users to spot the real answer to a question amid the lies submitted by other players. Quiplash requires users to submit ridiculous answers to questions. The funniest ones, voted by the other players, win.