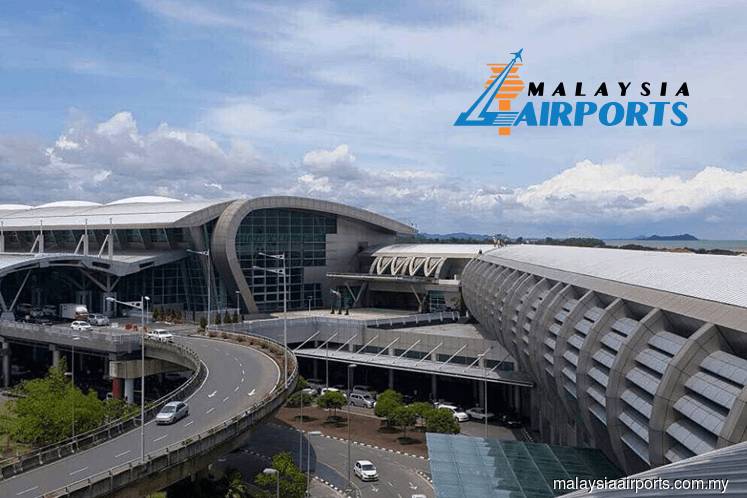 KUALA LUMPUR (Feb 10): Malaysia Airports Holdings Bhd (MAHB) saw 6.6% more passengers pass through the 39 airports it manages in the country in January this year, despite being affected by the negative traction due to initial reaction to the 2019 novel coronavirus (2019-nCov) outbreak, epicentred in Wuhan, China.
The better showing in January 2020 was thanks to the Lunar New Year festive season.
The airport operator handled 8.93 million passengers in January this year, compared with 8.37 million in the same period in 2019.
International and domestic sectors recorded 4.7 million and 4.3 million passenger movements, up 4.7% and 8.9% respectively over the same month last year.
Overall aircraft movements increased by 9.1% year-on-year (y-oy), of which international and domestic aircraft movements grew by 6% and 11.2% respectively.
Overall average load factor, however, fell by 2.4 percentage points to 71% over January 2019, partly due to ongoing sentiments pertaining to the 2019-nCov.
Going forward, MAHB expects the coronavirus outbreak to have a negative impact on air travel, at least in the short term. "The sharp decrease is already seen for the last day of January."
The group said however, that current traffic dynamics in volume and structure are different from what were seen during the severe acute respiratory syndrome (SARS) pandemic in 2003.
"Impact from 2019-nCov may not be the same as SARS. SARS resulted in 7.2% decline in international passenger traffic but the domestic traffic increased by 6.5%, resulting in an overall 1% growth. SARS resulted in six months year-on-year decreases in passenger movements.
"While the immediate impact (from coronavirus) to air travel could be worse due to wider contagion, the recovery could be quicker compared to the past, due to technology and effectiveness in handling the impact. Passenger traffic is expected to pick up, once the confidence for travel develops as soon as the outbreak is contained," MAHB said.
It believes the 2020 Visit Malaysia Year (VMY2020) campaign may also help mitigate the negative impact from the 2019-nCov, assuming confidence for air travel returns within the next few months. "In the past, during normal Visit Malaysia Years, the international traffic growth had been commendable, with double-digit growth," it added.
Meanwhile, passenger movements through Kuala Lumpur International Airport (KLIA) grew 4.4% y-o-y in January 2020 to 5.31 million, from 5.09 million a year ago. International sector increased by 4.2%, while the domestic sector grew by 4.8%.
Out of this total, passenger movements at KLIA Main Terminal rose 7.5% y-o-y to 2.52 million from 2.34 million in January 2019, while passenger traffic at klia2 increased by a marginal 1.7% y-o-y to 2.8 million from 2.75 million.
"Most of the regions registered growth except for Europe, Northeast Asia and North America in January 2020. Among the countries that registered double-digit growth were Japan, Qatar, Saudi Arabia, Jordan, Singapore, South Korea and Brunei.
"All airports in Malaysia other than Sabah short take-off landing, registered increase in passenger traffic. Forty-five airlines recorded growth, with 32 airlines registering double-digit increases in international passenger movements in January 2020," MAHB said.
Systemwide, including its Istanbul operations in Turkey, MAHB handled 6.5% more passengers at 11.89 million in January 2020, compared with 11.17 million in January last year.
Istanbul Sabiha Gokcen International Airport's (SGIA) passenger traffic grew 6.1% y-o-y in January 2020, as it saw international traffic increase by 24.4% y-o-y, which was offset by a 3.8% decline in domestic passenger movements.
MAHB attributed the softening in domestic passenger movements volume to Pegasus' route restructuring, in a bid to expand its international routes due to higher yields from the international segment.
"Istanbul SGIA's growth has been focused more on international routes in 2019 and continued to January 2020, which grew by 6.1%. There is enough airport and airlines' seat capacity for Istanbul SGIA for 2020, to continue its growth trajectory with current schedule and by improving the load factors of the respective airlines," it said.
At 5pm, MAHB shares retreated 10 sen or 1.43% to close at RM6.90, giving it a market capitalisation of RM11.45 billion.