This article first appeared in Capital, The Edge Malaysia Weekly, on October 19, 2020 - October 25, 2020.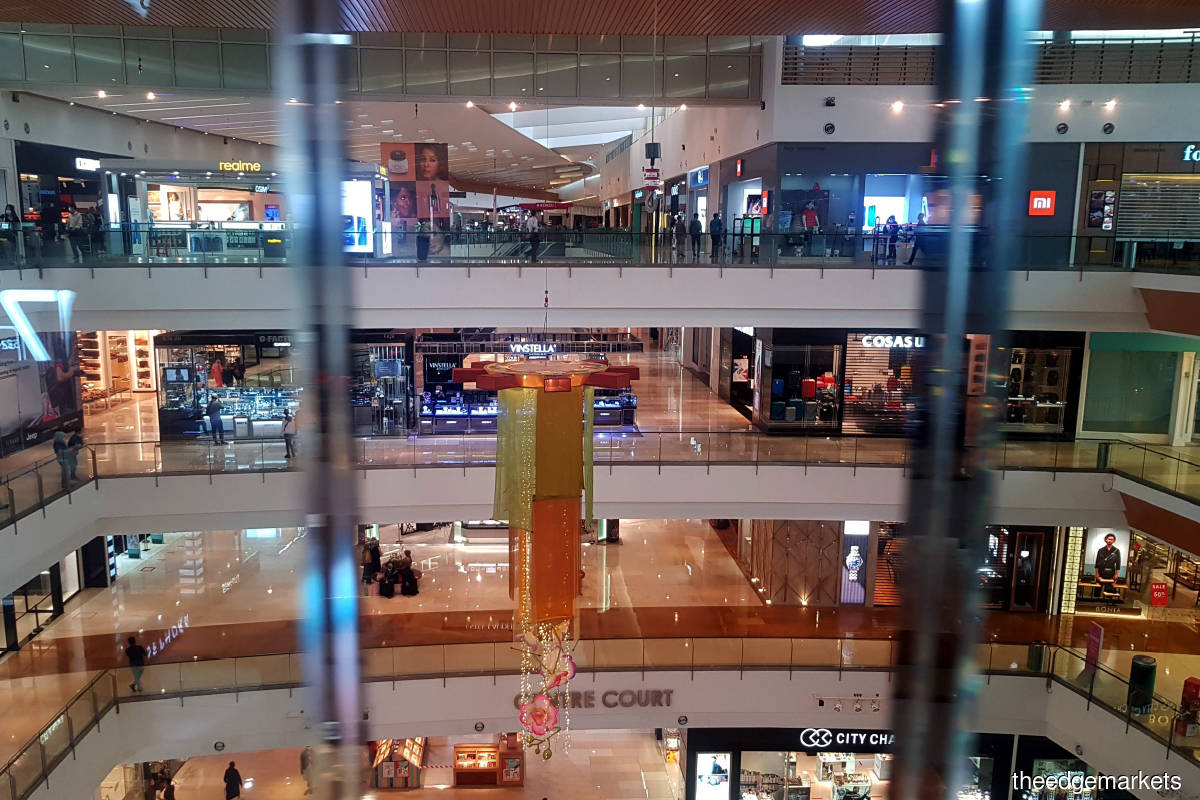 THE Conditional Movement Control Order (CMCO) in the Klang Valley and Sabah for a two-week period to combat the worsening Covid-19 outbreak in the country came into force last Wednesday. Although it is not a nationwide lockdown, the main concern right now is its impact on the economy as well as corporate earnings, which were on a still-fragile path to recovery, following the six-week MCO from March 18 to May 3.
Analysts tell The Edge that earnings recovery might be bumped off its trajectory slightly, as the consumer and tourism sectors will be dragged down because of lower consumption — even though business activities have been allowed to continue. The Klang Valley and Sabah contributed 40.6% and 6% respectively to the country's gross domestic product (GDP) last year.
"The CMCO is a less restrictive lockdown versus TEMCO (targeted enhanced movement control order), but the negative economic ramifications will be there. People will spend more time at home, and that will affect consumption. Sectors related to the consumer basket will be hit," says HLIB Research head Jeremy Goh.
"Broadly speaking, 3Q should be better than 2Q, but 4Q could be weaker than 3Q, given the targeted lockdowns." He adds that the economy cannot afford a second nationwide lockdown.
Goh notes that the interdistrict travel ban will dampen domestic travel. For instance, a majority of visitors to Genting Highlands are from the Klang Valley.
He says the uncertainties cause some downside risk to HLIB Research's corporate earnings forecast. It expects earnings of FBM KLCI component stocks to contract 19%.
As the market enters the corporate reporting season for the period ended September, he says 3Q will definitely be better than 2Q, judging from the broad economic indicators.
"3Q saw a nice recovery. For example, auto sales have rebounded to the normalised range. Credit card spending is almost back to January-February levels."
JF Apex Securities head of research Lee Chung Cheng is also positive about the auto sector, which has benefited from the sales tax holiday.
Auto sales have been rebounding since May, with 52,800 units sold in August, representing a 3% year-on-year growth despite an 8% drop quarter on quarter. In July, the industry gained from the clearance of backlog orders.
He believes the plantation sector could benefit from higher crude palm oil (CPO) prices, which surpassed RM3,000 a tonne recently. During a recent visit to Malaysia, China's Foreign Minister Wang Yi said the republic was committed to buying 1.7 million tonnes of palm oil from Malaysia.
Those in the export-oriented industries, such as electronics manufacturing services and furniture players, are expected to deliver better financial results, while technology stocks continue to be resilient, supported by backlog orders.
Lee says, however, that the property sector remains weak, owing to the high loan rejection rate. "Bookings for properties are good, but loan approvals are low. A lot of loan applications have been rejected by the banks."
The central bank's monthly statistics show loans growth in the banking sector coming in at 4.4% y-o-y in August, with household loans expanding at a faster pace of 4.8%, compared with 3.7% in the non-household segment.
Aside from property, MIDF Research head Imran Yassin Md Yusof points out that the real estate investment trust (REIT) sector is facing higher pressure from the expected declining footfall at shopping malls.
He believes the banking sector will remain weak, owing to the continued provisions made as a result of loan moratoriums offered to borrowers — a measure put in place in April.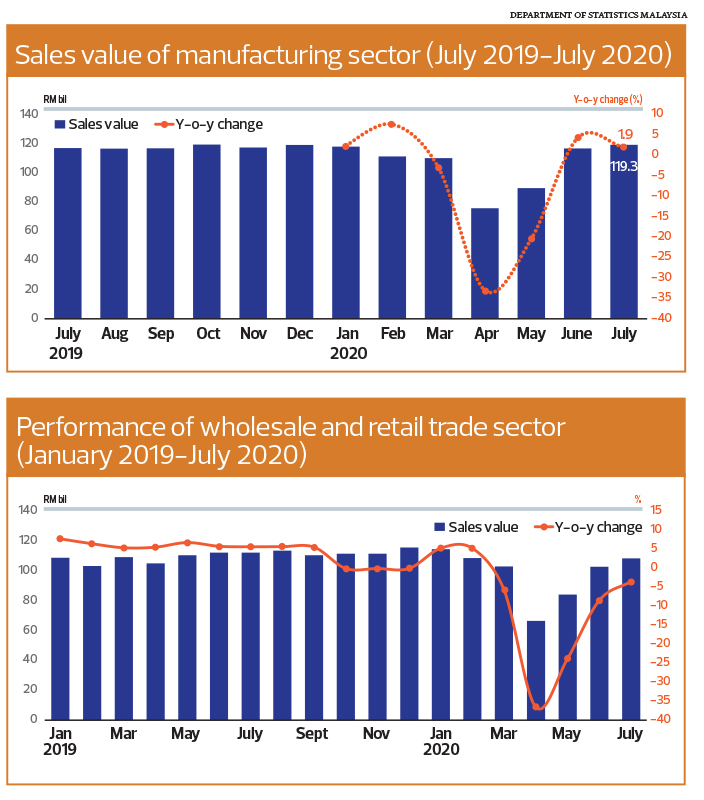 Nonetheless, Imran says companies are better prepared this time and the uninterrupted economic activity would translate into corporate earnings.
"Disruption is less than before. Manufacturing and construction activities will continue. Certainly, we expect 3Q earnings to recover compared with 2Q, but it depends on the sectors as well."
He is maintaining the forecast of a contraction of 10% to 14% in earnings for the top 30 stocks this year.
Based on the preliminary assessment, CGS-CIMB Research says the CMCO will have a negative impact on the following sectors: 1) brewers (owing to weaker on-trade sales); 2) construction (disrupted progress of construction); 3) consumer (lower footfall, reduced dining-out activities and potentially shorter operating hours for convenience stores); 4) gaming (lower sales for number forecast operators and fewer number of visitors to Genting Highlands, owing to travel restrictions); 5) REITs (lower retail mall footfall/visitations and tenant sales, as well as cancellation of hotel bookings); 6) transport (dampened recovery of domestic air travel); and, potentially, 7) banks (the possibility of overnight policy rate, or OPR, cuts).
Overall, the research house does not expect the CMCO to have a significant impact on KLCI earnings if it is not extended beyond two weeks, and to the rest of Malaysia.
In an Oct 13 note, OCBC Research said the next two weeks are especially critical, as the hope is that the more stringent measures can flatten the pandemic curve once again.
"This would then allow growth momentum to remain on the broad, if gingerly, uptick — and let Bank Negara Malaysia hold its OPR on Nov 3.
"Malaysians may shy away from crowds on contagion fear once again, hitting consumer spending. Coming at a time when the loan moratorium has expired and households need to service their mortgages and car loans once more, it would add to the pressure on the pace of economic recovery in 4Q," it says.
CGS-CIMB does not discount, however, the possibility that Bank Negara will cut the OPR by 25 basis points next month.
It is also downgrading the baseline 2020 GDP forecast to -4.4%, from -4%, to account for the impact of the CMCO and data disappointments in July-August on 3Q GDP forecasts.
Malaysia's GDP growth moderated sharply by 0.7% in 1Q, before shrinking 17.1% in 2Q, owing to the pandemic and MCO.
Earlier, Finance Minister Tengku Datuk Seri Zafrul Aziz reiterated the 2020 GDP growth projection of -3.5% to -5.5% amid rising Covid-19 infections in the country. The economy is estimated to rebound 5.5% to 8% next year.