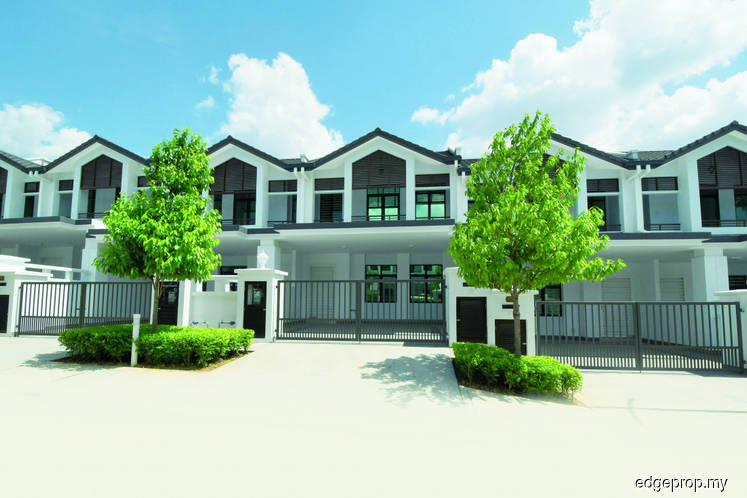 MALAYSIANS are beginning to get used to living in high-rises, especially city dwellers. Whether by choice, or not, many are becoming more equipped with the dos and don'ts of living within the strata community of condominiums and apartments.  Less familiar are strata landed residential schemes that are now sprouting in new township developments.
By definition, a strata scheme is a property development which divides buildings or land into parcels, boxes and accessory parcels and common property under a management system. Examples include flats, apartments, condominiums, townhouses and landed houses in gated communities.
"Previously, landed strata developments used to refer more commonly to townhouses and cluster houses. Nowadays, they may include terraced, semidee and detached houses within gated-and-guarded schemes, targeting the mid to upper income population segment," says Malaysian Institute of Property and Facility Managers (MIPFM) president Sarkunan Subramaniam.
He cites Desa ParkCity in Kepong, which was launched in 2000, as one of the most successful landed strata developments. The 473-acre multiple-award winning township development supported by commercial, institutional and recreational components started the trend in community lifestyle living, he says.     
Why are landed strata developments sprouting?
In recent years, many property developers have forayed into gated-and-guarded landed strata developments, as they resonate with discerning homebuyers who seek safety and security, social status, and lifestyle facilities, says Sarkunan.
"The demand for gated-and-guarded communities is on the rise, mainly due to security concerns," he stresses, citing Cradleton @ Eco Majestic by EcoWorld Development Group Bhd, The Glades by Sime Darby, Marvelane Homes by the Lake by Marvelane Sdn Bhd, and Armada Villa by Faber Group as examples of strata landed homes.
"The security system controls accessibility by visitors and the public. This provides certain tiers of protection and serenity," he says.
Burgess Rawson Malaysia managing director Wong Kok Soo says although it may be costly to own strata landed homes, they give peace of mind to well-to-do homeowners as they feel safe within such strata schemes.
Besides, developers often incorporate lifestyle living into gated-and-guarded community schemes such as jogging tracks, gardens and clubhouse facilities.
Landed strata developments provide high-rise lifestyle facilities without compromising the advantages of living in landed abodes, says Sarkunan.
"One of the advantages of living in a strata-titled development is the facilities that it provides. Occupants usually get to enjoy common facilities such as a gym and swimming pool within walking distance without having to maintain these facilities themselves.
"With the aid of a Management Corporation (MC), these common facilities and residents' interests are protected," Sarkunan highlights.
Wong concurs, explaining that landed homes with separate individual land titles that have their own boom gates set up by homeowners are not regulated under the law to enable them to self-manage and collect maintenance charges. In contrast, the land parcels with strata titles are protected and governed by the Strata Management Act (SMA) 2013 and Strata Titles Act (STA) 1985.
"The contribution to charges and sinking fund by all parcel owners in a strata scheme are mandatory under the SMA 2013. Furthermore, the Act provides an avenue for the parcel owners to resolve their disputes through the Commissioner of Buildings and the Strata Management Tribunal," says Wong.
Sarkunan adds that with rising concerns over convenience, lifestyle and security, landed strata developments fit the evolving preference of the modern society.
"Landed strata developments are built based on the ideology of a gated-and-guarded development with security and exclusivity in mind.
"The concept of gated-and-guarded communities, or GACOS under land title developments, gained demand and popularity in the late 1990s. They were regulated by deed of mutual covenants (DMC) (entered between developer and first purchaser), constitution of society/memorandum of association (upon formation of Residents' Association (RA) or homeowners' company), before the STA amendment 2007 took place.
"STA amendment 2007 allowed the land parcels to be regulated under SMA 2013 which is statutorily enforceable," Sarkunan explains.
As such, under a strata scheme, developers have more flexibility in designing development layouts and regulate them for sustainability.
The challenges
Sarkunan notes that not many purchasers are well-versed with the STA provisions especially when it comes to land parcels. Most of them do not realise their respective properties are governed by the STA/SMA.
"They tend to forget that they have purchased a land parcel, not a 'landed property'. Land parcels are regulated under SMA (in the Third Schedule) and it carries restrictions on renovation works. An owner cannot change the facade of the building without prior approval from the MC. Facade includes external windows, balconies, terraces, open areas, and all other visible parts of the building. In short, you cannot even change your compound's main gate without approval. Developer specifications are usually for a 5-ft steel gate and a solid timber door.
"For those who have paid a huge premium for corner units – expanding your parcel to accommodate more floor area is a no-no. This sometimes causes furore among those who don't understand the concept. Forthright information by the developers at first disposal is vital here," Sarkunan stresses.
According to Wong, many strata land parcel owners expect the management body to maintain and repair their roofs, to repaint their building facades and to insure their buildings against damage by fire although they are not entitled to such benefits under the SMA.  
Civic consciousness lacking
"Strata living in Malaysia is still a learning process for locals, as well as foreign property owners such as the many Chinese nationals and Middle Eastern purchasers who buy into the strata schemes. The majority do not know the SMA, and even if they know something of the Act, they still prefer to do as they like. This is probably due to the lack of enforcement by the authorities," Wong says.
He also points out that in such community living, there is certainly a need for parcel owners to be civic-conscious and to be considerate of their neighbours and other parcel owners. Sadly, this aspect is still lacking in most strata communities in the country.
"Every parcel owner has to be cooperative and supportive of his or her management body and its appointed management agent in order to ensure the success of his or her strata scheme. This aspect is found to be lacking in most strata schemes due to selfish attitudes, different interests and vested interests of the parcel owners, particularly in mixed-use strata schemes," Wong says.
Nevertheless, managing strata landed developments is generally easier than strata non-landed developments, especially the physical aspects.
Landed developments are quite straightforward as they comprise less mechanical, electrical, and vertical services such as lifts, plumbing, fire system and telecommunications. Moreover, there are no inter-floor leakage issues and no common insurance requirements for landed homes.
Nevertheless, Sarkunan says it entails a lot more owner education of the dos and don'ts. It is also important to create community bonding to raise awareness of their common ownership.
"The most common misconception is that 'the house/property is mine. I can do what I want/like', including renovating, extending, painting the exterior, planting trees, having parties, and other things that they would be able to do in a non-strata landed home.
"Many homeowners do not realise that living in a landed strata is very much like living in a condominium, where many activities/actions are bound by regulations," Sarkunan explains.
Payment of service charges may also be misunderstood. The share unit for landed strata is derived from the land parcel size whereby the end lots and corner lots usually pay higher service charges because of their bigger land sizes, even though the building size is typically the same as intermediate units.
According to Sarkunan, some corner lots come with huge plots of land and when the purchaser cannot do any extension, it may become extremely frustrating to the individual owner.
"Although the SMA allows flexibility to the MC to make additional by-laws pertaining to renovations (which requires approval by way of special resolution at a general meeting), the rule of passing and implementation is subject to receiving 75% of votes from those who attend the meeting, upon establishment of a quorum. So it will not be easy, for instance, for the end/corner lot purchasers to receive approval from fellow purchasers, if the majority of those who attend the meeting are intermediate unit owners," Sarkunan adds.
At the end of the day, it boils down to educating homeowners on what strata living entails. Secondly, it requires competent property managers who can foster a community spirit among the residents and homeowners.
"This can be fostered through activities that encourage togetherness. It becomes a nightmare when they come from different socioeconomic backgrounds or cultures and cannot grasp the concept of togetherness," says Sarkunan.
As for Wong, he believes that one will always have to be tolerant, civic-minded and considerate of each other, when living within a strata scheme community. Each homeowner also has to take responsibility for his or her own parcel, and also the common property which he or she has joint ownership of with all parcel owners.
Pros and cons of owning a landed strata development: (Source: MIPFM President Sarkunan Subramaniam)
Pros
 A Management Corporation (MC) will be formed to protect and prioritise the residents' interest.
The internal service roads and infrastructure will not be surrendered to the government and will remain the property of the MC. Roads, back lanes, clubhouse and the rest of the facilities          are part of the common areas and belong to the MC. Every owner has equitable rights.
Management and maintenance of the common areas can be conducted in a timely manner.
Gated-and-guarded developments provide a sense of community and security.
Residents enjoy exclusive use of the common areas and facilities.
Residents have access to a variety of lifestyle and recreational facilities.
Landed strata developments often form part of a township that provides amenities such as parks, commercial centres and schools.  
Property values are protected with effective management and maintenance.
It is statutorily regulated under SMA 2013. Disputes can be brought to a tribunal or civil court for deliberation or determination.
Unlike gated non-strata housing areas, owners cannot get away with not paying the maintenance fees as it is mandatory for every owner of a strata land parcel to do so.
Cons
Owners have to pay maintenance fees to cover security and maintenance of common facilities such as roads, drainage and clubhouse.
Funds may not be sufficient especially when some owners refuse to pay maintenance fees, and this may lead to rundown common infrastructure and facilities.
If some owners refuse to comply, the MC has to resort to legal action, which will incur legal costs to be borne by the management fund.
Owners have to pay for the maintenance of the common facilities even though they may not use the said facilities.
The management has the right to disallow any renovation works being done to the facade of the building or any extension of the building (deed of mutual covenants).
Corner lot/end lot owners are unlikely to be able to carry out any extensions for the premium they have paid.
Maintenance costs can be high. Landed strata has relatively larger development footprint and housekeeping cost can be higher as more manpower is required for  gardening, cleaning, security, etc.
Similarity
Both pay charges and sinking fund contributions for the management and maintenance of common properties in the strata scheme pursuant to the Strata Management Act 2013 (SMA 2013).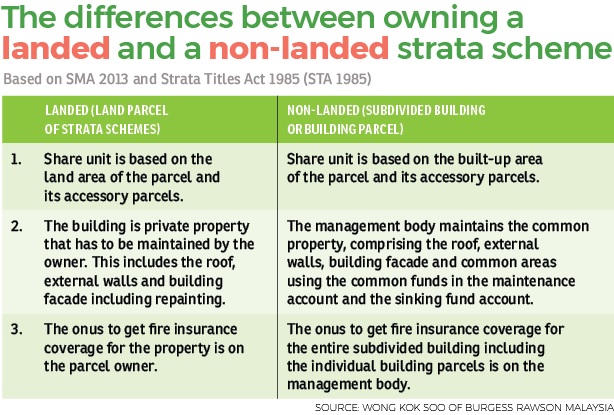 This story first appeared in the EdgeProp.my pullout on Aug 17, 2018.