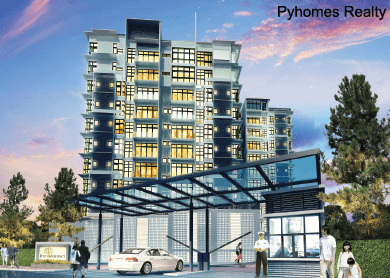 WHILE a weakening property market has forced some developers to postpone their projects, Perak-based PyHomes Realty Sdn Bhd is going ahead with its planned launches. "We are confident because our products and their locations are good," its managing director Chan Hoong Mun tells City & Country.
Before he ventured into property development, Chan did a stint in his late father's oil palm plantation company, Foong Lee Plantations Sdn Bhd, that was founded in the late 1970s and is still operational. He developed a number of projects under different companies before establishing PyHomes in 2005. Family vehicle Peng Yong Properties Sdn Bhd owns a controlling stake in the developer while Peng Yong Development and Construction Sdn Bhd, Keong Holdings Sdn Bhd and Autumn Growth Sdn Bhd are the other shareholders.
Chan's first project, which he undertook with his two bothers under Usba Sdn Bhd, was Taman Kami B in Taiping, comprising 161 one-storey and 24 two-storey terraced houses. "My eldest brother had bought the land from a friend. The project took a while to sell because properties in Perak generally do not move fast, unlike in the Klang Valley, Penang and Johor Baru. We sold them slowly and steadily," he says.
Chan went on to do 40 more projects under Peng Yong Properties, Keong Holdings, Autumn Growth and other companies. He has delivered over 4,700 residential, commercial, industrial and retail properties in total, although the majority of his projects have been residential. Desa Chemor Sri Kuang in Chemor — comprising 101 one-storey bungalows — was developed under Autumn Growth and completed in 2002 while Taman Lintang Makmur in Sungai Siput — comprising 430 one-storey and 120 two-storey terraced houses, and 15 one-storey shoplots — was undertaken by Peng Yong Development and Construction and completed in 2011.
Chan, ultimately, decided to consolidate the different companies under PyHomes for better brand recognition. The company is now building 196 landed and high-rise properties in Gopeng and Ipoh with a total gross development value (GDV) of RM71.78 million. "Ipoh is small, [but] people won't recognise you when you have too many company names," Chan explains.
He survived the 1997/98 Asian financial crisis and the 2008/09 global financial crisis because his gearing was low. He says he bites off what he can chew and does not borrow much from banks to fund his projects.
In the pipeline
In mid-July, PyHomes is launching Phase 2 of Kinara Parkview, its ongoing township in Taman Panorama Lapangan Perdana, Ipoh. The 7.7ha freehold project has a total GDV of RM54.9 million.
Offering 24 two-storey cluster semi-detached houses and 18 three-storey semidees, the second phase has an estimated GDV of RM32.5 million. All the homes come with 4+1 bedrooms and their built-up ranges from 3,150 to 3,550 sq ft. They are priced between RM688,800 and RM888,800.
"I will be launching the 2-storey clusters first, then the 3-storey semidees," says Chan.
The first phase of the township, consisting of 66 two-storey terraced houses with a built-up of 2,160 sq ft, was launched at the end of 2012. Priced at RM338,800 onwards, all the units were snapped up. The keys were handed over early last November.
"The first phase was very successful, so we decided to continue with the launches. The construction of landed properties is easier to control than that of high-rises. You cannot stop when you are building upwards," Chan remarks.
According to him, PyHomes will also launch a residential project with a mix of homes in Taman Naga Emas in Kampar. He says the project is in the planning stage and may be put on the market at the end of the year after all the approvals have been obtained. Covering 12.97ha of freehold land, it will have a GDV of about RM120 million and comprise 19 terraced houses (built-up:1,940 sq ft), 86 two-storey semidees (2,500 sq ft) and 41 bungalows (Chan says the built-up is being finalised). Prices will start at RM227 psf.
The terraced houses will be built in two phases, although the total number of phases and the completion dates have yet to be finalised, Chan says. Located about 2km from Bandar Baru Kampar, the project is coming up adjacent to Jalan Naga Emas 7. "This is one of the oldest taman in old Kampar — at the edge of the town but not in the Universiti Tunku Abdul Rahman area. The project is located on a flat area on the hill and some of the units will have two levels," Chan explains.
Also on PyHomes' list is Polo Residence, a 10-storey freehold condominium in Persiaran Brash, Ipoh. It was soft-launched earlier this year and is 50% sold so far. The 68 condos will include two penthouses to be built over 0.5ha. The built-up of the condos ranges from 667 to 3,035 sq ft while prices start at RM510 psf. With a total GDV of RM42.2 million, the project is a 50:50 joint venture with Belkron Sdn Bhd.
"As we have always developed landed properties, Polo Residence is significant to us. It is our first high-rise and is located in front of Polo Ground, one of the most popular playgrounds in Ipoh," Chan points out.
Prices trending upwards
Chan believes the homes in Ipoh will continue to appreciate in value, although the property market will not be as active as the Klang Valley's.
"In the last three years, house prices in Ipoh have been going up generally but nowhere near Klang Valley prices. Profit margins actually came down. The prices are rising due to higher [construction and development] costs, not speculative pressure," he says, adding that most people who buy houses in Ipoh are owner-occupiers and given the slow market, it may be tough to buy for investment.
He notes that current investor sentiment is cautious due to the Goods and Services Tax (GST) and Bank Negara Malaysia's tighter rules on property loans. "GST has confused people, who think it will affect their livelihood. Hence, decisions on big-ticket items will be held back until people fully understand the effects of the tax. I think take-ups will be better in the second half of the year."
Rahim and Co Chartered Surveyors (Perak) Sdn Bhd branch manager Izham Abdul Aziz concurs with Chan, observing that property sales will pick up in about five months. He says the Ipoh residential market will remain stable this year with about a 10% increase in prices due to higher developments costs.
"Overall, the primary and secondary residential markets in Perak have been stable," he adds. "There has been about a 3% increase in prices for landed homes compared with last year. Newly completed 2-storey terraced houses are priced at more than RM300,000 while 2-storey semidees are selling for about RM600,000 to RM700,000."
Izham describes Taman Panorama Lapangan Perdana, where Kinara Parkview is located, as a high-end location with 2-storey semidees going for RM700,000 onwards. He believes there is good demand in the area due to the opening of Tesco hypermarket and AEON Ipoh Station 18 Store and Shopping Centre.
He says according to National Property Information Centre data, 1 and 2-storey semidees in the vicinity saw price increases of between 3% and 5% while 1, 2 and 2½-storey terraced houses nearby have seen an average price growth of 10% since 2012. Rents for terraced houses have ranged from RM500 to RM900 a month so far this year.
"From the Napic data and my observations, demand for 2-storey terraced houses in Ipoh seems to be high as most property launches have recorded a 100% take-up. Also, newly launched products have seen a 50% take-up within six to nine months of release," Izham says.
This article first appeared in City & Country, The Edge Malaysia Weekly, on May 25 - 31, 2015.