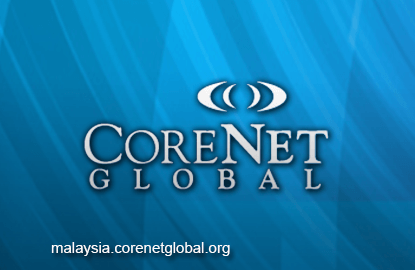 WITH the formation of the Malaysia Networking Group of CoreNet Global (MNGCG), the country now has its first association that focuses on corporate real estate (CRE).
CoreNet Global is a US-based CRE association that aims to provide industry knowledge and be an information-sharing platform for the industry's end users and service providers.
According to its official website, end users are the corporate occupiers and corporate tenants that form the industry's demand side, while service providers are the strategic partners and outsourced service partners that deliver services needed to acquire, maintain and dispose of real estate for corporations.
MNGCG is chaired by Kumar Shailesh, CRE services country head at Standard Chartered Bank Malaysia Bhd, while real estate consultancy Zerin Properties' CEO Previndran Singhe is the vice-chairperson.
"We know there is a market here, but it can be a challenge to develop as it might not have enough support," says Previndran.
"But we overcame that by inviting CoreNet to start a chapter here," he tells City & Country before the official formation of MNGCG on May 28 in Kuala Lumpur.
Previndran says CoreNet Global is unique because it is the first CRE-focused association in Malaysia that brings together end users, such as corporations and companies that own corporate buildings, and service providers — consultants and corporate building-related maintenance service providers.
"This is the only CRE professional platform where we can share the best industry practices, keep ourselves updated on market trends and get some insights into the market. This (Core­Net Global) is probably the most comprehensive global industry network platform," he observes.
The association's main mission is to advance the practice of CRE through professional development opportunities, publications, researches, conferences, designations and networking among the 43 local chapters globally. Today, it has around 9,000 members worldwide, including 70% of the Fortune 100 and nearly half of the Forbes Global 2000 companies.
CoreNet Global had approved the formation of MNGCG in March. The official formation ceremony in Kuala Lumpur was attended by some 60 representatives from organisations in the CRE industry.
"Initially, we were expecting around 50 repre­sentatives, but the response was overwhelming. We are now targeting at least 50 companies to sign up as members in a couple of months, so that we can convert the networking group into a chapter. Then, we can organise more events and programmes in Malaysia," says Kumar.
CoreNet Global's 43 chapters and three networking groups worldwide serve as key components of the global network. Chapters are the most cost-effective, convenient and accessible channel for its programmes, including education and networking. However, conversion from a networking group to a chapter can only be made when membership reaches 50.
"Before CoreNet Global came into Malaysia, there were 15 Malaysian CRE end users and service providers who signed up as Singapore chapter members," says Previndran, adding that the 15 members will now be transferred to MNGCG.
Master of CRE
Apart from offering industry news and updates through conferences, seminars and talks in various countries, CoreNet Global also offers several professional CRE-relevant courses, such as the exclusive Master of Corporate Real Estate (MCR) designation course.
"MCR is a useful course because the content is not only on the general overview of the industry but also about how it can support the business, which is very important in my current role," says Kumar, who manages Standard Chartered's in-house real estate.
Kumar, who has earned an MCR designation, shares that the education part of CoreNet is very strong. "The more educated we are, the better we can provide the service, and the CRE industry will become more efficient. The larger we are, the more collaborations we can have and more value we can add to the organisation."
He believes involvement is the top agenda for all CRE organisations in the world. "We cannot limit ourselves to a particular aspect within the real estate industry. CoreNet Global is a huge information pool where you can get to know more about other segments, such as landlord or service provider perspectives."
To start off MNGCG, Previndran and Kumar plan to have monthly information sharing and discussion sessions, particularly on the importance of CRE management for an organisation, including cost management, which is crucial to an organisation's sustainability.
"From a company's cost perspective, 60% is for salaries, 25% to 30% is for technology, while 10% to 15% is for real estate-related costs such as rent and facilities maintenance. You might think that 10% to 15% is not significant, but try to imagine big-scale companies such as Google — [for them,] 15% is substantial," says Previndran.
"So, we need people on the ground such as Previndran who can advise us on areas that are good for new branches and why. And with CoreNet's network, corporate organisations know who they should look for and can get in touch with them easily. Working together not only adds value from a cost perspective but also helps each other prepare for future trends," says Kumar.
Healthy corporate building segment
According to Previndran, the occupancy rate of office buildings in the Klang Valley is as high as 80%, despite fears of oversupply.
"Right now, the occupied market is healthy at three million sq ft a year. We do think it is healthy, although there is a bit of excess supply.
"Generally, I think the Malaysian corporate building segment is healthy. Rents don't spike like in neighbouring countries and that actually encourages more international organisations to choose Malaysia as their station in Asia."
However, the lack of quality CRE talent may restrict the growth of the industry.
"We are lacking quality real estate talent — we usually hire from other countries. [To overcome this challenge,] you either train your own [talent] or join CoreNet Global to gain the benefit of worldwide industry knowledge sharing and really powerful industry courses," says Previndran.
This article first appeared in City & Country, The Edge Malaysia Weekly, on June 15 - 21, 2015.