This article first appeared in Digital Edge, The Edge Malaysia Weekly, on December 13, 2021 - December 19, 2021.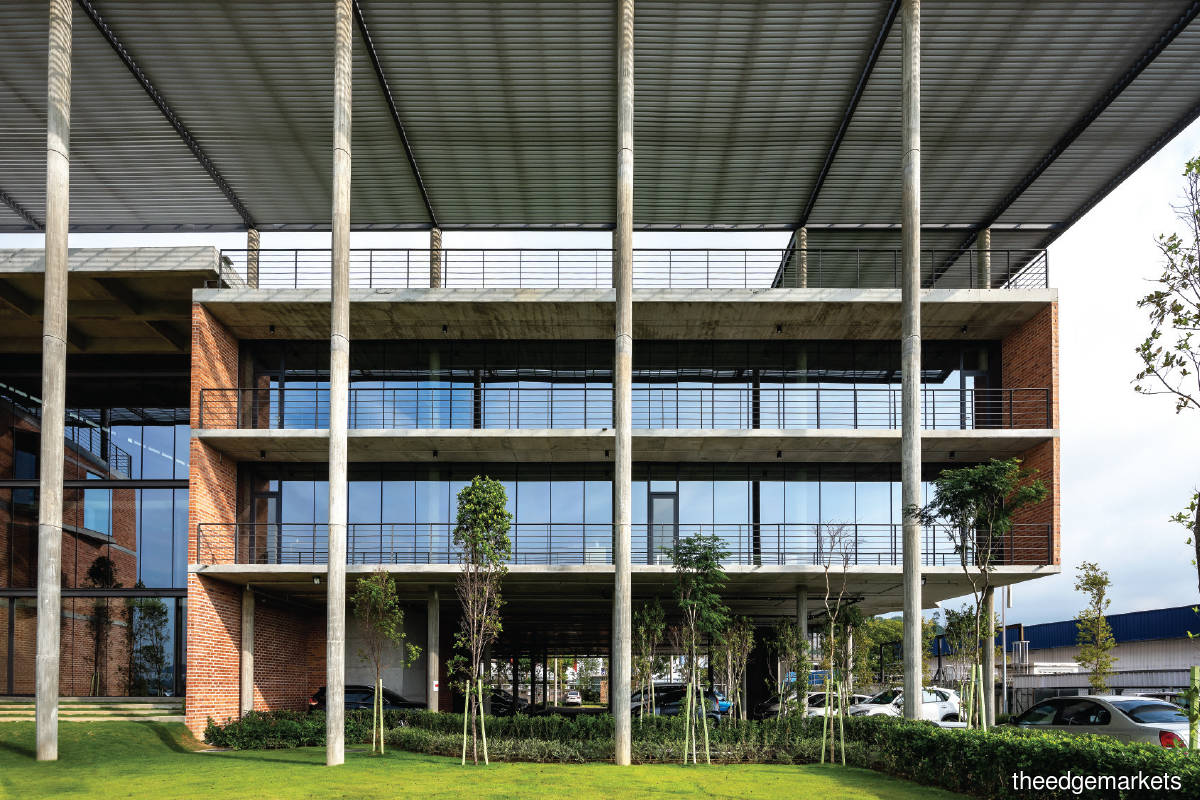 During the pandemic, Ng Sang Beng, CEO of Aemulus Holdings Bhd, participated in a six-week sustainability and circular economy strategies programme by the University of Cambridge's Judge Business School. In one of the assignments, he was asked to consider what he could change in the company to fight the climate crisis.
Ng thought of things like installing a monitoring system to cut down on electricity usage but that did not feel impactful enough. He dug deeper and soon found an idea aligned with the circular economy that resonated better. In general, the circular economy is a model that ensures no waste is created and that everything is reused, repurposed and refurbished, among other strategies.
Aemulus, which is listed on the ACE Market, produces automated test equipment for the consumer and industrial electronics industries. It sells this equipment to large global semiconductor manufacturers and outsourced assembly and test companies.
"After our customers receive a new tester, the book value of the tester will depreciate over five years and become zero, even if it can still be used. Then, it goes to the landfill," says Ng.
Instead of letting that happen, Aemulus could redesign some of its test modules. The test modules comprise a processing and functional submodule. The company has several types of test modules for different functions.
"But they all have the same processing submodule. It's only the functional submodule that is different and it could become obsolete overnight. The processing submodule will not be outdated, even after 10 years," says Ng.
Technological cycles are short, and the functional submodules have to be changed. But instead of throwing away the entire test module after use, Aemulus could separate the submodules into two interconnected modules.
One would house the processing submodule and the other, the functional submodule. The processing submodule could be collected after the customers are done with it, so that it could be put into new test modules for reuse. It could also be repurposed or recycled for electrical engineering students to use.
"I could tell my customers that they are using a repurposed submodule and maybe sell it at a lower price. They'll be participating in a circular economy," says Ng. There could also be an extended warranty, he adds.
The costs would increase slightly, but he says it is manageable. Up to 30% of the materials of the product could be repurposed or reused. "The good thing is that it won't go into the junkyard … The idea is very straightforward and simple. It's just whether customers are willing to do that."
There are challenges to this, Ng admits. How can he incentivise customers to send the used test modules back? Who would pay for the shipping costs? Would the customers, who are in the cutting-edge and competitive semiconductor industry, be willing to accept a reused processing submodule? A better labelling system to identify whether a product is made of reused or recycled components may be needed.
"There'll be a lot of resistance. It's not easy. But being the CEO, I can drive the research and development efforts there. My team is convinced. Now, we need programme managers to actually execute the programme and engage with different customers," he says.
So far, this programme has not been implemented. Ng is still working with his internal teams to make it happen, he says.
An ESG awakening
Last year, Ng took it upon himself to write the company's sustainability report after he was inspired by an article in the Harvard Business Review. He knew that he wanted to go beyond doing charity as a corporate social responsibility and focus on prioritising the three "Ps": people, planet and profit. This also meant maximising the use of the natural resources that the company extracts.
"Proper corporations should do something bigger and have a bigger purpose. The topic of ESG (environmental, social and governance) didn't really resonate with me until the programme taught me about the [priorities of] people, planet and profit … If a company is not making money, we are wasting natural resources," says Ng.
"By making sure our company is profitable, we can make sure that the natural resources that we harvest to make components and the electricity that we use are contributing to meaningful things and that we are not wasting them."
This led him to introduce several initiatives aligned with ESG principles in the company, such as encouraging employees to exercise, recycle and reduce plastic waste. In job application forms, the marital status, number of children and gender fields will be removed. Ng wants to train female directors to achieve gender diversity on Aemulus' board.
The Aemulus factory in Penang is also built to capitalise on the movement of the sun and is naturally cooling, so the air conditioner does not have to be turned on at full power all day.
"Our multipurpose hall is not air-conditioned. We designed it so that there are levers on top to let the air in naturally and we have a very big fan that cools down the air," says Ng. Perforated brick walls and coated double-glazed windows further reduce the energy needed to cool the building. According to Aemulus' sustainability report, its monthly electricity bill is similar to that of its old building despite the new premise being five times larger.
The building is not fitted with solar panels yet as Ng finds the cost too high.
He says Aemulus has not measured its carbon footprint in detail. But a quick look at the sustainability reports of companies in the electrical and electronics or hardware tech space in Malaysia shows that high electricity and water consumption are among the biggest environmental issues they have to manage.
Many of these companies use solar power and energy efficient technologies to reduce their carbon footprint from energy use. Other than that, recycling, recovery and reuse are practised in waste management, particularly for boxes and packaging materials. However, few have solutions like Ng's idea of taking back products after they have been used by customers.
He says that manufacturing only takes up a third of Aemulus' operations, so electricity usage is not that high.
"The crates that we put our products in are reusable. That's pretty standard. But we are not enforcing that criterion on our vendors yet. There are many things that we should do. It's tough to do everything. I thought we should do what we can now by cutting down on electricity and plastics use and looking into the circular economy," says Ng.