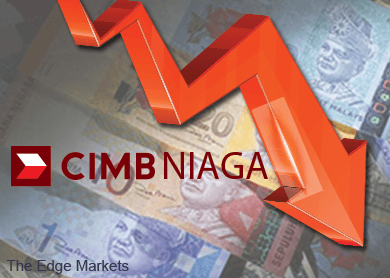 KUALA LUMPUR: CIMB Group Holdings Bhd's 97.94%-owned Indonesian unit PT Bank CIMB Niaga Tbk saw its net profit for the first quarter ended March (1QFY15) fall 92.4% to 82.72 billion rupiah (RM23.09 million) or 3.29 rupiah per share from 1.1 trillion rupiah a year ago. It attributed the lower net profit to higher levels of provisions and an 8.8% increase in operating expenses, in tandem with the Indonesian inflation rate of 8.4% for 2014.
In a statement yesterday, CIMB Niaga said its operating income for 1QFY15 stood at 3.402 trillion rupiah, representing 0.7% year-on-year (y-o-y) growth.  Its net interest income improved 10.8% y-o-y on the back of 9.6% growth in gross loans and steady net interest margins.
However, the growth in operating income was partially offset by a 29.4% y-o-y decline in non-interest income, which was impacted by weaker Treasury market activity as well as the new bancassurance regulations which came into effect in March 2014, the banking group said.
"Despite the challenging operating environment, our 1QFY15 operating income continued to grow well, as reflected in a higher net interest income of 10.8% y-o-y," CIMB Niaga vice-president director D James Rompas said in the statement.
Nevertheless, he said asset quality remains a challenge given the economic conditions, volatile rupiah and softer commodity prices.
"In line with our conservative standards of provisioning, we continue to increase recognition of impaired loans and have improved our loan-loss coverage ratio to 102.6% in March 2015 from 98.8% in March last year," he said.
As at March 31 this year, CIMB Niaga's gross loans expanded 9.6% y-o-y to 176.5 trillion rupiah, corporate loans grew 16.3% y-o-y to 55.5 trillion rupiah, micro small and medium enterprise loans recorded a 10.9% y-o-y growth to 35.3 trillion rupiah, while consumer loans grew 6.6% to 50.5 trillion rupiah compared with last year. Commercial loans posted a 3.3% y-o-y growth to 35.1 trillion rupiah, the group said.
Within the loan book, CIMB Niaga said its personal loans expanded by 33.2% y-o-y to 2.3 trillion rupiah, while credit card loans increased 32% to 5.4 trillion rupiah, it said, adding that the number of cards increased to 1.8 million or 11.2% y-o-y growth.
Its third-party deposits registered 12.5% y-o-y growth to 181.6 trillion rupiah in 1QFY15. Total current account and savings account increased 9.1% to 78.9 trillion rupiah, with current account contributing 38 trillion rupiah and savings account contributing 40.9 trillion rupiah.
Going forward, Rompas expects the group's performance to improve in 2Q in line with the stabilisation of macroeconomic indicators.
"CIMB Niaga will continue [its] stance on adopting a measured and moderate asset growth trajectory while maintaining tighter cost controls and focusing on asset quality," Rompas said.
The bank maintained its capital adequacy ratio at 16.5% as at March 31 this year.
This article first appeared in The Edge Financial Daily, on April 23, 2015.