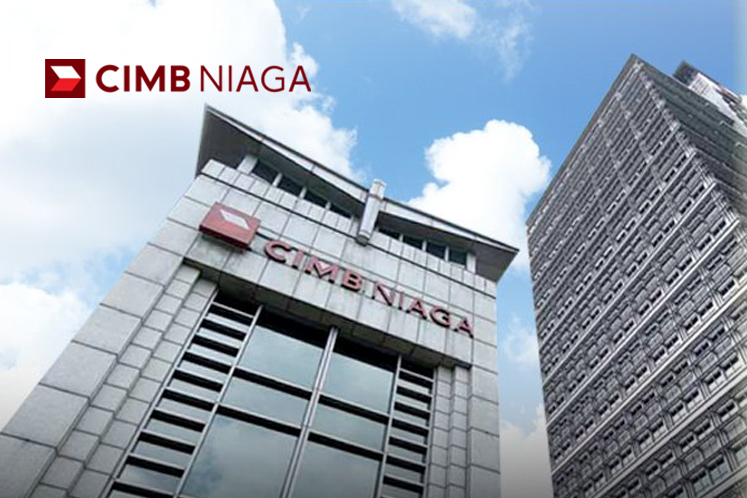 KUALA LUMPUR (Aug 15): CIMB Group Holdings Bhd's 92.5% subsidiary PT Bank CIMB Niaga Tbk today reported an 11.8% rise in net profit to IDR1.98 trillion (RM580.82 million) in its first half of 2019 (1H19) from IDR1.78 trillion in the previous year.
In a press statement, CIMB Niaga said the improved net profit came on the back of a 5.5% increase in net interest income (NII) to IDR6.32 trillion from IDR5.99 trillion, and a 2% y-o-y decline in provision expenses.
Loan loss coverage, it said, remained at a comfortable 101.2%.
With total assets of IDR271.86 trillion as at June 30, 2019, CIMB Niaga said it has maintained its position as Indonesia's second largest privately-owned bank by assets.
It said total loans grew by 2.6% y-o-y to IDR190.5 trillion, mainly from growth in mortgages, credit cards, and small medium enterprise (SME) loans, with each segment growing by 13.5%, 10% and 4.1% y-o-y respectively, while corporate loans grew by 2.1% Y-o-Y.
Total third party deposits stood at IDR197.85 trillion, with current account savings account or CASA ratio at 53.9%.
"We are pleased to announce continued improvement in our financial performance for 1H19. The 5.7% y-o-y operating income growth was mainly driven by the 5.5% growth in NII, underpinned by a stronger net interest margin of 5.41% in 1H19 (1H18: 5.09%). Given the current economic environment, we will continue our prudent approach to loan growth, with focus on asset quality as our top priority," said CIMB Niaga president director Tigor M Siahaan.  
As for its syariah banking segment, CIMB Niaga said total financing at its Islamic Business Unit (CIMB Niaga Syariah) stood at IDR27.96 trillion, up 31.6% y-o-y as at June 30, while third party deposits was at IDR27.17 trillion, up 37.6% y-o-y.
Going forward, CIMB Niaga said it will continue to focus on expanding consumer and SME businesses, building CASA franchise and strengthening Syaria business proposition and Syaria-compliant product offerings.