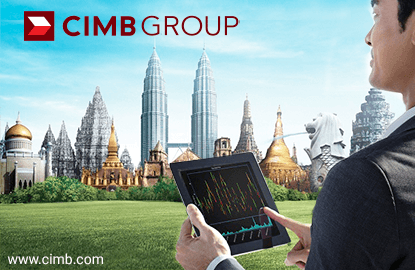 KUALA LUMPUR (March 23): CIMB Group Holdings Bhd, the country's second largest bank by assets, is divesting its 51% stake in Indonesian life insurer PT CIMB Sun Life for IDR550 billion (RM169 million) cash.
In a statement today, CIMB said it has entered into a conditional sale and purchase agreement to divest the stake in CIMB Sun Life.
The divestment will take the form of a sale of shares held by CIMB, which will be acquired directly and indirectly by Sun Life Assurance Co of Canada. CIMB's 51% equity interest in CIMB Sun Life is currently held via CIG Bhd (47.24%) and PT Bank CIMB Niaga Tbk (3.76%).
CIMB Group and Sun Life have been bancassurance partners in Indonesia and Malaysia since 2009 and 2013 respectively, underscoring the longstanding collaboration between the two parties.
"This divestment is another step towards business consolidation and resource optimisation in line with our recalibration strategies to achieve our T182 aspirations," said CIMB group chief executive Tengku Datuk Seri Zafrul Aziz.
"This move will enable us to streamline our insurance portfolio by exiting the non-core business of manufacturing insurance products and focus on our distribution capabilities to better serve our clients," he added.
Zafrul said bancassurance will remain the core component of the group's wealth management proposition.
CIMB shares rose two sen or 0.41% to close at RM4.88 today, giving it a market capitalisation of RM41.53 billion.