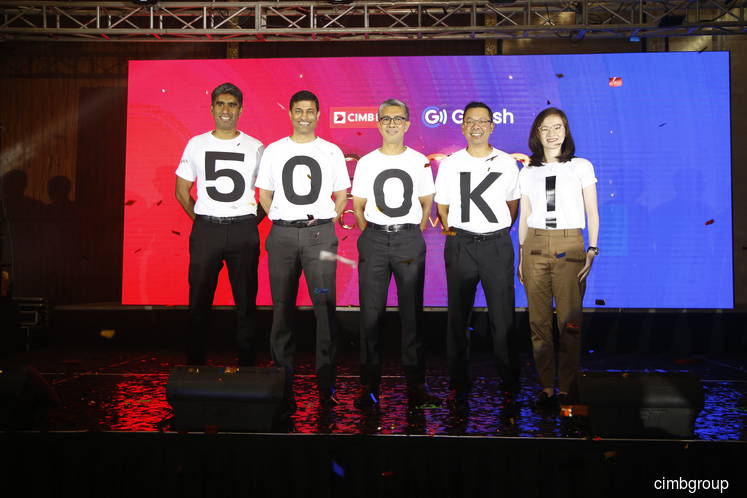 Tengku Dato' Sri Zafrul Aziz, Group CEO, CIMB Group (centre); Effendy Shahul Hamid, CEO, Group Ventures & Partnerships, CIMB Group (second from right); Anthony Thomas, President and CEO of GCash, Philippines (second from left); Vijay Manoharan, CEO, CIMB Bank Philippines (far left); and Kim Aimei Seng, Head of Financial Services, GCash (far right), at the event announcing CIMB Philippines has garnered 500,000 customers, approximately six months after opening its doors for business in the Philippines, making it one of the fastest growing banks in ASEAN. (Photo credit: CIMB Group Holdings Bhd)
KUALA LUMPUR (Aug 13): In just six months after opening its doors for business, CIMB Bank Philippines (CIMB Bank PH) has secured a total of 500,000 customers.
The milestone was reached due to a strong proposition of co-creation and partnership between CIMB Bank, and GCash — the No. 1 e-payments platform in the Philippines, its parent CIMB Group Holdings Bhd said in a statement today.
CIMB Group said the all-digital, mobile-first CIMB Bank PH was launched in early 2019, with the goal of bringing a unique and differentiated banking proposition to Filipinos.
GCash, meanwhile, is an e-payments platform owned by Mynt, the fintech startup of Globe Telecom, Ayala Corporation, and Ant Financial — an affiliate of Jack Ma's Alibaba Group.
Under the partnership with CIMB Bank PH, GCash customers get direct, paperless and seamless access to savings account services, a product termed GSave.
"The partnership with GCash was central to us achieving this milestone. It is a live case study of a bank-tech partnership, a combination of banking expertise and technology platform plays, and the opportunities it allows both parties to access. I look forward to having CIMB Philippines develop more propositions with GCash, as we further establish ourselves in the Philippines," said CIMB Group chief executive officer Tengku Datuk Seri Zafrul Aziz.
Anthony Thomas, president and CEO of GCash, said the acquisition of 500,000 users is a clear testament that the partnership between GCash and CIMB Bank through GSave is a success. "We welcome this achievement and the deepening of our collaboration with CIMB Bank, and assure our users that we will continue to provide more innovative services to address the banking and financial needs of Filipinos who aspire for financially better lives for their families," he added.