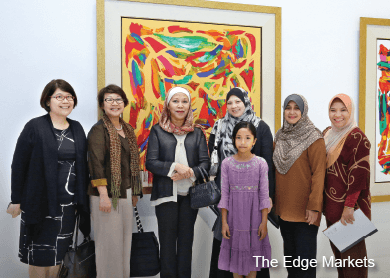 KUALA LUMPUR: Drawing inspiration from the natural world is often the lifeblood of an artist's existence, and with the advent of long-range aircraft in the past century, there has never been a more exciting time to be an artist.
In Datuk Sharifah Fatimah Zubir's latest exhibition showcasing her most recent artwork, she draws inspiration from her recent travels to the historic country of China.
Sharifah, an accomplished artist with many awards under her belt has long been known as the "Queen of Malaysian Abstract Art" thanks to her paintings which incorporate linear forms and bold colours expressed with acrylic paint through distinctive gestural strokes.
Born in Alor Setar, Kedah, Sharifah holds a Bachelor's Degree in Fine Arts from the University of Reading and a Master's Degree in Fine Arts from Dratt Institute, New York.
Some of her most well-known works can be seen at the National Arts Gallery, the State Museum of Penang, the Museum of Modern Arts in New York, the National Gallery of Fine Arts Jordan, as well as the Museum of Contemporary Art, Croatia.
From May 28 to June 26, Sharifah's latest works will be exhibited at The Edge Galerie, and this latest collection, featuring the ideas that she brought back after visiting China, showcases the multicoloured tones of the eucalyptus bark peeling from trees, and she has even ventured to utilise bark peelings in the pieces to create a metaphysical space against a backdrop of earth tones.
The premiere of Sharifah's latest collection at The Edge Galerie was attended by The Edge Communications Sdn Bhd managing director Au Foong Yee, deputy managing director Lim Shiew Yuin, fellow artists and art collectors, as well as representatives of foreign embassies such as Jean-Pierre Galland, Cultural and Cooperation Counsellor from the French embassy.
Twenty seven of the art pieces on display at the gallery are for sale, and prices range from RM5,000 to RM60,000. The show will run from May 28 to June 26.
---
Opening hours are from 11am until 7pm, from Tuesday to Sunday. Closed on Mondays and public holidays. For details, please contact The Edge Galerie at  [email protected]  or call 03-7721-8188. Visit the website at www.theedgegalerie.com.
This article first appeared in The Edge Financial Daily, on May 28, 2015.