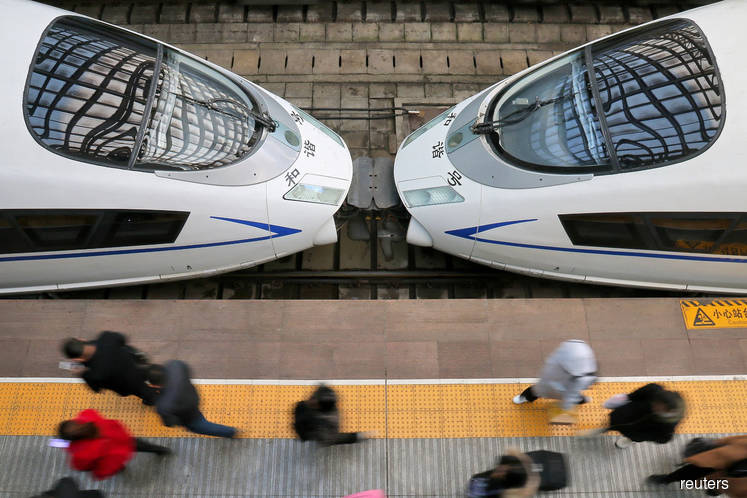 HONG KONG (Sept 5): Two Chinese companies caught in Beijing's newly turbulent economic relationship with Malaysia said they see a way forward for stalled multibillion-dollar projects in the Southeast Asian country, looking to political leaders to break the impasse.
State-owned China Railway Group eyes restarting Bandar Malaysia, a mixed-use development centered on a proposed high-speed rail link from Kuala Lumpur to Singapore.
"Since [Prime Minister] Mahathir [Mohamad] took office, he has expressed interest in pushing Bandar Malaysia forward," China Railway Chairman Li Changjin said at an earnings conference on Tuesday.
Li told reporters that the company was "considering" reviving the project, which collapsed under Malaysia's previous leader, Najib Razak, after plans for the rail line fell through.
Also on Tuesday, state-owned China Communications Construction, said that the East Coast Rail Link, a $13 billion Chinese-financed railway project suspended since July, is not dead, either -- despite Mahathir's vehement opposition.
"As for the future of ECRL, it is still under negotiations," Li Qingwei, head of overseas business at the Chinese builder, told reporters in Hong Kong. Beijing has been involved in the talks, Li added. The original plans called for building a rail line across the Malay Peninsula through Kuala Lumpur.
These comments come as ties between Beijing and Kuala Lumpur are being tested. When the prime minister made his surprising return to power in May, he pledged to review all the China-led investments signed by the Najib government. Mahathir has questioned whether such deals benefit Malaysia and whether the country can afford them.
Last month, Mahathir threw stakeholders in the $100 billion Forest City waterfront development into a state of confusion with a call for a ban on foreigners buying homes in the project, to be built on artificial islands.
"We believe when the Malaysian government makes a decision, they consider their own benefits as well as China-Malaysia relations," said Li of China Communications Construction. "We do hope to see an outcome which is beneficial to both sides."
Meanwhile, Chinese state companies also are trying to restore confidence in President Xi Jinping's Belt and Road Initiative, a far-reaching infrastructure program for building land and sea routes across Asia and the Middle East.
Doubts about BRI projects are running high since Sri Lanka handed over the strategically located Hambantota port to China on a 99-year lease as a way to repay its debt.
Many worry that these China-financed projects will leave participating countries heavily indebted. Christine Lagarde, managing director of the International Monetary Fund, said at a forum in Beijing in April that while many countries need infrastructure, "ventures can also lead to a problematic increase in debt, potentially limiting other spending as debt service rises, and creating balance of payments challenges."
Countries from Malaysia to Nepal to Myanmar have canceled or shelved BRI projects in recent months, though their governments do not publicly oppose the initiative. For the first half of 2018, new contracts for projects from countries along the Belt and Road decreased by 33.1% on the year to $47.79 billion, according to data from China's Ministry of Commerce.
China Communications Construction said on Tuesday the outlook for BRI-related projects remains positive, and that the company signed $9.5 billion worth of new contracts in participating states during the past six months. "That is higher than the same period last year," said Li, though he declined to disclose the growth rate.
China Railway said total investment for newly signed BRI-related work in the first half remained flat, but that the company expects to sign some large-scale projects in the second half of the year.
"The Philippine government is in talks with us for several railway projects with a total investment of more than $10 billion," Li of China Railway told the Nikkei Asian Review. "The Philippine president hopes that China will help finance the construction of its railway projects."
A long-awaited Thai-Chinese railway project also breaks ground in the coming months, the chairman said, while a high-speed rail project in Indonesia enters the construction phase in October.
Thanks partly to their stronger overseas business, both companies reported steady growth in their interim results. China Railway's net profit reached 9.5 billion yuan ($1.4 billion) in the first half of 2018, up 23.9% from the year-ago period, while China Communications Construction's profit grew 6.7% to $1.2 billion during the same period.