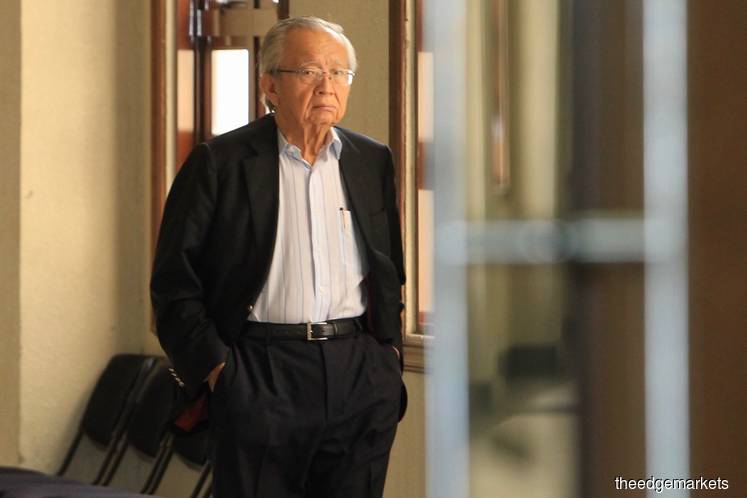 KUALA LUMPUR (July 18): Former AmBank Bhd managing director Cheah Tek Kuang told the court today that he was not involved in transactions in Datuk Seri Najib Razak's AmBank account.
A BlackBerry Messenger (BBM) conversation sourced from AmBank's former relationship manager Joanna Yu's smartphone underlined a chat between herself and her former boss Cheah in 2013, in which Yu said she had sorted out the final tranche of US$620 million transferred out from Najib's bank account back to its benefactor.
"You must be relieved," replied Cheah, who was a non-executive director then, as the BBM chat showed.
However, Cheah, who was at the witness stand for the second day, denied he was involved with the US$620 million transfer.
He noted that he was in a non-executive role at the time. "I am not involved with operations… I go to board meetings. That's it," said Cheah.
Defence counsel Harvinderjit Singh, in response, said: "I don't think Joanna Yu would have done things [with Najib's AmBank accounts] without the comfort of having you, who was managing director, in the know."
To recap, in April 2012, Cheah retired from his position as managing director of AMMB Holdings Bhd, which wholly owns AmBank Bhd. He then became the advisor to the banking group's chairman Tan Sri Azman Hashim, one of the founders of AmBank group, and he continued to serve on the boards of AmBank, according to AMMB's annual report 2012.
Citing an instruction letter that was carbon copied to Cheah, Harvinderjit pointed out that Najib had intended to transfer out the 'unused donations' of US$620 million in a single tranche.
Cheah, however, denied having received the letter dated 2013. "I may have been copied but it doesn't mean I received the letter," said Cheah, who had been the managing director of AmBank group for 18 years.
During re-examination, Cheah reaffirmed that he was present in Najib's Jalan Langgak Duta residence in 2011, when the former premier signed documents to open the three AmBank accounts in question, namely forms for current account, savings account, and credit card.
This was, however, in contrast with Cheah cross-examination, where he declined to confirm if the forms were signed at the same time, after Harvinderjit pointed to the discrepancies between the pen used in Najib's signatures in the credit card form and the other two forms.
Cheah helped Najib open the account in 2011 upon request by Azman.
Cheah had told the court that Najib had informed that the accounts were formed to receive donations from Saudi Arabia, and that he had informed Tan Sri Zeti Aziz about this — and that both himself and Zeti agreed the matter must be conducted in accordance to Malaysia's banking regulations.
Najib is facing seven criminal charges in relation to RM42 million received in his account allegedly sourced from SRC International Sdn Bhd, a former unit of 1Malaysia Development Bhd.