This article first appeared in The Edge Malaysia Weekly, on November 1, 2021 - November 07, 2021.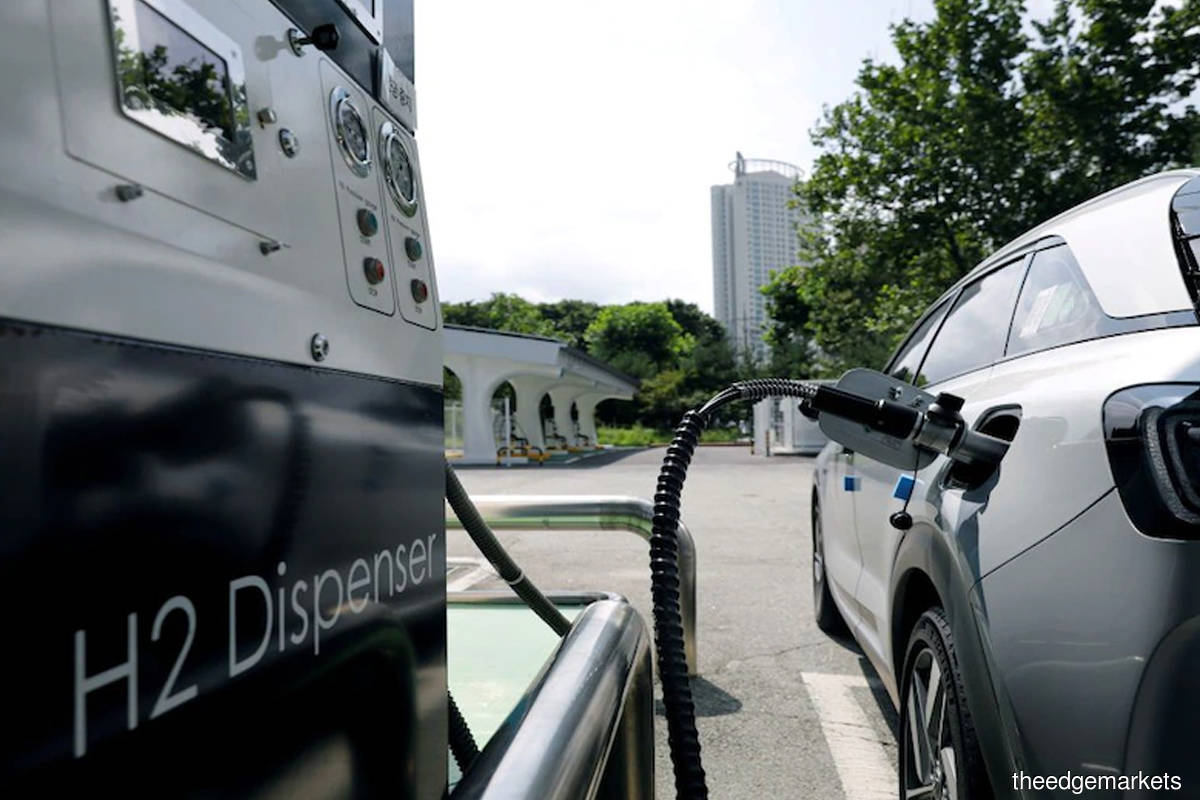 AS the world races against time to reduce carbon emissions, many technologies are being promoted to help countries and industries meet their commitments. Among these is hydrogen fuel technology.
Recognising the potential of hydrogen as a green energy source, as well as the fragmented nature of the hydrogen industry programmes in the country, the Malaysian government plans to introduce a Hydrogen Economy and Technology Roadmap, which will chart the development of the industry.
"Petronas says it has a game plan but right now, it is producing hydrogen as a by-product, and releasing carbon dioxide into the atmosphere, so it is grey hydrogen. It is selling this to external or foreign markets," says NanoMalaysia Bhd CEO Dr Rezal Khairi Ahmad.
"Then a couple of years ago, the Sarawak government launched its own hydrogen initiative using cheap electricity from the Bakun hydroelectric power plant. So, there are fragmented programmes and initiatives in Malaysia," he observes.
All these fragmented hydrogen initiatives by different players in Malaysia will be streamlined into a roadmap so that the industries and the government will have a clearer direction of what to do to develop a hydrogen-based economy, Rezal tells The Edge in an interview.
NanoMalaysia is one of the agencies involved in the formulation of the road map, alongside other relevant agencies and experts in hydrogen technology. The road map covers a 20-year horizon to 2040, and will be updated every two years to keep up with changes in technology.
Hydrogen is not new to Malaysia as the country is a hydrocarbon producer, and hydrogen gas is one of its products. However, the production of hydrogen releases carbon emissions.
Hydrogen is used in refining oil and gas, the production of fertilisers and in some food processes.
As countries rush to cut carbon emissions, hydrogen produced using clean, renewable energy is being touted as another source of clean energy.
At the moment, hydrogen produced by the Malaysian oil and gas industry is shipped overseas to customers in countries such as South Korea and Japan. However, it is dirty hydrogen, or "grey" hydrogen, because the production process emits carbon into the atmosphere.
Hydrogen production that uses the carbon capture and storage (CCS) system is referred to as "blue hydrogen" and is somewhat cleaner than grey hydrogen, as the carbon captured can be reused in various chemical applications.
In the current situation, the global target is to either produce more blue hydrogen or leap into producing green hydrogen to be used in transport and power generation. However, the cost of producing green hydrogen is high and not competitive against fossil fuels.
Using the current electrolysis technology, the cost of producing 1kg of green hydrogen ranges from US$5 to US$6, which is still quite costly.
In November 2020, S&P Global Ratings said the cost of producing hydrogen from renewables would need to fall by more than 50% to between US$2 and US$2.50 per kg by 2030 to make it a viable alternative to conventional fuels. This could be achieved with a renewable energy production cost of US$20 to US$30/mwh and cutting the cost of electrolysers by 30% to 50%, the agency said in a report titled "How Hydrogen Can Fuel the Energy Transition".
Why hydrogen?
The production of green hydrogen as a clean energy source addresses several issues that exist in other forms of green energy technologies, such as battery, solar and wind technologies. The issue with battery technology is that it requires a long charging time when used for transport.
Refuelling vehicles using hydrogen takes about five minutes, compared with around 30 minutes to fully charge battery-operated electric vehicles using a fast charging system with direct current electricity.
Green hydrogen, from the onset of production, utilises only renewable energy. Therefore, a car that uses a hydrogen fuel cell will be a cleaner option than a battery-operated electric vehicle in countries that still use fossil fuel for power generation.
As hydrogen can be stored and transported, it addresses the stability of power supply from green sources, compared with solar and wind.
However, green hydrogen's biggest disadvantage compared with battery technology is cost, as cars with hydrogen fuel cells are still prohibitively expensive.
Nevertheless, many countries are embarking on green hydrogen production and researching ways to upgrade electrolyzer technology, with the aim of cutting production costs by more than half within the decade.
To develop an economy based on clean hydrogen, policies and markets have to be aligned. As markets react to policies, markets will invest where policies are directed.
Policymakers will have to not only consider the cost competitiveness of hydrogen compared with other low-carbon alternatives, but also the carbon impact, complexity of hydrogen infrastructure investment and future changes to carbon pricing or import taxes, says S&P Global.
However, it is not an easy task to supply sufficient cost-competitive green hydrogen. This is because to produce enough cost-competitive green hydrogen, hundreds of gigawatts of renewable energy generation capacity is needed which, in turn, requires billions of ringgit in investments.
Rezal points out that the road map will be in phases, according to the techno-economic analysis. The earliest phase will involve encouraging Petronas and other oil and gas companies, and even state governments like Sarawak, to produce blue hydrogen by utilising the CCS system.
He explains that the road map will prod players forward, incentivising them through policy, investment and tax intervention to capture carbon that is potentially emitted "if they go in a deep way".
"So, it becomes blue hydrogen. Because we are rich in oil and gas, it presents us with our nearest or immediate economic benefit," says Rezal.
But are there takers for the hydrogen produced?
At the moment, applications for hydrogen are still very limited. In the automotive sector, there are only a handful of models that run on hydrogen, such as the Toyota Mirai, Honda Clarity and Hyundai Nexo.
According to Rezal, in the earlier stages of moving towards a hydrogen-based economy, Malaysia should be exporting the hydrogen to immediate foreign markets such as Japan and South Korea as they have already developed a hydrogen economy based on a user model.
This means they need not produce so much hydrogen for their domestic usage but can ramp up usage of hydrogen in their power generation and transport sectors by importing hydrogen from producing countries.
"It is quite clever because when they accept hydrogen from other countries, the audit stops there, because they don't produce, so they don't emit carbons. So overall, they are a clean economy. For us, we bear the brunt of capturing the carbon and producing green hydrogen," Rezal observes.
"For them, even though we sell dirty hydrogen, they take it from our country. They use it in their country and they can still be considered as a clean hydrogen economy because they don't produce it, hence no pollution.
"So, that presents a clear and present economic opportunity for us to serve Japan and South Korea. Brunei has already done that, selling its grey hydrogen to Japan."