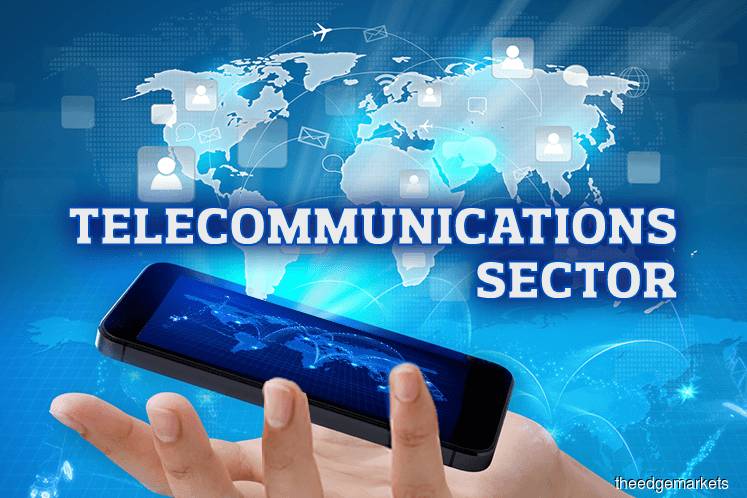 KUALA LUMPUR (Dec 18): CGS-CIMB Research has maintained its "Neutral" rating on the Malaysian telecommunications sector given the weak mobile and fixed revenue growth prospects.
In a note Dec 17, its analyst Foong Choong Chen said the mobile industry service revenue slid 4.1% year-on-year (y-o-y) (ex-wholesale: -1% y-o-y) in the third quarter of 2019 (3Q19) due to lower wholesale revenue, interconnection rate cut and tight competition.
"Q-o-q (quarter-on-quarter), it was just down 0.1%. Celcom lost 0.5%/2.6% pts q-o-q revenue/EBITDA (earnings before interest, tax, depreciation and amortisation) market share to Maxis Bhd and Digi.com Bhd. In the fixed line business, Telekom Malaysia Bhd's (TM) revenue rose 3% q-o-q (-3.2% y-o-y) on a land sale," he added.
According to Foong, from September to December, the mobile competition stayed intense in the low/mid-range post-paid and prepaid segment, making it hard to improve data monetisation.
For the postpaid market, Celcom launched XP Lite to address the fierce competition in the low average revenue per unit segment and offered rebates to subscribers who register online while Maxis' new RM99 per month Hotlink Flex Plus Fibre offer comes with an aggressive 34% bundling discount and target new subscribers in the low/mid-range segments.
"TM's unifi Mobile extended the RM59 per month promotion (usual price: RM99 per month) for its 99 unlimited plan to all users (previously: civil servants and business users only), valid until Dec 31 while RedOne (mobile virtual network operator [MVNO]) launched a new RM28 per month plan that offers significant video and social media data quota," Foong said.
The prepaid market was quieter as Celcom removed 10GB per month of social media and games quota from its Xpax plans, a move in the right direction towards better data monetisation.
"However, the market stayed competitive as U Mobile's RM30 per month GX30 unlimited data (3Mbps speed cap) plan is still in the market and Maxis remarketed its Hotlink Superrr plan (very generous YouTube quota) to a wider audience," Foong added.
The broadband market was still active and competitive as TM offered new and existing unifi home and business subscribers three-month fee waivers upon activation, upped its 100/300/800Mbps unifi business plan speeds by 8-10 times and cut the price of its base 100Mbps unifi business plan by 22% to RM139 per month.
On the other hand, TIME launched no-contract variants of its 100Mbps-1Gbps unlimited home fibre broadband plans while AstroMaxis is offering pay TV-broadband bundles with 9-23% discounts.
"Axiata Group Bhd is our Malaysian telco preferred pick," it said.