This article first appeared in The Edge Financial Daily, on August 21, 2018.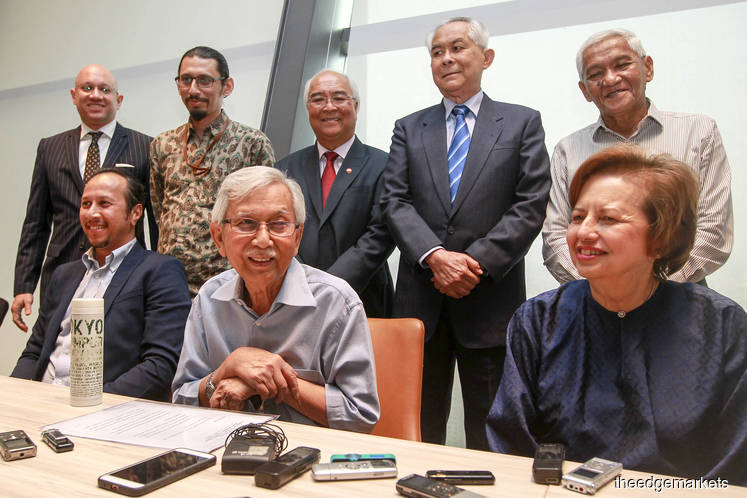 KUALA LUMPUR: The Council of Eminent Persons (CEP) has completed its mandate to provide the government with advice on the nation's economic and institutional reforms, said its chairman Tun Daim Zainuddin.
Daim, however, does not discount the possibility that the CEP's tenure will be extended beyond its 100-day deadline. Within the period, the five-member CEP has completed a full report on its recommendations, which will be submitted to Prime Minister (PM) Tun Dr Mahathir Mohamad upon his return from his visit to China this week.
Speaking to the press in concluding yesterday, Daim said: "We had enough [time] … our job is done. Whatever mandate was given to us, we have completed it."
On whether the CEP is aware of any new terms of reference on its potential future role, Daim said: "When he (Dr Mahathir) comes back, I will make an appointment to see him and consult him on what role he has in mind [for the council].
"[But] as far as we are concerned, we have completed our task," he said, adding he was happy with the council's performance to date. Note that pending further clarity from the government, the CEP's secretariat is scheduled to end on Aug 30, as per its appointment terms.
When asked if the council is now officially disbanded, Daim said: "The mandate is for 100 days. The 100 days is over."
Aside from Daim, the five-member CEP includes former Bank Negara governor Tan Sri Dr Zeti Akhtar Aziz, former Petronas president and chief executive officer Tan Sri Hassan Merican, business tycoon Robert Kuok and economist Dr Jomo Kwame Sundaram.
Questions have been raised over the CEP's tenure, which ended last Sunday, after Dr Mahathir told reporters he still needs the council's services beyond the deadline he set when he established the advisory body on May 12.
There were also criticism over how the roles of the CEP members have been extended beyond their advisory role, such as how Daim was appointed Malaysia's special envoy to China, and Zeti's new role as chairman of government-linked investment company (GLIC) Permodalan Nasional Bhd (PNB).
In response, Daim said: "The prime minister appointed me as the special envoy to China to pave the way for his visit. That is all. He (Dr Mahathir) is there now." He also played down arguments of any potential conflict of interest over Zeti's appointment at PNB, saying the CEP does not have any executive power.
"What powers do we have? Other than to gather information, analyse and advise? So what is too much power?" he asked.
"In order to get facts and information, we had to call the stakeholders [such as PNB] to collect the information, analyse them, and then make recommendations to the government.
"The fact that the government wanted to appoint Tan Sri Zeti Aziz [who is a CEP member] — that is not CEP's role," he said.
He also lashed back at comments that CEP's appointment — as well as any possible extension — as unconstitutional and overlapping with the Cabinet, pointing to how the government had appointed advisory bodies previously.
"[Is it] unconstitutional? Surely the prime minister can appoint anybody as his consultant or adviser. Do you mean the prime minister cannot do it?
"Before this there was NEAC … Nobody objected to it," he added, referring to the National Economic Action Committee, a body he led in 1998 to address the onslaught of the Asian financial crisis then.
He also assured the public that there are "enough capable people" in the government presently.
"Post-CEP, I am not going to get involved because as far as I am concerned, I am retired. Unless the PM requires my service and in the best interest of the country, I am willing to help out in the future.
"We have enough capable people. Give them a bit of time … It won't be long before they master [their roles] at the ministries that they are in charge of ," he said.