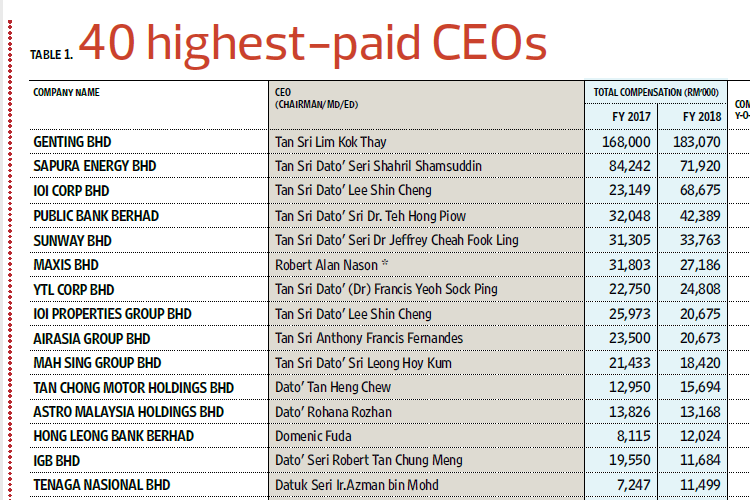 KUALA LUMPUR (June 11): Have you ever wondered if the CEO of the public-listed company you've invested in is paid fairly?
That sounds like such a first-world problem, but consider this — some CEOs are taking home bigger pay packets while returns to shareholders drop, while other CEOs are earning less despite better net profits.
For instance, Genting Bhd's Tan Sri Lim Kok Thay took home RM183 million in FY2018, up 9% from FY2017, despite net profit falling by 5.5% from a year ago.
Meanwhile, the size of Dialog Bhd's executive chairman Tan Sri Ngau Boon Keat's pay packet in FY2018 fell by 8.1% to RM6.57 million despite the company's net profit surging by 37.7% from a year ago.
Nonetheless, one year's earnings performance may not be the perfect gauge considering companies' profits could fluctuate because of factors that are beyond managements' control.
The questions arising from this variation in CEO pay are: what is right and fair compensation? What is the best way to ensure CEO and shareholder interests are aligned?
There are several metrics that can be employed to determine these.
The Edge teams up with AbsolutelyStocks.com — a tool that cuts through the financial jargon to help you build an investment portfolio — to compile and compare the salaries of CEOs as a percentage of net profit, percentage of market capitalisation, percentage of total staff cost, and against total shareholders returns.
Find out:
Who is the highest-paid CEO
Who makes over 2,000 times the average pay of their employees
Who got a payrise despite negative shareholder returns, and other interesting facts.
Read it first in this week's issue of The Edge Malaysia (June 10-16, 2019). Get your copy on newsstands now or subscribe to our digital edition.