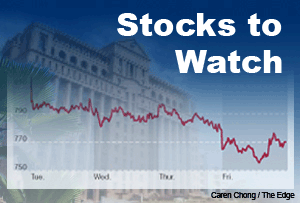 KUALA LUMPUR (Sept 15): Based on newsflow and corporate announcements today, the stocks that could be in focus on Wednesday (Sept 17) could be the following: Century Logistics, MAS, Crest Builder, Priceworth International, Fitters Diversified, iDimension and BFood.
Century Logistics Holdings Bhd has set a 10% revenue growth target from 2014-2016, despite a challenging market environment.
In a statement, its managing director Steven Teow said the group plans to offer sustainable solutions that would help mitigate rising costs and improve operational efficiency and productivity.
Its wholly-owned subsidiary, Century Total Logistics Sdn Bhd, is also looking at possible acquisitions to expand its business locally and internationally.
Malaysian Airline System Bhd (MAS) has extended the contract of its managing director and chief executive officer, Ahmad Jauhari Yahya, for a period of one year from Sept 20 to Sept 19, 2015.
Ahmad Jauhari will continue to lead MAS, even after its de-listing from Bursa Malaysia — targeted for end-2014, following the privatisation exercise by its major shareholder Khazanah Nasional Bhd.
Koperasi Permodalan FELDA (M) Bhd has ceased to be a substantial shareholder of Crest Builder Holdings Bhd, after disposing 350,000 shares in the company.
Crest Builder closed 4 sen or 2.6% lower at RM1.50 today, bringing a market capitalisation of RM248.9 million. The stock has fallen from a high of RM1.64 last month.
Priceworth International Bhd's wholly-owned unit, Maxland Dockyard & Engineering Sdn Bhd, has teamed up with Semaring Enterprise Sdn Bhd to bid for works in oil and gas (O&G) related projects.
Semaring is a licensed and registered contractor and supplier for Petroliam Nasional Bhd (Petronas) and Petronas' contracted profit sharing contractors.
In a filing with Bursa Malaysia today, Priceworth said Maxland currently operates a shipyard, which includes a dockyard and engineering facility to fabricate and service vessels and barges.
Under the JV, Maxland is entitled to 60% of the net profit generated by the joint venture, while Semaring is entitled to the remaining 40%.
Fitters Diversified Bhd will submit its prospectus for the listing of its renewable energy unit on the Singapore Exchange Ltd (SGX), to the relevant authorities at the end of this year.
The fire protection specialist also said its wholly-owned unit, Future NRG Sdn Bhd, had entered into a heads of agreement with German-based A.H.T Services GmBH (AHT), to form a joint venture (JV) to re-engineer existing technology for generation of clean renewable energy from biomass gasification, to suit the South East Asian region.
Fitters will hold 70% equity interest in the new JV company, AHT NRG Sdn Bhd, while AHT will hold the remaining 30% stake.
The agreement will also see the new JV company purchasing three biomass-gas generators from AHT for RM14 million, to be deployed in the first quarter of 2015, in Sabah and Peninsular Malaysia.
Singapore-based Advance Capital Partners Pte Ltd has reemerged as a substantial shareholder of iDimension Consolidated Bhd, with a 12.43% stake.
Advance Capital Partners had on Sept 12, acquired some 47.059 million shares after converting the redeemable convertible preference shares, pursuant to a subscription agreement.
The agreement was signed between iDimension, Advance Opportunities Fund and Advance Capital Partners on Dec 06, 2013.
Berjaya Food Bhd (BFood) posted a 15% rise in net profit to RM6 million for the first financial quarter ended July 31, 2014 (1QFY15) from RM5.22 million a year ago on better results from Berjaya Starbucks Coffee Co Sdn Bhd (BStarbucks).
Revenue for 1QFY15 was 8.5% higher at RM39.64 million from RM36.53 million in 1QFY14.
"Notwithstanding the full impact of the Muslim fasting month in this current quarter under review compared with the previous year's Muslim fasting month, which straddled over 1QFY14 and 2QFY14, the group achieved higher revenue from the additional restaurants operating in 1QFY15," said Bfood in a filing with Bursa Malaysia today.
The food & beverage (F&B) firm also noted that it had on July 23 signed a conditional share purchase agreement (SPA) with Starbucks Coffee International, Inc (SCI) to acquire the remaining 50% it does not own in BStarbucks for RM279.51 million.
It is of the view that with the completion of the proposed acquisition, the operating profit and revenue of the group are expected to improve significantly for the remaining quarters of FY15.
BFood closed at RM3.06 today, more than doubled from RM1.48 three months ago. This gives it a market capitalisation of RM954.26 million.