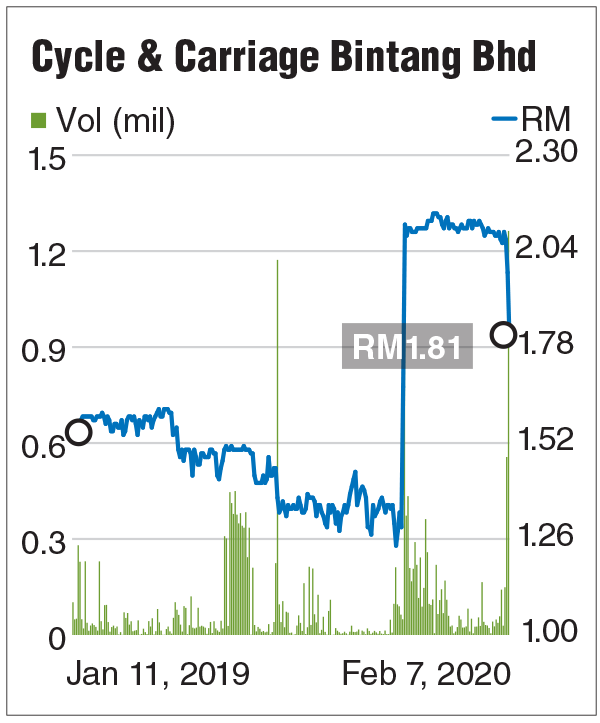 KUALA LUMPUR: Cycle & Carriage Bintang Bhd (C&C Bintang) saw a surprising plunge of over 10.5% in its share price intraday last Friday before recovering slightly. The erratic share price movement ahead of an extraordinary general meeting (EGM) tomorrow to seek shareholders' approval for the company's privatisation via a selective capital reduction (SCR) and repayment of RM2.20 per share has raised some eyebrows.
It is worth noting that after the privatisation exercise was announced on Nov 11 last year, the share price of the largest car dealer in Malaysia of German premium marque Mercedes-Benz surged by 64%, climbing from RM1.29 on Nov 8 to RM2.11 on Nov 13.
Since then, C&C Bintang has been trading above RM2 for the greater part of the past three months.
The counter, however, fell 17 sen or 8.59% to close at a three-month low of RM1.81 last Friday. Some 1.26 million shares were traded.
Corporate observers whom The Edge Financial Daily spoke to opined that the sharp drop of C&C Bintang's share price could be an indication that the SCR may not go through.
This may have something to do with reports that Muar Ban Lee Group Bhd (MBL) is against the SCR. On Jan 6, The Edge Malaysia weekly, citing sources, reported that the minority shareholder of C&C Bintang, with a 1.02% stake as at Feb 28 last year, wrote to the company on Dec 26 expressing its intention to scuttle the privatisation bid.
MBL, a locally listed, family-owned palm kernel oil expeller manufacturer specialising in palm oil and oil seed crushing machinery, is of the view that the offer price is not fair and that it is not in the best interests of minority shareholders. The Johor-based firm is seeking higher compensation from Singapore-listed Jardine Cycle & Carriage Ltd (Jardine CCL) which wants to take C&C Bintang private. Jardine CCL is part of the sprawling empire of British family-owned Asian conglomerate Jardine Matheson Holdings Ltd.
Although the SCR price of RM2.20 apiece represents a 70.5% premium over C&C's last traded price of RM1.29 and a 44% premium over a one-year volume weighted average price of RM1.5252 per share, certain minority shareholders, including MBL, remain unsatisfied.
In part, it is because the capital repayment sum is 18%, or 49 sen, below the company's net asset per share of RM2.69 as at Sept 30.
Independent adviser Affin Hwang Investment Bank Bhd recommended the disinterested shareholders to vote in favour of the SCR, although it acknowledged that the deal is not fair but reasonable.
Based on the realisable net asset value method, the bank opined that the equity value of C&C Bintang is about RM3.64 per share.
In documents sighted by The Edge Malaysia weekly previously, MBL requested a meeting with the non-interested directors of C&C Bintang last month to express its views.
Sources told The Edge Financial Daily that MBL eventually met up with C&C Bintang representatives, but it appeared that Jardine CCL will not be entertaining minority shareholders' request for a higher repayment price.
If this is true, it could be a lose-lose situation because Jardine CCL may not be able to privatise C&C Bintang without MBL's votes.
As for MBL, its failure to obtain a higher repayment price aside, C&C Bintang's share price could decline further should the privatisation collapse.
For perspective, Jardine CCL is the single largest shareholder of C&C Bintang with a controlling 59.1% equity stake, the equivalent of 59.54 million shares.
The entitled shareholders have 41.2 million shares, and the selective capital repayment will cost C&C Bintang RM90.64 million in cash.
Although it is not publicly known how many C&C Bintang shares MBL has at this point, sources said the company has lobbied for the support of other minority shareholders. MBL's 2018 annual report showed that Datin Chok Chew Lan, a substantial shareholder with an 8.22% stake, also had a 1.31% stake in C&C Bintang.
The special resolution on a SCR requires the approval of shareholders at an EGM, with the approval of at least a majority of the company's non-interested shareholders and 75% in value. In addition, it must also not be voted against by more than 10% of its total non-interested shareholders in terms of value.