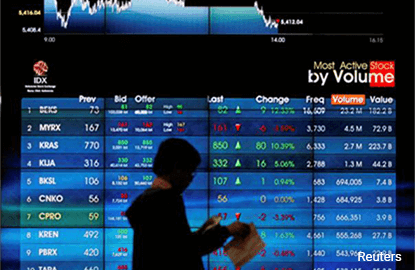 (Feb 1): Southeast Asian stock markets were cautious on Wednesday, with investors awaiting the outcome of the US Federal Reserve meeting, while Indonesia and Thailand recovered from three sessions of losses backed by strong economic data.
Indonesia stocks led gains in the region, rising half a percent. Bank Central Asia Tbk gained 1%, while Bank Rakyat Indonesia (Persero) Tbk rose 0.6%.
Indonesia's factory output rose for the first time in four months due to rising new domestic orders, data showed. Export orders, however, continued to decline at a solid pace.
Thai shares rose, helped by energy and financials. Oil firm PTT Pcl gained 1%.
Thailand's January headline consumer prices rose on an annual basis at their fastest pace in more than two years, government data showed on Wednesday.
The Philippines was flat, while Singapore gained marginally ahead of results of the Fed's first meeting after the Trump administration took over.
Economists polled by Reuters have all but ruled out a rate increase at Wednesday's Fed meeting.
Investors are expected to see an interest rate rise in June, according to Fed futures data compiled by the CME Group.
"Our position is that the Federal Reserve will not raise rates in this meeting. They're going to have to observe what their President is doing, and try to forecast what the effect of his moves will be (on financial markets)," said Joseph Roxas, president of Manila-based Eagle Equities Inc.
Investors are lightening positions before the Fed meeting.
They are mostly booking profits region-wide, Roxas added.
MSCI's broadest index of Asia-Pacific shares outside Japan was down 0.06 percent.
Singapore was helped by industrials that accounted for nearly half the gains. Conglomerate Jardine Matheson Holdings rose 1%.
Vietnam and Malaysia are closed for a public holiday.