This article first appeared in Enterprise, The Edge Malaysia Weekly, on December 31, 2018 - January 06, 2019.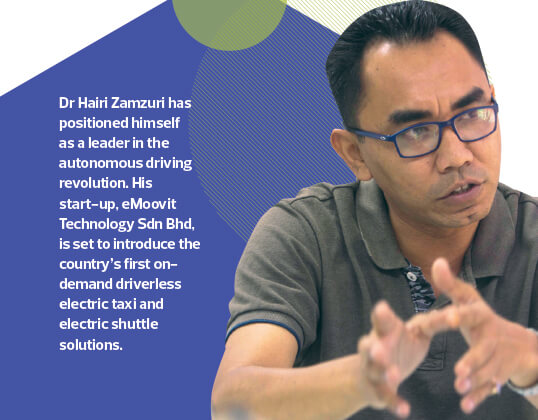 Dr Hairi Zamzuri is testing out a first and last mile solution to get commuters from their homes to the public transport system and vice versa — sort of like Grab or Uber, but without human drivers.
The general manager of eMooVit Technology Sdn Bhd, a subsidiary of Singapore-based MooVita, is testing his system out in Cyberjaya. He says smart cities should have highly efficient transport systems that eliminate human error, parking woes, delays and traffic congestion.
So, he is building a self-driving system to introduce the country's first on-demand driverless electric taxi and electric shuttle solutions in Cyberjaya, which has positioned itself as the nation's technology testbed. The self-confessed geek is collaborating with Universiti Teknologi Malaysia (UTM), which comes as no surprise as he used to lecture there on artificial intelligence and control engineering.
"[Our system] will cater for customers' seating needs, just like Grab, but the difference is that it will eliminate human error. Another difference is that we will focus on on-demand mobility-as-a-service. And since the system does not rely on human drivers, users can demand mobility around the clock," says Hairi.
He says eMooVit's parent company is developing the background intellectual property (IP) while the Malaysian subsidiary, which was established in May last year, works on the foreground IP. Foreground IP (knowledge that is created within a project) is developed after the background IP (existing knowledge) has laid the groundwork for the project.
eMooVit  also aims to provide cost-effective and internet-enabled autonomous software solutions that can be utilised on any vehicle or platform.
Hairi says his team has fitted a self-driving system into a Proton Exora as a pilot project. The company received the approval of the Road Transport Department to conduct test drives with a human assistant in the vehicle.
The electric shuttle uses multi-sensor technology and has human-like navigation capabilities that follow the most optimal routes computed for the vehicle. "The fleet management system uses remote and real-time monitoring and control of the shuttles as well as optimised routing algorithms. The [mobile] application, which allows for on-demand transport bookings, also shows the location of a vehicle and its estimated time of arrival," he says.
The company's goal is to launch an on-demand-based driverless shuttle in Cyberjaya and Putrajaya by the end of next year. It is currently looking for funding. It aims to have six autonomous vehicles in operation by 2020.
Hairi points out that the company employs a business-to-business model. "We provide solutions for mobility-as-a-service, but we do not do front-end operations. We also offer our autonomous vehicle solutions to third parties or providers, who can lease or license them or even buy our IP," he says, adding that the company is also open to joint ventures.
The main challenge is getting dynamic talent skilled in both robotics and software engineering. Hairi hires his former postgraduate students who have done research on autonomous vehicles.
"We currently have 10 employees. Next year, we aim to have 30. But it is difficult to get talent. Recently, one of our staff was poached by a Finnish company," he says.
"Another challenge is insurance. When we deploy our vehicles, which won't have steering wheels, it will be difficult to get insurers to provide cover for accidents."
Unlike Singapore, Malaysia does not have a policy on autonomous vehicles, a stumbling block for the company, Hairi points out. So, it hopes to raise the awareness of self-driving vehicles in a pilot project.
As a technology company, eMooVit looks forward to collaborating with car manufacturers.
"When self-driving systems become part of public transport, the efficiency of vehicles will increase. Right now, vehicles are only used 20% of the time, and mostly during the day. The rest of the time, they are sitting idly in parking lots," he adds.
"But autonomous cars can operate more frequently. A household would only need one car to transport all of the family members. So, for our mobility solutions, we hope that we can transport passengers during the day and perhaps transport goods in the evenings so that the vehicles work around the clock."