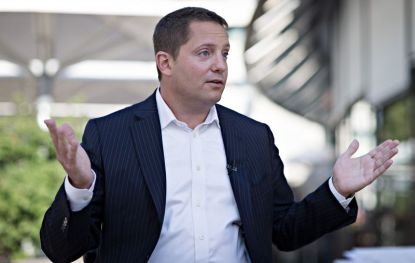 (March 24): Carson Block, the renowned short-seller and founder of Muddy Waters LLC, has watched plenty of stocks crater after one of his bearish research reports. But he's never seen anything quite like China Huishan Dairy Holdings Co.
When Block said the company was worth "close to zero" in mid-December, Huishan shares barely budged. They dipped 2.1 percent on the day of his report, recovered within a week and have flatlined ever since. That is until Friday, when they suddenly plunged as much as 91 percent in Hong Kong — for reasons even Block has yet to pin down.
"I haven't ever been involved with a stock that holds this steady pattern for a few months after our initial report, and then just crashes with no advance warning," Block said in a phone interview. "That's the first time for me."
While he speculated that share sales by Huishan's chairman might be behind the drop, Block added that "there's a lot going on behind the curtain that we never get to see." For now, he said he was going to watch events as they unfold — and try to field the flurry of emails and texts lighting up his phone.
"I'll probably be staying up all night," Block said from San Francisco, where it was about 9 pm on Thursday when Huishan shares were suspended by Hong Kong's exchange. "It will be interesting to see what happens."
A Huishan spokesperson declined to comment, saying the Shenyang, China-based company will issue a statement. Chairman Yang Kai said that speculation Huishan's largest shareholder misappropriated 3 billion yuan (US$435 million) to invest in real estate was untrue, NetEase reported, citing a phone interview. Huishan said previously that the allegations in Block's December report were groundless and contained misrepresentations.
Block's targets typically react quickly to his research, which he publicizes on the Internet and through the media. Among his China-related targets, Sino-Forest Corp lost more than two-thirds of its market value in two days after Block first criticized the company in 2011, while Focus Media Holding Ltd fell as much as 66 percent in one day that same year. NQ Mobile Inc sank the most on record after the short seller targeted the company in 2013.
In Europe, French supermarket operator Casino Guichard-Perrachon SA retreated the most in more than seven years when Block issued a critical report on the company in late 2015, while German advertising firm Stroeer SE posted a record slump last year.
Block alleged in December that Huishan had been overstating spending on its cow farms to "support the company's income statement." He also alleged that the company made an unannounced transfer of a subsidiary that owned at least four cow farms to an undisclosed related party, concluding that Yang controlled the subsidiary and the farms.
Before Friday's plunge, Huishan had been one of the most stable stocks in Hong Kong. It fluctuated in a narrow range between HK$2.69 and HK$3.23 from the start of October 2015 through Thursday, never swinging more than 5.1 percent on a closing basis in a single trading session during that period. In July and August of 2015, the stock surged 60 percent amid a spate of open-market purchases by Yang, who's also the company's chief executive officer. About 73 percent of Huishan's stock is held by Champ Harvest Ltd, a company controlled by Yang that has borrowed heavily to fund its share purchases.
"It's as though there had previously been only one bid in the marketplace for the stock and it has all of a sudden disappeared," Block said. "We always knew that someday the stock would break."