This article first appeared in Digital Edge, The Edge Malaysia Weekly, on October 19, 2020 - October 25, 2020.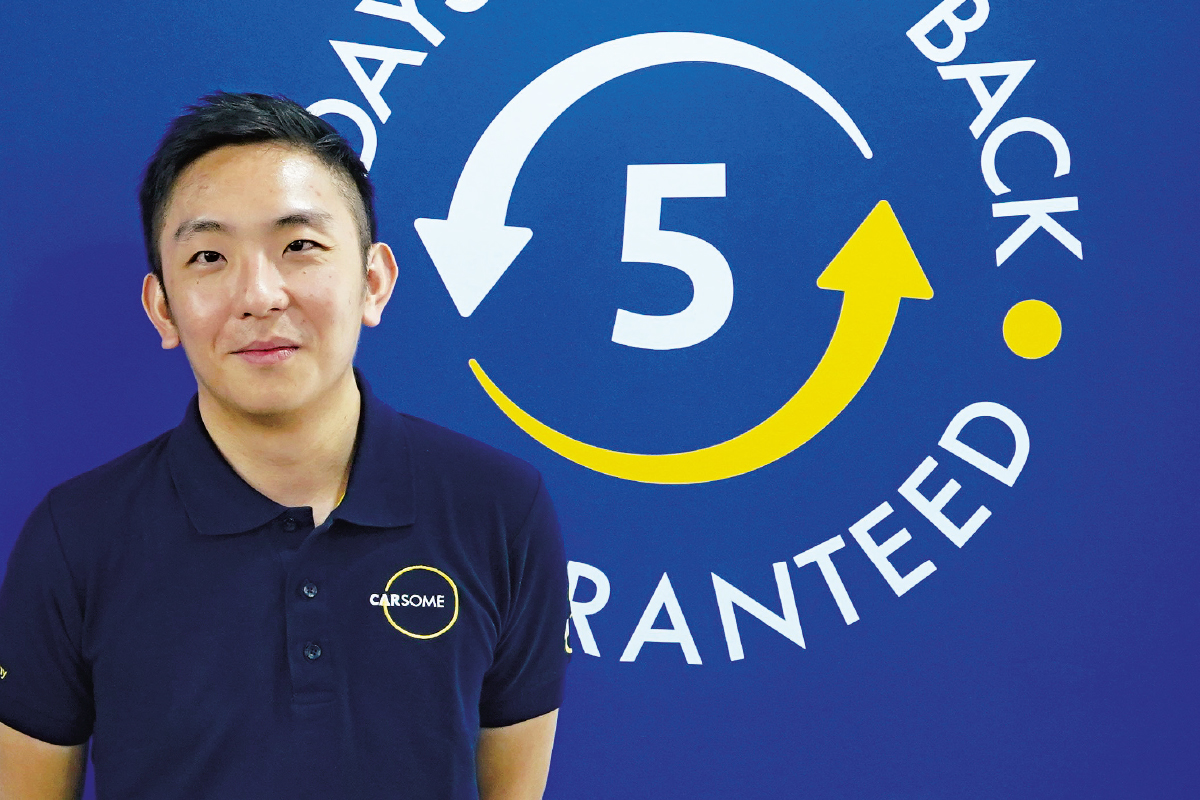 Homegrown used car trading platform, Carsome, recently announced its entry into the business-to-consumer (B2C) segment of the used car business. Carsome, one of the leading platforms in Southeast Asia, began selling cars to the public in late August.
Up until recently, the company, which does business in Malaysia, Singapore, Indonesia and Thailand, was engaged primarily in the consumer-to-business (C2B) space — allowing individual sellers to sell on its platform to a nationwide network of thousands of dealerships.
Although the B2C space in Malaysia is already competitive, with a host of other portals offering the service, Carsome co-founder and group CEO Eric Cheng tells Digital Edge his company has perfected the key to making it big in the B2C segment.
Right from the outset, Carsome went about capturing and uniting supply in the market, with Cheng correctly deducing that widespread standardisation around the acquisition of inventory would attract dealerships to the platform.
The five-year-old start-up spent the last few years working closely with the used car dealership ecosystem, solving key problems and plugging gaps on the supply side, while gradually building up a network of thousands of dealers throughout the country.
After developing a stringent quality control process, in addition to perfecting its user experience — for individual owners as well as its network of used-car dealers — Cheng made the decision to launch the B2C business in late August this year.
For the uninitiated, buying a used car can be an experience fraught with anxiety, with dealers often perceived to be unreliable. While the slew of B2C portals facilitate their access to the buying public, the business model is such that dealers have little incentive to be transparent with their inventory.
"A lot of these platforms have been very focused on the demand side of the used-car sales ecosystem. Their revenue was driven by advertising, as well as listing fees from used-car dealers.
"There was really no incentive for used-car dealers to be transparent with their inventory on these platforms, which is why it is so common to see questionable claims like 'low mileage', or 'one previous owner' on car listings. We saw this as an opportunity to come in and create a transparent and reliable buying and selling experience," Cheng says.
Now that Carsome has united supply in the market, he is confident that demand will eventually be attracted to the platform. "Just like the dealerships that are confident of purchasing high-quality inventory from us, we're now extending this same service to the individual customer," he says. Carsome's newly launched B2C business comes with a five-day, no-questions-asked money back guarantee, on top of a one-year warranty.
Journey of a thousand miles
Getting to this point took about five years from when the start-up was founded.
Cheng and his co-founder, Teoh Jiun Ee, set out to address the biggest and most challenging pain points that private owners face when trying to dispose of their vehicles in the used car market: price transparency, the lack of a market that private owners could sell to, their relative unfamiliarity with the vehicle, and finally, their general inability to negotiate effectively.
This tends to be the most common way for a used car dealer to acquire inventory, which is then later resold to new owners (referred to as the demand side of the used-car sales ecosystem). The start-up's overarching objective was to build competition, as well as price and quality transparency, into the overall used car segment.
By gradually on-boarding thousands of used-car dealerships, individuals who disposed of their cars via the start-up could now have their vehicles bid on by dealerships from across the country, dramatically increasing competition for the car, resulting in better price transparency.
Private owners no longer had to rely on the word of just a small handful of dealers in their immediate vicinity. With their vehicles now put up for auction to thousands of used car dealerships, the increased competition made sale prices that much more competitive and attractive to private owners.
Over the years, private owners gradually came around to the convenience and speed at which Carsome was able to take their vehicles off their hands. "It takes roughly 24 hours from the moment an owner decides to sell on our platform to the point at which the car is sold. Vehicle owners get paid very quickly, and without sacrificing on price, since there is such a large network of dealers looking to bid for inventory via Carsome."
It is not just private owners benefiting either. When an owner contacts Carsome and begins the process of putting his car up for sale to the platform's network of dealers, the company takes the car through a stringent, 175-point inspection — efforts that, up to that point, dealerships would have had to undertake themselves.
Dealers therefore receive a steady stream of vehicles to bid on, while enjoying greater visibility on their quality and ownership history.
Also, in 2018, Carsome added another incentive, launching a financing programme for its dealer network, allowing dealers to procure inventory with less upfront capital. "We work with peer-to-peer financing platforms, a number of banks, and on top of that, we also dedicate a small portion of our own balance sheet from which we directly finance dealership purchases," says Cheng.
In the driver's seat
The numbers tell quite a story. In 2018, the company saw a total of 18,000 transactions on its platform. That number ballooned to 40,000 in 2019. "We're looking to triple the number of transactions this year, and I'm hopeful we can hit our targets in the final few months of the year," says Cheng. Overall transaction value in 2019 came up to US$300 million, with about 70% originating in Malaysia.
As a group with regional operations, the company has enjoyed roughly 200% revenue growth year on year. In fact, Cheng is hopeful that Carsome will better that revenue growth target in 2020 and, concurrently, achieve profitability in the Malaysian market for the first time.
Carsome currently makes its money by charging dealers a fee for every successful transaction. In addition, it purchases bulk fleets from large corporates and ride-share players looking to dispose of transport inventory, which it then sells on to its network of dealers. The company's net revenue for 2019 came in at roughly US$15 million, or 5% of overall transaction value that year.
Unlike much of the economy, Carsome and the wider used car segment has been on a bit of a tear for a number of reasons. "We conducted a survey and found that in the pre-Covid-19 months, just 3% of respondents were reluctant to take ride-sharing or public transport. Post-Covid-19 however, that number jumped to about 76%. Further, the economic fallout of the pandemic has been such that people have gravitated to the used car market, as it is typically seen to be more affordable.
"Additionally, I understand that the majority of brands in Malaysia had actually ceased manufacturing altogether during the Movement Control Order (MCO) earlier in the year, resulting in a lack of supply to the local market. Given all these factors, the used car market has actually been on quite a run over the last year. For our part, we're very well prepared to leverage this increased demand, which is why we're still expecting to improve on our 2019 numbers," Cheng says.
Looking ahead to 2021, he is hoping to significantly increase the revenue contribution from the Indonesian and Thai markets. This year, both markets are expected to contribute less than a third of the group's overall revenue, but Cheng is expecting that 2021 will see them contribute half the group's total revenue.
"The Indonesian and Thai markets are considerably bigger than Malaysia's. Since we've achieved a leadership position here at home, we are going to be shifting focus to grow these other two markets. The opportunities are there, and the markets are huge, so it's down to us to execute our plans effectively."