This article first appeared in The Edge Financial Daily, on June 13, 2019.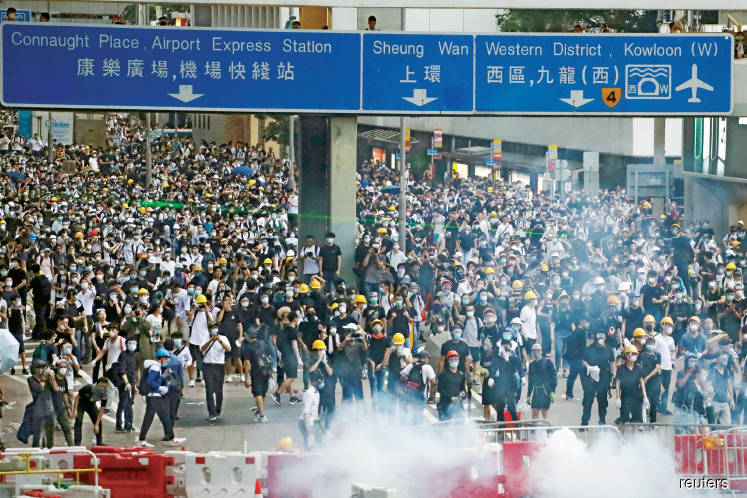 Protesters marching along a road demonstrating against the proposed extradition bill in Hong Kong yesterday. Photos by Reuters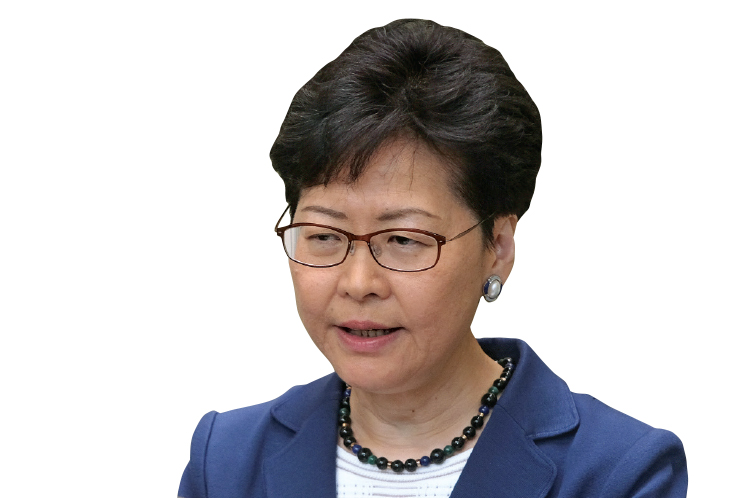 Carrie Lam Cheng Yuet-ngor
HONG KONG: Hong Kong Chief Executive Carrie Lam Cheng Yuet-ngor (pic) yesterday took aim at protesters against the extradition bill, reprimanding them for "organising a riot".
Hours before the protest descended into bitter clashes with police, a tearful Lam had also said she would not respond to calls to resign or withdraw the bill and that she had a clear conscience pushing it through.
In a video released by the government news service yesterday evening, Lam slammed those who took part in the street protest around government headquarters and the legislature since the morning.
"Clearly, this was no longer a peaceful assembly, but a blatantly organised instigation of a riot. This could not be an act that shows love for Hong Kong," she said. "Since this afternoon, some people have resorted to dangerous, or even potentially fatal, acts. These include arson, using sharpened iron bars and hurling bricks to attack police officers, as well as destroying public facilities."
She said such acts posed a serious threat to the safety of ordinary residents, young people who were planning to air their views peacefully, journalists, police officers and civil servants.
The bill, if passed, would allow Hong Kong to transfer fugitives to jurisdictions which do not have an extradition agreement with the city, including mainland China. Critics of the bill, both international and domestic, have expressed concern about the possibility of political prosecution on the mainland and the lack of a guarantee of fair trials.
Lam said she understood that there were different views about the extradition bill, noting that since the handover, issues involving Hong Kong-mainland relations had often been "used by some people to cause conflicts".
Lam said she would not respond to calls to resign or withdraw the bill.
"If radical and violent means achieve their aims, these scenes will only get worse, and definitely bring harm to Hong Kong," she said, urging people to remain calm.
Hong Kong's leader was emotional, even tearful, when she gave an interview with TVB at 8.30am, the same time young protesters started to storm onto the roads in Admiralty.
"I am worried and sad," Lam said at her residence, Government House.
Police fire tear gas and rubber bullets at Hong Kong protesters as chief calls clashes a riot
She was sad to see young people taking to the streets, lamenting the fact the government had not been able to woo more young people to its side since the Occupy movement in 2014, when students also led the protest against Beijing's stringent reform framework for universal suffrage in the city.
Asked if she would withdraw the bill, Lam said: "That this issue is controversial is indisputable. Explaining [the bill] and communication will help, but we may not be able to completely eliminate these worries, anxieties or controversies."
But she could not agree with young people taking violent action, she said.
"To use a metaphor, I'm a mother too, I have two sons," she said. "If I let him have his way every time my son acted like that, such as when he didn't want to study, things might be OK between us in the short term. But if I indulge his wayward behaviour, he might regret it when he grows up. He will then ask me: mum, why didn't you call me up on that back then?
Teachers' union calls for class boycott over extradition clashes
She dismissed criticism that she had betrayed Hong Kong with the bill.
"How could I have? I grew up here with all other Hongkongers. My love for this place has prompted me to make many personal sacrifices."
"I have a husband at home who doesn't care about politics or global affairs ... This was what he said — 'How could you have sold out Hong Kong? But the one problem you have, I would say is, after becoming the chief executive, you have sold yourself to Hong Kong'".
It was the Hong Kong government's own initiative, not Beijing's, to introduce the proposal, she said.
Early closing for some, bonanza for others — how protests affected businesses
Asked if she thought the bill saga had provided leverage to the US in its trade tensions with China, Lam said the timing was "a coincidence" and it was beyond her expectations that the bill would become complicated by the trade war.
She would not comment on suggestions that there were "foreign forces" interfering with the bill's passing as the US, Britain and the European Union had expressed concerns.
"What I can say is some Western countries … the level of concern they expressed is something I have never seen before," she said.
Democratic Party lawmaker James To Kun-sun said Lam was shedding "crocodile tears" as she had flatly ignored public opinion against the bill, as reflected by a Sunday march when a million took to the streets, according to organisers.
To also said it was inappropriate for Lam to equate listening to public opinion to "indulging" children's wayward behaviour. — South China Morning Post