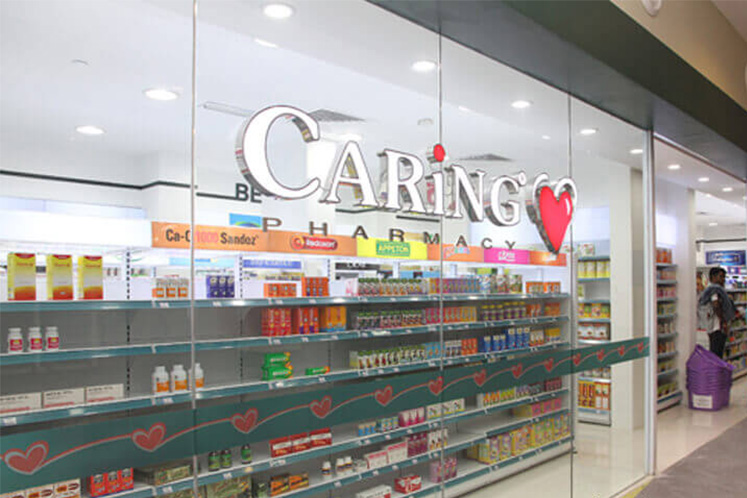 KUALA LUMPUR (Nov 28): 7-Eleven Malaysia Holdings Bhd wants to own the pharmaceutical chain — Caring Pharmacy Group Bhd
The convenience store operator has entered into a conditional share sale agreement to buy a 25.35% stake in Caring from the latter's controlling shareholder Motivasi Optima Sdn Bhd for RM143.51 million or RM2.60 per share.
The pharmaceutical company's shares were last traded at RM2.50; the share price has gained 47% since the start of the year.
The latest share purchase will bump up the shareholding of 7-Eleven and its parties acting in concert (PAC), including its controlling shareholder Tan Sri Vincent Tan, to 38.57%. As a result, 7-Eleven will have to launch a mandatory general offer (MGO) for the remaining shares at RM2.60 per share.   
 
7-Eleven said the MGO will provide an opportunity for the company to further increase its shareholding in Caring to more than 50%, resulting in the pharmacy chain becoming its subsidiary.  
Meanwhile, Motivasi Optima's equity interest will pare down to 25%, making it the second largest shareholder of Caring.  
The convenience store operator, however, said it intends to maintain the listing status of Caring on the Main Market of Bursa Securities subsequent to the MGO.
The proposal, which requires shareholders' approval, will be funded via a combination of bank borrowings and internal funds, said 7-Eleven.
Noting that both 7-Eleven and Caring operate within the consumer retail sector, 7-Eleven said the proposed share purchase is part of its strategy to expand the group's network and diversify its products and customer base, which in turn is expected to further improve the group's performance.
Moreover, this also presents an opportunity for 7-Eleven to have immediate access to a fully operational and profitable pharmacy business, as well as expansion into e-commerce, by leveraging on Caring's online sales platform — CARiNG e-Store, the firm added.
Caring's annual net profit has been on the uptrend since the financial year ended May 31, 2016 (FY16), and has recorded its highest net profit of RM20.73 million in FY18 since its initial public offering (IPO) in 2013. This would also mean that net profit has surged some 184% over the three-year period. Revenue has been rising since the IPO to an all-time high of RM599.23 million.
For the first quarter ended Aug 31, 2019, Caring's net profit grew 2.27% to RM4.18 million from RM4.09 million last year, as revenue increased mainly from sales generated by the opening of 16 new outlets. Revenue grew 8.86% to RM163.26 million versus RM149.97 million.