This article first appeared in The Edge Malaysia Weekly, on February 18, 2019 - February 24, 2019.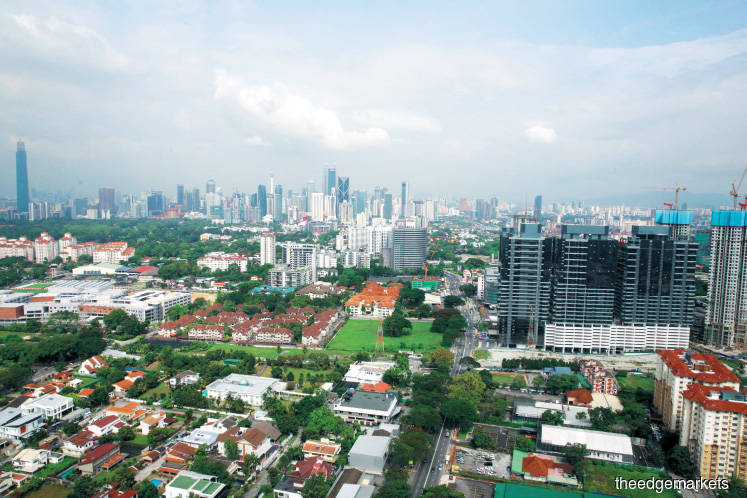 While the maximum plot ratio varies from parcel to parcel, that of the KL city centre appears to be 10
LAND prices in Kuala Lumpur seem to have declined from a year ago, following the move to cap plot ratios in accordance with the newly gazetted Kuala Lumpur City Plan 2020 (KLCP 2020), property experts say. But the extent of its impact is likely be influenced by factors such as location and incentives.
Generally, land value is only as good as the plot ratio it is able to get.
Plot ratios determine the density of buildings and in deciding them, the local authorities will look at matters such as existing infrastructure and density, traffic flow and road access to the area. Typically, a taller building means a higher density/plot ratio.
While the maximum plot ratio varies from parcel to parcel, that of the KL city centre appears to be 10.
On Feb 11, The Edge Financial Daily reported that projects that have been granted approval in principle, with a plot ratio that is higher than that permitted under the KLCP 2020, would have to resubmit their building proposals to obtain fresh approvals.
Savills Malaysia senior director of capital market Nabeel Hussain tells The Edge that the impact on land prices will depend on the individual land parcels and the extent of the restrictions on the higher plot ratios.
"It is hard to determine the impact without fully understanding the new plan, but in the city centre areas where plot ratios are being capped below the levels awarded in recent years, it follows that land values will suffer as a result," he says.
Nabeel expects a drop in the average price of land in the KL city centre following the move.
"However, individual sites with specific locational advantages may see limited effects on pricing as other incentives such as TOD (transit-oriented development) status may still encourage developers to pay premium prices for such sites," he says.
Over the past four to five years, land parcels with a maximum allowable plot ratio of just six or seven, such as that in the Jalan Conlay and Jalan Imbi areas, have managed to obtain double the number.
According to an industry observer who declined to be quoted, during the premiership of Tun Abdullah Ahmad Badawi and prior to that, any plot ratio of above 10 required approval from the Prime Minister's Department. "After Abdullah, it is not known if the process was continued," he says.
Rahim & Co International Sdn Bhd director of real estate agency Robert Ang is of the view that with a more stringent process for plot ratio control, property developers will be more wary and diligent in their site selection and purchasing exercises.
"This may lead to some rationalisation of land prices in KL in the short term. Nevertheless, it will still depend on the micromarket dynamics and location," he tells The Edge.
"We won't be surprised if land prices in strategic prime locations will hold as land scarcity remains a key factor.
"With KL land being the crème de la crème of Malaysia, land prices will remain high, but perhaps the effect will be smaller profit margins for the developers in the short term until the market recovers. As opposed to causing a decline in land prices, we may instead see a stop to the speculative push."
According to a valuer, commercial land prices in the KL city centre have generally increased by an average of 30% over the past five years.
Exastrata Solutions Sdn Bhd chief real estate consultant Adzman Shah Mohd Ariffin expects that since KLCP 2020 only affects the KL city centre, prime spots on its fringes — especially areas in Selangor with higher-than-normal plot ratios — may now attract attention due to their lower prices and better prospects for development.
On what will happen to those who have bought land at high prices, for which lower plot ratios have been set, Savills Malaysia's Nabeel says much will depend on the extent of the reduction in plot ratio. "Too steep a reduction and land will become too expensive to be developed profitably."
Exastrata's Adzman says one way to skirt around the issue is to build premium products.
He believes that owners with land with lower plot ratios may need to look at high-end development components to make it worthwhile to carry out their projects, especially if they have bought their parcels at high prices.
Savills Malaysia's Nabeel disagrees. He says selling premium products against prevailing market pricing and forces is not always the best way to recoup land costs.
"For a maximum plot ratio of 10, it will be difficult to justify land prices at above RM3,000 psf or thereabouts [in the Bukit Bintang and KLCC areas], I would think," he adds.
Last April, the Social Security Organisation (Sosco) bought 1.87 acres in Jalan Kia Peng near KLCC from Malaysian Resources Corp Bhd (MRCB) for RM323 million or RM3,973 psf, compared with RM3,188.25 psf paid by MRCB in April 2015 — a 25% increase in the land price in just three years.
It is understood that government statutory bodies like Socso, the Employees Provident Fund and Kumpulan Wang Persaraan (Diperbadankan) may be exempted from the ruling and be able to obtain higher plot ratios. However, Nabeel warns that by allowing this may risk distorting the market.
He also points out that there is unlikely to be any immediate impact on the value of skyscrapers as the allowable plot ratio comes into play only when an investor decides to acquire an existing building for redevelopment, which is common only after 40 to 50 years or longer. "This means that most new skyscrapers will be spared such a fate, at least for another decade or two."
Lower ratio helps control supply amid soft market
Still, the move to cap the plot ratio is welcome as it will help ease the oversupply situation in the country.
Rahim & Co's Ang says previously, there were projects that were approved with a higher plot ratio than had been permitted under KLCP 2020, which resulted in a higher number of units eventually injected into the market.
"Furthermore, the developers were willing to fork out a premium for land as they were expecting a higher number of units and, hence, higher profits. This would have been fine had the market remained active and in expansive mode, but with the persisting global economic challenges
impacting our shores over recent years, we have seen an influx of unsold units and completed vacant units," he says.
"We are in agreement with the step taken as the KLCP 2020 is designed to, among others, achieve a balanced progression of the capital city, including the well-being of its community.
"With the KLCP 2020, it is hoped that the city will see a more sustainable growth, which comes not only from the physical and environmental aspects but also from the social and economic perspective — which includes the sustainability and equitability of the property market.
"With better adherence and compliance with the provisions of the KLCP 2020, market dynamics will be more systematic and more regularised, especially on the supply side. This is expected to help mitigate future risks of unsold properties and the current market overhang situation."
Exastrata's Adzman concurs, adding that current land parcels that have been approved with high plot ratios will be sought after.
Developers who have already obtained development orders for their projects with higher plot ratios than permitted under the KLCP 2020 can go ahead with their development plans. However, those who have obtained development orders with high plot ratios over a year ago and have yet to commence work will have to resubmit their building proposals to Kuala Lumpur City Hall for an extension.  
Save by subscribing to us for your print and/or digital copy.
P/S: The Edge is also available on Apple's AppStore and Androids' Google Play.