This article first appeared in The Edge Malaysia Weekly, on January 21, 2019 - January 27, 2019.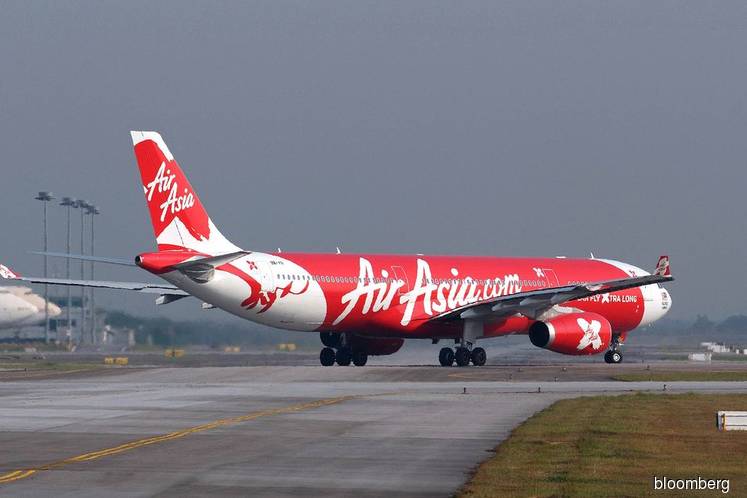 AIRASIA X Bhd (AAX) shares are off to a good start this year, thanks to the promotional power of Tan Sri Tony Fernandes, who on Jan 2 tweeted that "AirAsia X will have the best ever year in 2019".
AAX saw its shares make one of their strongest spurts to date, soaring over 30% from 23 sen on Jan 2 to 30.5 sen on Jan 7 before retracing to close at 30 sen last Wednesday (Jan 16).
In his tweet, Fernandes also described AAX, the long-haul budget carrier he co-founded with Datuk Kamarudin Meranun in 2007, "the most undervalued airline" and in which "all the hard work" had been "done".
He also declared that he and Kamarudin had "been buying shares".
Filings with Bursa Malaysia show that Fernandes and Kamarudin had spent RM12.72 million buying 57.29 million AAX shares, or close to a 1.4% stake, about a month ago.
Specifically, Fernandes bought 24.28 million shares for RM5.45 million between Dec 3 and 12 at an average 22.45 sen apiece, raising his direct holding to 2.69% from 2.11% on July 27, 2018. Kamarudin bought just over 33 million AAX shares at an average 22 sen apiece, or RM7.26 million in total, between Nov 30 and Dec 18, raising his direct holding to 8.94% from 8.14% on July 27. The co-group CEOs and executive directors are also deemed interested in a 31.59% stake.
Last Wednesday's 30 sen close would have given them 33.6% and 36.4% gains on paper respectively in just over a month. At the time of writing, it was not known whether they had bought more shares this year.
If investors had followed their lead, they would have been betting that both Fernandes and Kamarudin knew better than analysts, who are generally lukewarm when it comes to AAX, although they are largely bullish on AirAsia Group Bhd.
At the time of writing, there was only one "buy" versus four "sell" recommendations on AAX, while six others had "hold" calls, according to Bloomberg data. The analysts' price targets ranged from 12 sen to 39 sen, averaging at 23 sen. Excluding the two most bullish price targets — Macquarie's 39 sen and Nomura's 29 sen — as well as the most bearish targets — CIMB's 12 sen and Affin Hwang's 17 sen — the remaining six analysts' price targets were between 20 sen and 25 sen.
The bearishness on AAX is a far cry from the 14 "buy" recommendations on AirAsia Group Bhd, which overwhelm the four "hold" and two "sell" calls. Bloomberg data shows price targets ranging from RM2.12 to RM5, averaging at RM3.37. Only 25%, or five of the 20 price targets, were below AirAsia Group's RM3.05 close last Wednesday.
Nomura Research — which has the sole "buy" call on AAX — expect its earnings to recover in FY2019 and its forecast is significantly above consensus. In a note dated Nov 22, 2018, it factored in higher valuations for Thai AirAsia X, due to its upcoming initial public offering in the second half of the year, even as it lowered multiples for its Malaysian earnings. Citing departure levies, Nomura also expects earnings contribution from Thailand to exceed that of Malaysia.
There may well be fans of Fernandes and Kamarudin who are buying purely on confidence in their capabilities.
Those who stay away may well be those who shudder at AAX's underwhelming share price performance since its listing in 2013 and reckon that its operating challenges may be insurmountable, even for the renowned aviation duo.
For the nine months ended Sept 30, 2018, AAX was RM213.43 million in the red compared with the RM14.47 million profit it made in the previous corresponding period. AAX looks set to be loss-making in five years out of the nine years between 2010 and 2018. Listed in July 2013, AAX was profitable in FY2017 (RM98.9 million), FY2016 (RM44.8 million), FY2012 (RM33.9 million) and FY2010 (RM146.6 million).
Yet, if the men do surprise the market, it would not be the first time.
Billion-ringgit returns on billion-ringgit investment
In April 2016, Fernandes and Kamarudin announced a surprise RM1 billion injection into AirAsia Bhd (now AirAsia Group Bhd) by asking other shareholders to approve the allotment to their vehicle, Tune Live Sdn Bhd, 559 million new shares, or a 16.7% stake, of the enlarged share base of AirAsia at RM1.84 each.
The RM1.84 price tag was adjusted lower to RM1.80 each following a dividend payment of 4 sen per share (paid on May 26, 2016), but net investments were still over RM1 billion. The move raised the duo's collective holding from 19% to 32.5%.
While the RM1 billion cash injection helped bolster AirAsia's balance sheet, some analysts said the company was not in dire need of cash, pointing out that net gearing levels continued to be near two times even after a third of the proceeds went towards repayment of debt.
Unlike a rights issue — which allow other shareholders a chance to choose whether they would like to put more money into AirAsia — the proposal to allot shares only to Tune Live dilutes the interests of other shareholders. Yet, the proposed share issuance was approved by the shareholders on May 9, 2016. Details of how many voted for or against it were not stated in the announcement to Bursa Malaysia.
It was only on Jan 26, 2017, about nine months after the shareholders' approval, that the share issuance to Tune Live was completed.
The listing of the additional 559 million shares lifted AirAsia's market capitalisation to RM8.25 billion on Jan 27, 2017, from RM6.93 billion the day before. The shares at RM1.80 apiece would put their cost at RM1.0062 billion. Those shares were worth RM1.705 billion at last Wednesday's closing price of RM3.05 — translating into a paper gain of RM698.75 million.
There are also actual gains, given that 76 sen per share in regular and special dividends were paid between January 27, 2017, and last Wednesday.
The 559 million shares would have been entitled to RM424.84 million in dividends, a back-of-the-envelope calculation shows. Adding the RM698.75 million gains on paper to the RM424.84 million dividends totals just over RM1.12 billion — just ahead of the shares' entry cost just two years ago.
To be sure, AirAsia shareholders who stayed on also got dividends, although critics may argue that payments could have been higher since other shareholders had 80% of AirAsia before the allotment instead of 67.5% after the placement. Apart from the 40 sen per share special dividend paid on Dec 28 last year, three regular dividends of 12 sen each were paid in June and October 2017 and June last year.
The bulk of the dividends paid so far were made possible by AirAsia's asset monetisation spree, which turns the group into a nimbler asset-light entity. Already, analysts say more dividends could be paid after the completion of AirAsia's disposal of its aircraft leasing business subsidiary, Merah Aviation, to US private investment firm Castlelake LP for US$768 million (RM3.2 billion) in the middle of this year. Under the deal, 25 aircraft will be leased back to AirAsia.
Incidentally, the whole of AAX was valued at just over RM1.24 billion at last Wednesday's close. It will be interesting to see if the co-founders will pump more money into AAX to turn it into the darling investors now see AirAsia as. It would also be interesting to see if AirAsia's shareholders, with hindsight, would vote the way they did in mid-2016.
Save by subscribing to us for your print and/or digital copy.
P/S: The Edge is also available on Apple's AppStore and Androids' Google Play.