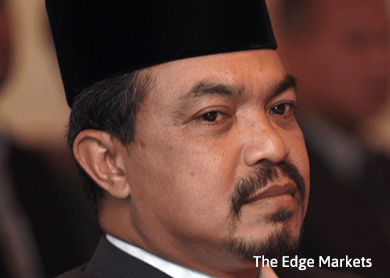 (June 16): A minister's remark on covering the "aurat" and call for a review of athletes' sporting attire over the issue of "aurat" is a sign of an increasingly authoritarian government, PKR said today.
Latheefa Koya, a member of the party's central leadership council, said the proposal by minister in charge of Islamic affairs Datuk Seri Jamil Khir Baharom to review the attire worn by athletes during competitions was "dangerous and narrow".
"Instead of defending a woman athlete who brought fame and glory to this country – a minister has yesterday supported in Parliament the call of those who criticised her attire," she said in a statement.
"Jamil Khir's remark in Parliament suggesting that the issue of aurat in relation to sports attire cannot be questioned is not only incorrect, but once again displays the increasingly authoritarian behaviour of this government."
Drawing on the minister's contention about aurat, Latheefa, who is also a rights activist, questioned why similar rules were not applied to spouses of ministers, adding that the issue of the aurat was not a clear-cut case in Islam.
"Why pick on our dynamic young athletes?
"In any case, aurat is not a clear-cut issue under Islam. It has been interpreted differently by different imams taking into account the idea of what is decent in different communities.
"Can an outfit worn during a sporting event be termed as immoral or indecent? Where will this end?"
This comes after gymnast Farah Ann Abdul Hadi's gold medal win at the SEA games was overshadowed when a photo of her on a news organisation's Facebook page drew criticism from some social media users who complained that she was exposing her "aurat".
Farah Ann herself shrugged off her critics, with a tweet saying "Empty cans make the most noise".
Youth and Sports Minister Khairy Jamaluddin also defended the gymnast, telling those critical of her leotard to stop judging her.
Despite that, in the Dewan Rakyat last night, Jamil Khir said that issues that could "shame and taint" Islam must be given serious attention.
"We take attention of this matter so that this becomes a lesson, in whichever field, including sports, for us to look into the clothing and attire," he said while wrapping up the debate for the religious affairs department for the 11th Malaysia Plan.
"Not only in sports, but in all areas, Islam does not deny the responsibility of closing the aurat be it for men or women. This is something that cannot be denied or challenged, because this is the view of Islam."
Latheefa said the differing opinions of two ministers on this matter showed that Putrajaya had no clear direction or policy in religious matters.
"Embarrassingly for Najib's government, ministers are now contradicting themselves, with the sports minister rebuking Farah Ann Hadi's critics.
"There are many more seriously unIslamic things that Jamil Khir should be concerned about, such as unlawful killing in custody, blatant stealing of public money such as 1MDB (1Malaysia Development Berhad) scandal, etc, rather than focusing on the sportswear of our best female athletes." – The Malaysian Insider